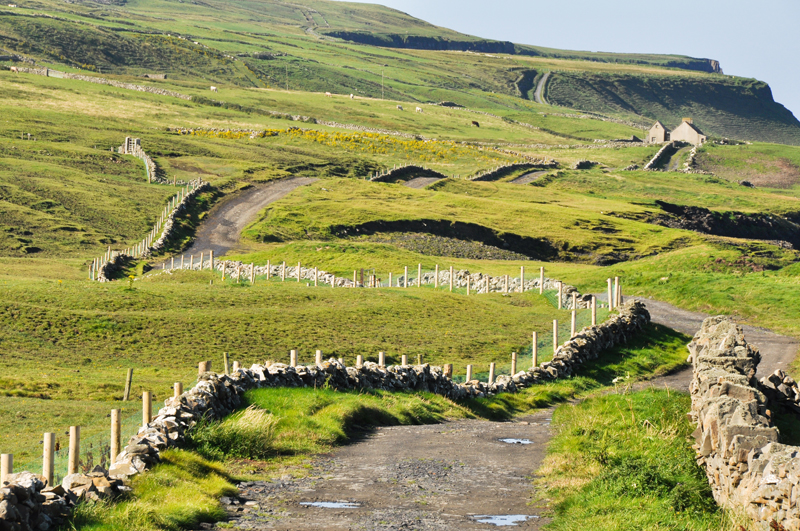 Whether as a perennial social icebreaker or a chronic life condition, the Irish weather is always with us. Sometimes it is a rueful joke, such as saying we experience every season in a single day; not a usual phenomenon, but nor is it an impossible one either. If you are planning a trip to Ireland here are a few tips based on travel around Ireland over four decades as well as residence here. I love rain and low sky.Rain defines the Irish weather, but when the sun breaks through...oh, your heart sings! Besides you need rain for perfect rainbow conditions.

Tip #1
In Ireland it is socially acceptable to moan about the weather. The country may be generally stoical about all other matters but the weather is fair game. During summer 2009 we were having so much rain that it seemed St. Swithin had given us a double curse of eighty consecutive days of rain instead of the usual forty. The skies were as low as a typical October and temperatures in August felt more like early November. We lived in wellie boots and splashed through puddles. As we met strangers on sidewalks a typical exchange under the shutter of umbrellas would be: "Isn't it awful!", "Miserable!"

The lady who scans your shopping in the supermarket will use the weather as an opening conversational gambit right after she has established that you are over here on your holidays. She will then paint a dour picture of Ireland as the Land of the Weather Damned.

Humor them. The sun does shine in Ireland. But it also makes moaning socially awkward when the weather is glorious. "Can't complain," will be the supermarket queue commentary, which will be said with a slightly bereft look.

Tip #2
It is true that it rains a lot in Ireland. But it is also true that even when it doesn't rain that the peat and clay content of many parts of Ireland retain that water long after the clouds have scudded over to Wales and are dumping on the Brecon Beacons. The single most important item to pack for your trip to Ireland is a pair of waterproof shoes or boots. With many people traveling with just carry-on luggage these days, this item, along with plenty pairs of socks, is not to be stinted. There is nothing more unpleasant than sightseeing with damp feet.

My husband lives from a drawer full of wool blend socks selling as 'Connemara Sock.' Toasty toes.

Tip #3
Ireland is famous for spectacular woollen garments. Please do buy them and take them home. But while you are tromping around sights it might be more practical to have a microfleece pullover and jacket packed, as well as hat and gloves. The virtue of microfleece is that it wicks away moisture. I walked around much of County Clare in February one year and my microfleece trousers kept me dry and toasty. The fleecy pullover under the waterproof kept me at Goldilocks approved conditions – Just Right! Even if you are coming for a visit in late spring or early summer, bring those fleece gloves! I attended an outdoor evening event in Fermanagh one early May and will never forget to bring gloves again. Swift dips in temperature at dusk can make you backtrack a season. The other benefit of microfleece is that if it does get wet it dries out quickly. It will dry out overnight on a hotel radiator and you will be good to go the next morning for more adventures.

The truth is that we really secretly love our Irish weather, even if it does behave like a grumpy relative some days. It also probably accounts for fabulous Irish complexions. So there is some compensation!

Here are some of my own Irish wardrobe standards for country living in Ireland:



This is a good example of my year round jacket


You could probably walk across a bog in these and still be dry





Related Articles
Editor's Picks Articles
Top Ten Articles
Previous Features
Site Map





Content copyright © 2022 by Bee Smith. All rights reserved.
This content was written by Bee Smith. If you wish to use this content in any manner, you need written permission. Contact Bee Smith for details.