Knitted Rugs can be Round or Half-Round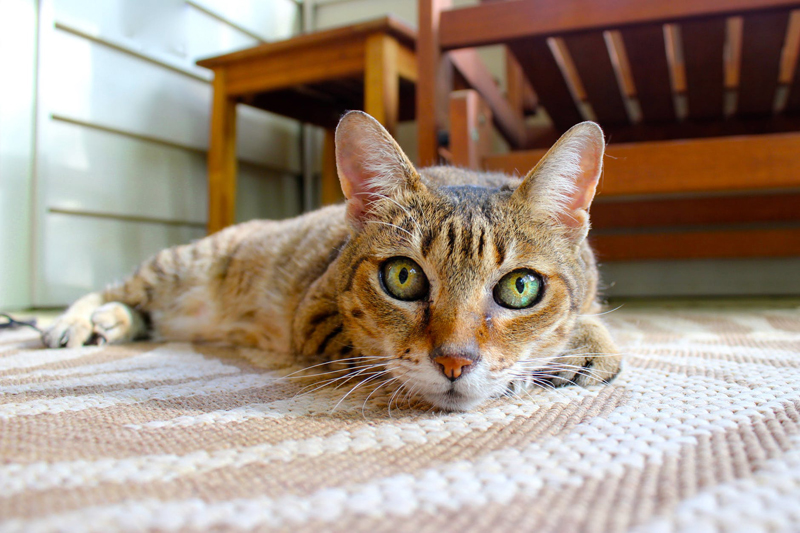 Round rugs lend themselves to many purposes. The rugs I am going to introduce are quite small, ideally suited for a short project captivating.

These little rugs can be as simple or as complex as you dare undertake. The basic idea, though, is not complicated.

Personally I like to start things simple, so I will take you through my discovery route from the beginning and gradually show you more complex designs that have several colours within each segment. When we get more creative, having a theme in mind will help.

The basic knitting is a simple repeated pattern in the knitting stitch. This gives a textured finish, not unlike some tightly looped rugs. Use yarns of medium to heavy thickness with needles at least size 5, depending on the thickness of the yarn

A test piece of 10 x 10 cm should be 16 stitches wide and 24 rows high. This may vary a little depending on the thickness of the yarn used. Even if the thickness varies slightly the result will be satisfactory. This allows for the use of different types of yarn. There are some interesting aspects to the use of yarn, to which I will come back in a later article

The rugs are two to three feet in diameter and can be used in front of a bed. There is something for every room in your house: These rugs can also be used as cushion covers, bar stool covers or as a color accent on a wall-to-wall carpet. Just imagine a few spots in your house where a bit of colour would be welcome.

Because of their composition, these rugs lend themselves to fascinating designs and striking colour effects. The interesting thing is that what I am going to show you in these articles will help you develop your creative talent

The basic rug consists of 10 segments, in harmonious colours. Each segments has a different colour. These colours may be shades of the same colour or a multitude of colours in varying tones and intensities.

The rugs are fun to knit. The segments are small and quickly completed. The choice of colours, although determined beforehand, may be modified while you see the rug grow. You may want to have some kind of a system. of arranging the light and the dark colours.

The current project can be made from remnants, The 10 colours are:

Brown, yellow, dark red, medium green, orange, dark green, medium brown, cream, medium brown, light green,

If you feel comfortable with colours, you may substitute your own.

Instructions

I suggest setting up 50 or 60 stitches. Row one and two, knit all stitches and return. Starting at row three, knit all but two stitches and return, leaving the two stitches on the needle. On every going (odd numbered) row leave two more stitches on the needle and return. When there are no more stitches to knit, the first segment has been completed. Change colours and knit all stitches that are on the needle. You will notice that they are in pairs.This will be the beginning of the next segment.Continue the same procedure until the rug has a full round shape. That will be between and twelve segments. It depends a bit on your knitting style. If you knit tightly, there may be more than 10 segments. The type of yarn can also be a factor.Cast off all stitches and join the last segment to the first one. You now have a round rug. Sew all threads carefully at the back.

Your rug is now ready to be washed. After washing roll in a towel and roll until most of the moisture is gone. Shape the rug and dry lying flat on a special drying rack or a heavy towel.
This site needs an editor - click to learn more!

You Should Also Read:
2 Halves Make a Whole Different Rug
Knitted Rugs
Fun Stuff - Design a Mug Rug




Related Articles
Editor's Picks Articles
Top Ten Articles
Previous Features
Site Map





Content copyright © 2022 by Iris ten Holder. All rights reserved.
This content was written by Iris ten Holder. If you wish to use this content in any manner, you need written permission. Contact BellaOnline Administration for details.