Orchid Profile - Jewel Orchids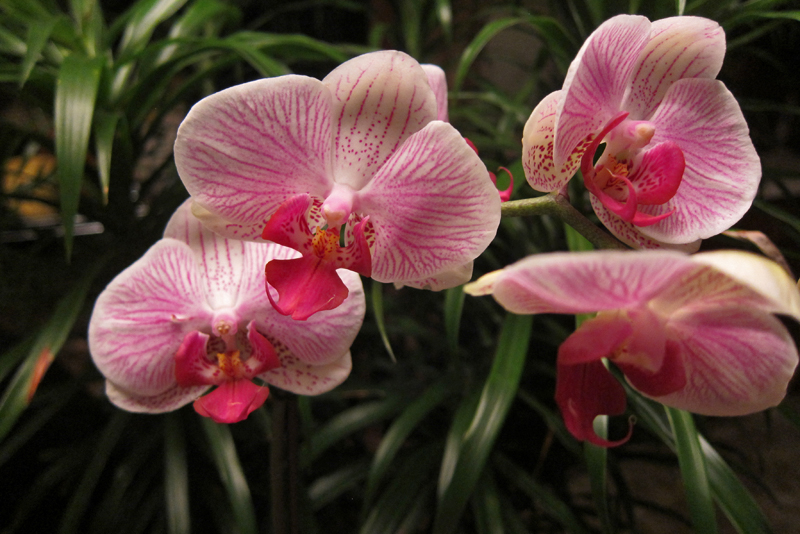 Jewel orchids are so called because of their extraordinarily beautiful foliage which comes in a variety of colors. They are not a specific genus of orchids, but rather a grouping based on their intriguing leaf coloration. The leaves are often velvety which increases the visual effect of the colors and sometimes provides a different coloration when viewed from different angles. Most are terrestrial or ground growing plants, although they must be grown in open mediums. Most require constant moistness and high humidity. For terrarium or Wardian Case growers, the jewel orchids are considered among the best plants to grow as they provide year-round beauty and contrast. Many people have had very good luck growing these jewels in bathrooms where they normally thrive due to the high humidity. They do flower, of course, but these flowers are generally of little interest to most gardeners.
The best known and easiest to grow of the jewel orchids is
Ludisia discolor
. It has dark green velvety leaves with reddish veins. From Southeast Asia, they are considered a weed in their native environment. They make ideal house plants since they need low light and adapt well to home temperatures. One unusual thing about
Ludisia
is that they will root and grow if they are cut apart and planted separately. Thus it is easy to produce large plants by putting multiple plants in one container.
Less well known is the
Goodyera
genus of orchids found in tropical and temperate areas around the world. Most of those grown in captivity come from the tropical areas. A nice example is
Goodyera hispida
which has a lovely light green leaf with white veins. The species is found in Vietnam and India. This color form of the jewel orchids contrasts nicely with
Ludisa discolor
if you are planning a terrarium.
Another genus generally included in the jewel category is
Macodes
.
Macodes sanderiana
has lovely dark green, velvety leaves with golden veins. It likes warm, humid growing conditions.
Macodes petola
has bright green shiny leaves with nice veining and is a nice contrast when used with the velvety-leaved varieties.
Due to the recent increased interest in jewel orchids there are now a number of hybrids being offered, such as
Dossinyera
a cross between
Dossinia
and
Goodyera
.
Hoosier Orchids
has a nice selection of species and hybrids.
A very interesting article on the culture of jewel orchids can be found at
Rick's Tropica
. This article provides many tips for growing these orchids in the home.
For some lovely photography on jewel orchids and their use in a terrarium environment visit
Tropical Exotica
. This company is evidently out of business since their listed emails no longer work, but the photography is still worth reviewing in order to get some ideas on how to mix and match the leaf types for the best presentation.
T&C Terrariums
has some interesting varieties and good pictures for you to determine which varieties might meet your needs.
You Should Also Read:
What is an orchid?
Light Meters and Hygrometers
Growing Orchids in a Terrarium or Wardian Case


Related Articles
Editor's Picks Articles
Top Ten Articles
Previous Features
Site Map





Content copyright © 2022 by Susan Taylor. All rights reserved.
This content was written by Susan Taylor. If you wish to use this content in any manner, you need written permission. Contact Anu Dharmani for details.