May is cherry blossom time in parts of the Midwest and Traverse City, Michigan has one of America's most impressive displays of this fabulous fruit. Can you imagine how beautiful 2.6 million blooming cherry trees must be. Traverse City bills itself as the "Cherry Capital of the World." With 75% of the world's tart cherries, used for pies, pastries and jams, produced in and around the Traverse City area, they have good reason to make such a claim.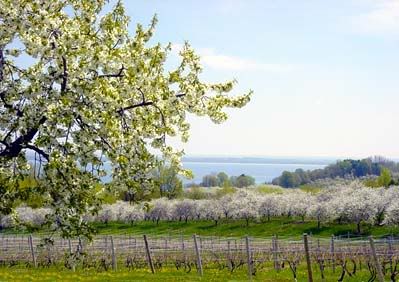 Here are more great cherry recipes from Michigan cherry growers. Enjoy!
Cherry Cashew Cookies
· 1 c. butter or margarine, softened
· 3/4 c. granulated sugar
· 3/4 c. firmly packed brown sugar
· 2 eggs
· 1 t. vanilla extract
· 2&1/4 c. all-purpose flour
· 1 t. baking soda
· 1 package (10-oz.) vanilla milk chips or 1&2/3 c. coarsely chopped white chocolate (see note)
· 1&1/2 c. dried tart cherries
· 1 c. lightly salted cashews
In a large mixing bowl, combine butter, granulated sugar, brown sugar, eggs and vanilla. Mix with electric mixer on medium speed until thoroughly mixed. Combine flour and baking soda; gradually add flour mixture to butter mixture. Stir in vanilla milk chips, dried cherries and cashews. Drop by rounded tablespoonfuls onto ungreased baking sheets.
Bake in a preheated 375° oven 12 to 15 minutes or until golden brown. Let cool on wire racks; store in a tightly covered container. Makes 4&1/2 dozen cookies.
Note: You may also substitute regular chocolate chips for vanilla chips/white chocolate.
— Juanita Send
Cherry Angel Dessert
Layer 1:
· 2 3-oz. packages cherry gelatin
· 2 c. boiling water
· 1 c. cold water
· 1 can (21-oz.) cherry pie filling
· 1 can (8-oz.) pineapple tidbits (drained)
· 1/2 angel food cake cut into bite-size pieces.
Layer 2:
· 1 large instant vanilla pudding (5.1-oz. box)
· 2&1/2 c. milk
Layer 3:
· 8 oz. whipped topping
Layer 4:
· 1/2 c. chopped pecans
Dissolve gelatin in boiling water. Add 1 c. cold water. Cool until slightly congealed. Fold in cherry pie filling, pineapple and angel food cake. Pour into 13-by-9-inch pan. This is Layer 1.
Place in refrigerator between layers if possible to allow each one to set up.
Layer 2: Prepare pudding with milk. Pour on top of cherry layer.
Layer 3: Top with whipped topping
Layer 4: Sprinkle with chopped pecans.
Prepare several hours or day ahead of serving. Refrigerate. Serves 15.
(Note: Use light versions of products to cut calories.)
— Cindy Pleva-
For more information about attractions and events in the Traverse City area – and for a complete listing of lodging and dining options – contact the Traverse City Convention & Visitors Bureau at 1-800-TRAVERSE or on line at www.TraverseCity.com