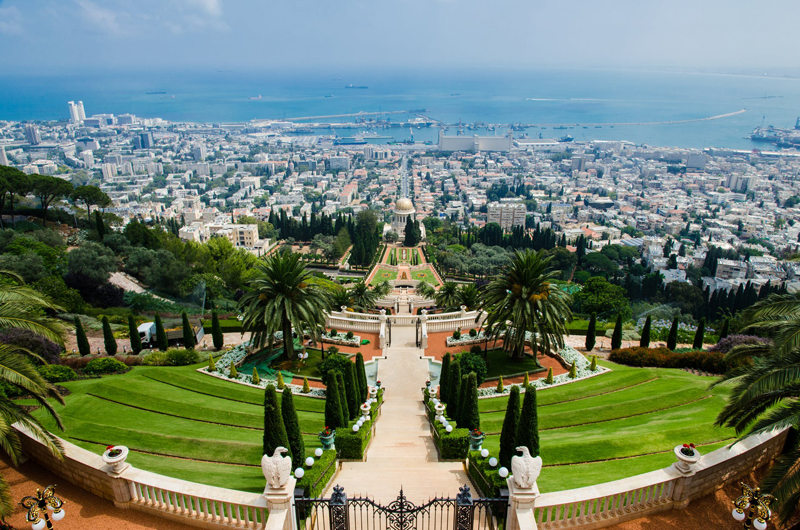 In every religion there are laws governing the personal and social conduct of believers. The Bahá'í Faith, being only the latest but not last in a long line of guidance from God, is also amply provided. With hundreds of volumes in the Prophet-Founder's own hand, there is a wealth of material to study and glean for insights. It is interesting to note that in this dispensation very few laws are expressed in negative terms: 'don'ts,' as it were. Most Bahá'í laws concern what believers are expected to 'do,' goals and virtues to strive for, with only a handful of behaviors forbidden.
Since the theme and primary purpose of this Revelation is unity, pretty much every law, interpretation, explanation and discourse is aimed at giving believers the tools to become happy and build a peaceful world, where people consider themselves part of one human family.
"Just as there are laws governing our physical lives, requiring that we must supply our bodies with certain foods, maintain them within a certain range of temperatures, and so forth, if we wish to avoid physical disabilities, so also their are laws governing our spiritual lives. These laws are revealed to mankind in each age by the Manifestation of God, and obedience to them is of vital importance if each human being, and mankind in general, is to develop properly and harmoniously. If an individual violates the spiritual laws [necessary] for his own development he will cause injury not only to himself but to the society in which he lives. Similarly, the condition of society has a direct effect on the individuals who must live within it."
Messages from the Universal House of Justice, 1968-1973,
pp. 105-106.
"In considering the effect of obedience to the laws on individual lives, one must remember that the purpose of this life is to prepare the soul for the next. Here one must learn to control and direct one's animal impulses, not to be a slave to them. Life in this world is a succession of tests and achievements, of falling short and of making new spiritual advances. Sometimes the course may seem very hard, but one can witness, again and again, that the soul who steadfastly obeys the Law of Bahá'u'lláh, however hard it may seem, grows spiritually, while the one who compromises with the law for the sake of his own apparent happiness is seen to have been following a chimera: he does not attain the happiness he sought, he retards his spiritual advance and often brings new problems upon himself."
ibid
Exhortations: The Do's
- know and love God & recognize His Manifestation
- obey the laws for this day
- pray daily, read and meditate on the Scriptures morning and evening
- call oneself to account every day
- love one another, see no one as an enemy
- contribute monetarily to the funds of the Faith and contribute service to the community
- obey one's government
- engage in a craft or profession
- educate the children, especially the girls, in those arts and sciences that benefit mankind, and raise them up to know and worship God
- develop the virtues, such as, truthfulness, honesty, chastity, fidelity, kindness, compassion, courtesy, selflessness, generosity, charity, joy, detachment, trustworthiness, and more
Prohibitions: The Don'ts
- gossip and backbiting
- alcohol and other intoxicants, unless prescribed by a physician
- arson & murder, the only crimes which require capital punishment
- prejudice, and any form of segregating humanity: racism, sexism, ageism, nationalism, etc., including partisan politics
Not prohibited, but extremely discouraged:
- smoking
- divorce
I promise to take each of these, think about what they mean in my life, and share my experiences in a separate article. I have by no means mastered any of them, but used to think I was doing a much better job than hindsight now reveals!
Meanwhile, each of these topics can be researched in the Bahá'í Writings at any one of several links under the subject heading Web Resources at the left of this article.
My very favorite resource is a little free software program called
Ocean
, which includes Scriptures and commentaries from most all the world's great religions. You can download it and all its texts (not a large file, 20 mb for English only, up to 40mg for English, Spanish, French, German, Russian, Dutch and Portuguese). Follow the instructions for searching a topic across as many sources as you want, even copy selected portions into a separate text document. Alas, it will only run native on PCs, but will work on PC emulators in MAC or Linux.
Ocean


Related Articles
Editor's Picks Articles
Top Ten Articles
Previous Features
Site Map





Content copyright © 2022 by Cheryll Schuette. All rights reserved.
This content was written by Cheryll Schuette. If you wish to use this content in any manner, you need written permission. Contact Cheryll Schuette for details.