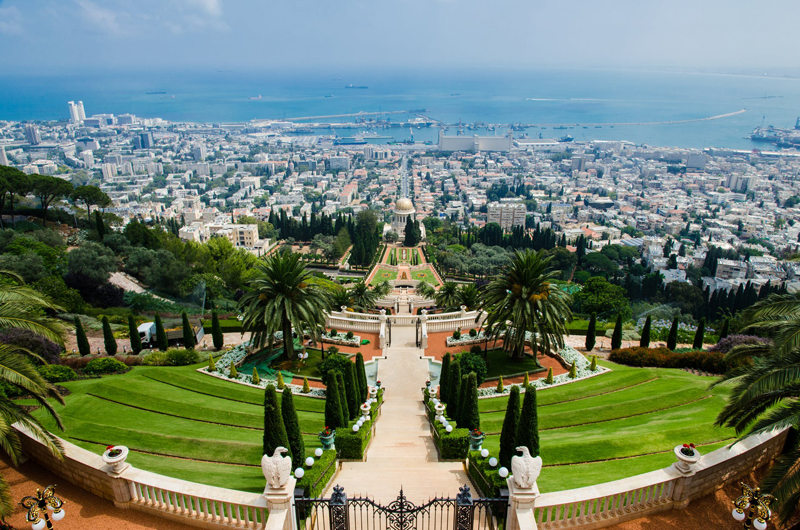 Bahá'u'lláh, Prophet-Founder of the Bahá'í Faith, laid out what His followers believe is the blueprint for health and happiness in this period of human history. It includes some time in every day for prayer and contemplation, and encouragement of arts and recreation.
"All art is a gift of the Holy Spirit. When this light shines through the mind of a musician, it manifests itself in beautiful harmonies. Again, shining through the mind of a poet, it is seen in fine poetry and poetic prose. When the Light of the Sun of Truth inspires the mind of a painter, he produces marvelous pictures. These gifts are fulfilling their highest purpose, when showing forth the praise of God." - 'Abdu'l-Bahá, quoted by Lady Blomfeld in
The Chosen Highway,
p. 167
So, what is creativity? Bahá'ís believe that creativity exists in every one of us, not just famous composers or painters or writers, etc. It is discovering our own special talents, daring to see things in original ways and find different means to solve problems. Creativity is being nimble enough to respond in positive and healthy ways when life surprises us. Creativity is what powers the imagination and finds new ways to make things work better. We are practicing creativity when we discover and develop our gifts, take time for dreaming, use the originality of our souls, and enjoy our recreation.
Souls require non-compulsory time on a regular basis--time in which nothing is asked of us, nothing is required. We need time to just 'be' every day, which is a challenge for those of us with busy lives. It comes back to the issue of valuing ourselves enough to become the architects of our time rather than at the mercy of the demands that always come to fill that time.
So, is creative time just another item to add to an already overflowing daily to do list? I can't be the only one who assumed I could get along without spending preciously short time on hobbies or contemplative or spiritual pursuits, especially when it got in the way of taking care of everyone else! Eventually, however, I learned the hard way that I needed an antidote for a harried life.
The soul needs quiet time alone for contemplation, prayer, music, or just sitting by the river watching the ripples and feeling grateful. It doesn't have to take a long time, even a few minutes will refresh. You can spend that time being physical or intellectual or artistic--anything proceeding from your self. It doesn't have to be a huge mural or a the next best selling novel. But it should be something of your own. Perhaps just a small thing that gives a sense of quiet in a crowded day.
Instead of plopping down in front of the television as the primary way of relaxing, take a half hour and do something that is fun, such as:
The operative word here is
do,
instead of
watch.
Watching television doesn't relax, but rather, depresses breathing and mind, whereas exercising the creative can result in an energy boost, especially if it provides a chance to laugh. Laughter releases endorphins that are natural antidotes to stress, pain and depression. Like crying, laughter cleanses toxins from the blood, but it is way more fun!
Creativity is fun. And fun is allowed in the Bahá'í Faith, as long as the activity you choose is good for body and soul, because it is an expression of joy and gratitude to God. Having fun on a regular basis doesn't have to be expensive. Fun can be an attitude of enthusiasm for whatever we are doing. Weaving some play into our everyday lives gives us joy and lightens our spirits.
I'm one who always starts her days with long lists of things that need doing, but I have learned to place the creative moments first instead of at the last because there is rarely any time left for them otherwise. I can guarantee that half an hour at the piano, in the garden, knitting a baby blanket, carving a boat, tinkering with that outboard motor, or writing in a journal, will start off your day with a burst of energy. You may find that far from interfering with productivity, creative fun can increase your performance.
Nurturing our creativity takes as many forms as there are people, because every person has hidden gifts. Taking the time to find those gifts--and making time in our busy days to enjoy them--can require large amounts of creativity, but it is worth it!
"I rejoice to hear that thou takest pains with thine art, for in this wonderful new age, art is worship. The more thou strivest to perfect it, the closer wilt thou come to God. What bestowal could be greater than this, that one's art should be even as the act of worshiping the Lord? That is to say, when thy fingers grasp the paintbrush, it is as if thou wert at prayer..." - 'Abdu'l-Bahá,
Compilation on the Arts,
para. 33


Related Articles
Editor's Picks Articles
Top Ten Articles
Previous Features
Site Map





Content copyright © 2022 by Cheryll Schuette. All rights reserved.
This content was written by Cheryll Schuette. If you wish to use this content in any manner, you need written permission. Contact Cheryll Schuette for details.