Orchid Growing Tips for Spring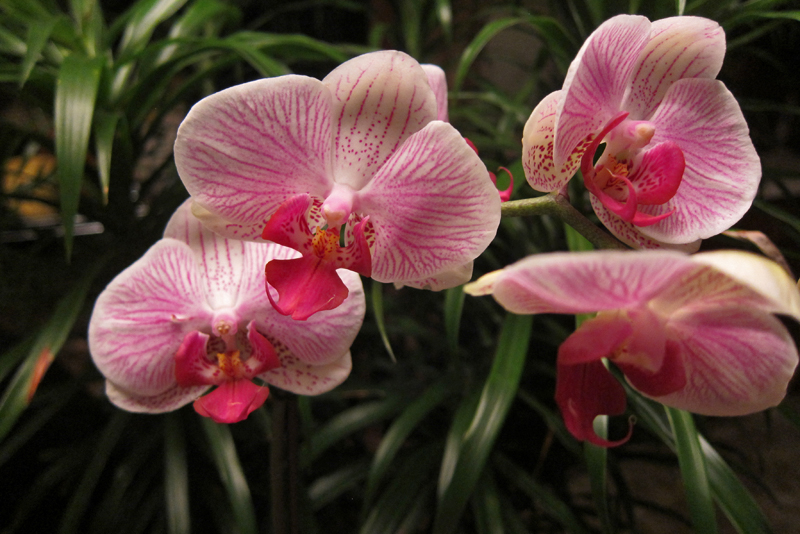 Watch your watering schedule
Spring is one of the worst and hardest times to figure out when to water. Keep a note on your calendar when you watered and when you fertilized. It's almost impossible to keep to a schedule because of the number of cloudy days in the spring. Use one of the many ways to determine if plants friends need water. I usually pick them up to see if they are light.

Be careful of water temperature
Use a sprayer kept in your greenhouse to get water the correct temperature to water your plants. If the water is too cold it will cause pitting on your leaves. Inside, keep a spray bottle full of water ready for use. It will then be at room temperature and the chlorine will evaporate.

Be aware of how much light plants are getting
The amount of light plants get increases in the spring, both from the changing location of the sun and from number of hours the sun is out. Keep an eye out for potential sunburn on leaves and shade plants when necessary.

Use fungicide when repotting
When repotting, soak your plants for a few minutes in Physan 20. This will kill insects, protect and seal cuts from pruning roots and plants, and prevent fungus and bacterial rot. I always do this as a precaution.

Be sure to clean pots in Clorox when repotting
When doing your spring repotting, be sure to use cleaned or new pots. Pots can be cleaned by soaking overnight in Clorox and water at the ratio of one part Clorox to five parts water.

Phalaenopsis or Moth Orchids
Stake your Phal inflorescences as they grow to display the blooms to their best advantage. Be sure to keep the plant in the same relationship to the light while the inflorescence is growing or the flowers will open in all different directions. If you have to move the plant to water it, put a piece of tape on the pot where it was facing the light in order to put the plant back in the identical location. Add 1/4 tsp per gallon of Epsom salts while the plant is producing the inflorescence and flowering to keep the leaves from turning yellow.

Paphiopedilum or Slipper Orchids
This is the time of year to repot summer blooming Paphs. These quick growing plants should be repotted every year and do not much care when it is done. Check for pests, especially scale and mealy bugs, when repotting and treat both the plant and the medium to eliminate problems.

Spring blooming Cattleyas
Clean up and stake the pseudobulbs with forming buds. This will allow the plants to produce the best show for you to enjoy. Clean off the old sarongs (brown paper-like growth on older pseudobulbs) and make sure there are no pests underneath. This is a favorite hiding place for scale.

Repotting Cattleyas
It's time to repot those Cattleyas that have managed to start growing out of their pots when the new roots are about one half inch or two cm long. Be very careful not to break off the roots.

You Should Also Read:
Photographing orchids in the wild
Light Meters and Hygrometers
What is an orchid?


Related Articles
Editor's Picks Articles
Top Ten Articles
Previous Features
Site Map





Content copyright © 2022 by Susan Taylor. All rights reserved.
This content was written by Susan Taylor. If you wish to use this content in any manner, you need written permission. Contact Anu Dharmani for details.