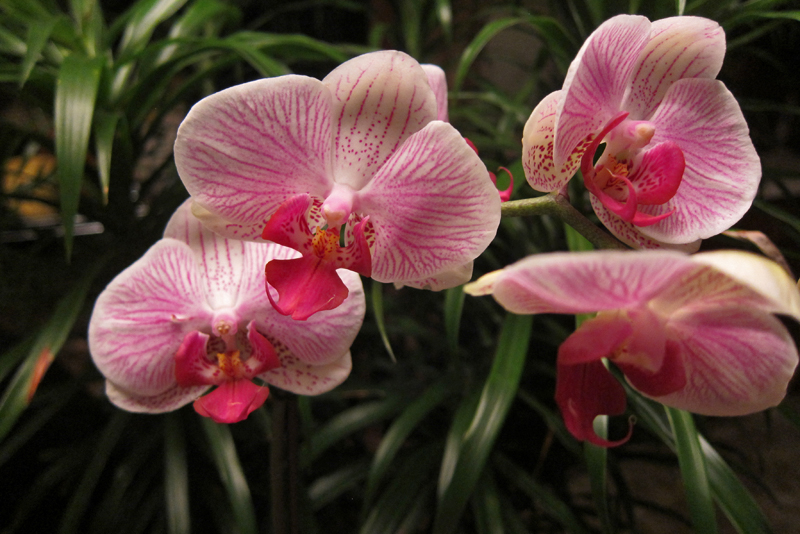 One: there are many orchid species which look very similar to each other, and two: not much written about them, so it gets difficult to accurately identify. This is because of very porous 'interspecific borders' in orchids. By porous'interspecific borders', I mean that in orchids pollination and successful fertilization between different species is very common. That is why you come across so many hybrids in orchids.

One such group of very similar orchids is in Aerides. The species are Aerides multiflora, Aerides rosea and Aerides fieldingii. These three epiphytic orchids are quite similar and are often confused with one another. Aerides crispum also resembles Aerides multiflora, but luckily has larger sized flowers.

They are sometimes even listed as synonyms of each other, especially Aerides rosea and Aerides fieldingii. Aerides multiflora is also known by names such as Aerides affine, Aerides lobbii, Aerides veitchii; while Aerides rosea is also known by names like Aerides roseum, Aerides affine var. roseum, Aerides fieldingii var. williamsii, Aerides trigona etc. Other name of Aerides fieldingii is Aerides williamsii.

Now, how do you distinguish the three orchids? Each of these has slight variations in their morphology (i.e., the physical characters). Let me explain by taking different parts of the plant separately. Leaves of Aerides multiflora can be easily identified from the other two, as its leaves are dark green in colour and turn reddish brown in the lean season (that would be winters) and are more deeply ribbed than the other two. Both Aerides rosea and Aerides fieldingii, have keeled leaves.

Other differentiation character is the flowers. There is a slight variation in colour as well as structure of the flowers. These flowers have different combinations of pink and white. Aerides rosea have more pink than white flowers (that's why the name 'rosea'). In Aerides fieldingii, the flowers have somewhat lesser pink and more of white colour. While in Aerides multiflora, the flowers are white having pink spots.

The lip of the flowers is also different. Aerides multiflora has the longest triangular shaped lip, and the smallest lip (i.e., within this group of three orchids only) is in Aerides fieldingii. The point to be noted here is that in all the three cases lip is larger than both sepals and petals.


You Should Also Read:
Photographing the Orchids


Related Articles
Editor's Picks Articles
Top Ten Articles
Previous Features
Site Map





Content copyright © 2023 by Anu Dharmani. All rights reserved.
This content was written by Anu Dharmani. If you wish to use this content in any manner, you need written permission. Contact Anu Dharmani for details.