Marriage & The Black Family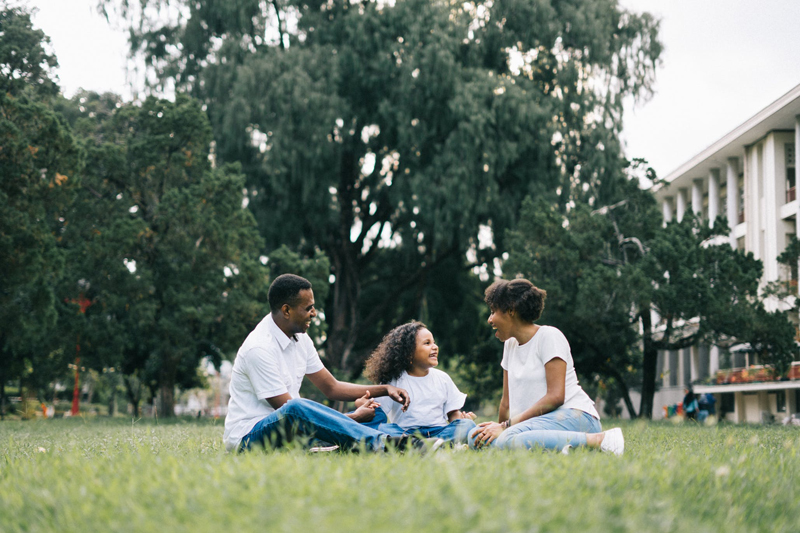 Growing up, I was taught that marriage was for grown folks. Marriage should be seen as a sacred vow, a commitment between two people, deciding to share their lives together, having the understanding and knowledge that it is not all a bed of roses…there may be some thorns along the way. However, when you know what you want and you give 100% of yourself; despite some heavy storms at times, a marriage will not only survive; but can also thrive.

There are reports that claim, marriages are on the rise. Other reports say, there's been a slight decrease. Then there are reports that say divorce is on the decline. However, among Black couples, it still remains high.

According to government data, the divorce rate among African American couples are higher than other American couples. The divorce rate for Black couples stands at 12%, while White couples divorce at a rate of 10%, and Hispanics at 7%, each year.

More alarming is the fact that only 42% of African Americans are married. This figure accounts for the 62% of African American single parent households. Whereas, the percentage of White single parent household is 27%, and Hispanic is 35%.

Is every avenue being explored to keep marriages and families together and increase the percentage of African Americans that are married?

Children are affected by a dissolution of marriage. Marriage is no longer between a man and a woman when children are introduced into the picture. Whether they are biological children or, children from previous relationships; they are affected when a marriage dissolves. How a couple navigates through their marriage will have an impact on their [children] relationships in the future.

It's quite hard for some to believe in the institute of marriage with the dismal reports that are being reported. Lending to feelings of uncertainty, is the skyrocketing number of divorces in the church of late. Marriage has seemed to have taken a vacation, even amongst some of our spiritual leaders.

How does one begin to work on a marriage, when they feel that it may already be too late? What steps can be taken, before deciding on a divorce? What is the worth of marriage?

Here are three prominent keys to begin with…

Know What You Want

In order to be successful in anything in life, you have to know what you want. Marriage is the union of two different people coming together; with different ideas, and personalities. Marriage is for the mature. For a healthy and loving marriage, you have to first want it. You have to have a desire to work on any issues that may have arose during the course of the marriage. There must be a willingness to work on and through every issue. A marriage will not succeed if both persons don't know what they want, or no longer desire to be married. This is a good place to remember why you got married in the first place.

Communication

Communication is key in any relationship. Without a strong foundation, and open dialogue, a married couple will find it hard-pressed to stay together and work things out. The ability to speak freely with one another is necessary to understanding each other. No communication…no marriage. If necessary, this may involve seeking outside counseling from professionals. Not too many Black couples are taking this avenue, as opposed to other American couples. However, marriage counseling can help both parties see what the other saying. It can teach couples positive communication tools and techniques that are healthy for the couple, and any children that may be in the marriage. It is important that we learn each others language—body language, love language, non-verbal language. Men and women are different. They can process certain information differently. It is necessary to know and understand how your spouse communicates and takes in information.


Commitment

One should be committed to their marriage. Going in, you must look at things with a clear mind and heart. Things are not always going to be as lovely as the wedding ceremony and reception. Remember the vows taken? For better or worse…for richer or poorer…'til death us do part? Marriages sometimes are hit right away with circumstances and situations that weren't planned for. Your level of commitment will determine how rough or smooth the journey is, and whether or not your marriage can survive. There must be commitment in the heart and mind. A stance of commitment determines that you are willing to try every avenue necessary before giving up.


Marriage is not a covenant to go into lightly. The worth of a marriage is dependent upon the couple involved. It is worth the amount you put into it. If a couple is not willing to work through issues that can be resolved through communication and counseling, they are sure to repeat the same issues in the next relationship they may enter into.


N.B.: This article is not referencing those marriages involved in Domestic Violence.

You Should Also Read:
Divorce Rates By State
National healthy Marriage Resource Center


Related Articles
Editor's Picks Articles
Top Ten Articles
Previous Features
Site Map





Content copyright © 2022 by Ruthe McDonald. All rights reserved.
This content was written by Ruthe McDonald. If you wish to use this content in any manner, you need written permission. Contact Ruthe McDonald for details.