Padmasambhava - Founder of Tibetan Buddhism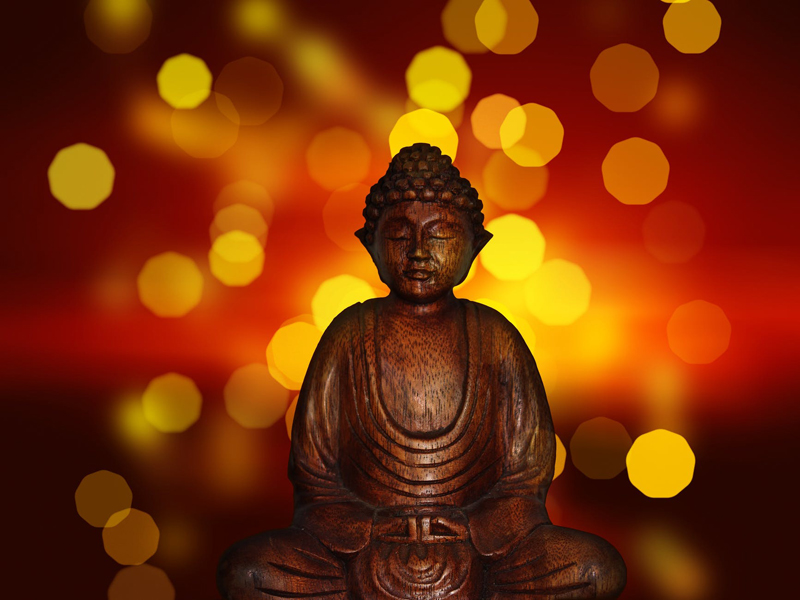 Padmasambhava was an 8th century Indian Buddhist master credited with introducing esoteric Tantric Buddhism to Tibet. Legends abound regarding his life, including that he entered the world as a fully formed 8 year old child floating on a lotus in the middle of a lake. His spiritual quest was triggered by his banishment from home as a young man for a crime he did not commit. Driven by this injustice to contemplate the nature of illusion, he decided to explore all states of existence, heavenly and hellish, and moved into a cemetery to do so. Through deep meditation he experienced all possible states of awareness and conquered the root of human fear. He ascended to full Buddhahood, and gained extraordinary mystic powers, the most famous of which was his ability to conquer and even enlighten demons.
Due to his fame, Padmasambhava was invited to Tibet by a king there to firmly establish Buddhism in that country. He and his Tibetan consort
Yeshe Tsogyal
conquered many forces, human and supernatural, that were opposed to the establishment of Buddhism. Legends assert that they initiated thousands of monks and lay people into the Buddhist path, established magical power places for the pursuit of enlightenment, and planted secret teachings called 'termas' to be found by future teachers in order to continue to advance their teachings long after their physical deaths.
Tantric Buddhism is sometimes called the 'fast path' to enlightenment by practitioners, because it focuses on how to utilize and integrate all of the energies and drives of human nature to advance. Just as Padmasambhava embraced both the heavenly and the hellish realms in his path to Buddhahood, Tantric Buddhism teaches seekers to exclude nothing from their own path. In some sects, this means that instead of renouncing sexual energies, as in other Buddhist schools, the Tantric practitioner strives to discover the power and essence of existence through sacred sex, and in fact through any life activity. However, in many sects the associated practices are symbolic only, designed to aid the student to overcome aversion and desire within their own awareness, and merge masculine and feminine energies.
Here are some famous quotes of Padmasambhava that represent the core of his teachings:
"Your castle of earth and stone may be beautiful, but unless you dwell in the fortress of the unchanging, you must depart and leave it behind. So keep to the fortress of the unchanging!"
"You may pursue worldly fame and gain, but unless you follow the teachings of the Buddha, such activity will only be the cause for throwing you back into further samsara. So adhere to the teachings of the Buddha!"
"When your mind looks into itself, dharmata will dawn from within."
"The Buddha said that when we dedicate merit, it is like adding a drop of water to the ocean. Just as a drop of water added to the ocean will not dry up but will exist as long as the ocean itself exists, so, too, if we dedicate the merit of any virtuous deed, it merges with the vast ocean of merit that endures until enlightenment."
"When you realize that samsara and nirvana are dharmakaya, you need not put effort into meditation practice."


Related Articles
Editor's Picks Articles
Top Ten Articles
Previous Features
Site Map



Follow @mommymystic
Tweet



Content copyright © 2023 by Lisa Erickson. All rights reserved.
This content was written by Lisa Erickson. If you wish to use this content in any manner, you need written permission. Contact Lisa Erickson for details.