Interview with Dave Pybus of Cradle of Filth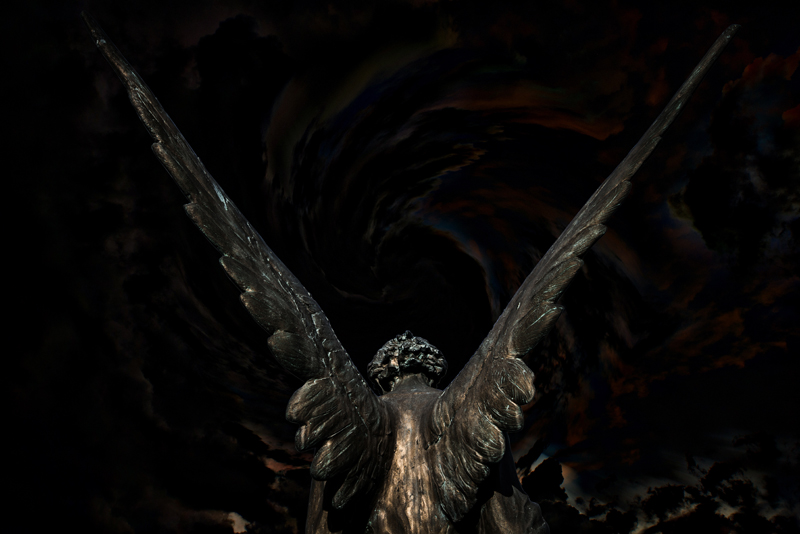 Cradle of Filth is my favorite band so it's a real thrill for me to be able to kick off the interview section of BellaOnline with my friend Dave Pybus. Dave is a busy guy so I appreciate him taking a few minutes for this quick interview. Not only is he the bassist with Cradle who is in the midst of recording a new record but he is also the webmaster for their website.

In addition, he is a sought after session player, being tapped to take part in the RoadRunner United sessions from last year. As well, he appears on the forthcoming record by Angtoria, the new band fronted by Sarah Jezebel Deva, also of Cradle. Dave is also one of the principals behind SixSixSix Records, a label he helped start up last year during a brief time-out from Cradle. SixSixSix quickly signed a handful of bands. One of them, Bloody Mary, has especially shown great promise. Their debut Blood 'n' Roll from last year showed they have lots of potential and the band credits Dave as a great resource they can turn to for guidance.

Cradle of Filth (vocalist Dani Filth, guitarist Paul Allender, drummer Adrian Erlandsson and new guitarist Charles Hedger) is currently sequestered in the studio finishing up the follow-up to their 2004 masterpiece, Nymphetamine. That record was a giant leap forward in the progression of the extreme metal giant. Rebounding from a disappointing relationship with Sony for the previous record Damnation and a Day, the band quickly forged a better understanding with RoadRunner Records. Nymphetamine featured a fresh, more straight-forward approach to songs while still retaining the elements that made them masters of the game in the past. The title track, featuring guest vocals from Liv Kristine of Leaves' Eyes, was nominated for a Grammy, proving that the band could succeed on their own terms. The record was their best selling thus far and thanks to their always provocative marketing sensibilities, their profile has never been higher. Fans around the world are anxiously awaiting their next step.

So without further ado, here we go with Dave Pybus, musician, entrepreneur and NFL fan.

Morley: What's the latest with SixSixSix? You've just signed Wykked Wytch. What did you like about them and is there anybody else that you're close to signing?

Dave: At the moment the label is looking for new, exciting, hard working, realistic bands. Wykked Wytch is an established act for us (they have 3 albums out already) so they know how to hold their own. So as far as any other new signings, Korvus is the next, hopefully.

Morley: Are you still pleased with the progress of Bloody Mary and Draconian Order?

Dave: Bloody Mary we have decided to continue working with. They will play London in May and have already started presenting us with demos for a second release.

Morley: Record companies are no different than any other start-up business. It takes a while to get everything settled. Having had a year or so under your belt now, are you still happy to have taken the plunge into this side of the business?

Dave: Well, I'm happy I got involved and it's a great way to learn sometimes what you already know. Haha. With that I mean, I knew this wasn't going to be easy where there are other people involved on many different levels. This second year we can use what we have learnt from the first year and hope to move onwards and up.

Morley: You were chosen to participate in the Roadrunner United sessions from last fall. Tell us what that experience was like.

Dave: I was requested by Joey Jordison to play bass on a track he was writing with Peter Steele on vocals. He was more into the fact that I'd been in other bands and it was a track written more in their style. Plus the people at RoadRunner kinda made this happen for me. I was flattered, to be honest. It was a great experience, albeit, short. I did the track in about 5 hours. I'd never heard it before I walked into the studio with Joey.

Morley: You're also appearing on the debut by Angtoria, featuring your friend Sarah. What can you tell us about your involvement? And about the record itself?

Dave: Angtoria is European orchestral metal. Not really my style to play, but I love the music and support Sarah 100% as she's always been there for me. I was asked to play on the record and I'm heading to Sweden later this week to film the video for the title track 'God has a Plan for us All'.

Morley: Paul has described the new Cradle record as a cross between Dusk and Midian with a straight-forward approach like Nymphetamine. Would you agree?

Dave: I agree in as much that it's us still pushing to sound new while retaining the bands identity. The band has changed musically over the years and this record is again, something new. It's very exciting actually 'cos when its mixed it will sound like a whole new record to the one we wrote in the rehearsal room.

Morley: You have Charles on guitar now. What change does that make in the sound of the band?

Dave: Charles is making his debut recording appearance so it's new for him, and he's new to us. But he has confidence and adds his own style to parts of songs that he's written. Very good, solid guitar player which is what Paul needed to work with on this record.

Morley: It was odd to hear Dani singing the vocals on "Halloween 2" (from the Underworld II soundtrack) in a regular voice. Did it seem weird to the rest of the band when he first started doing the sessions?

Dave: No, because Dani has been wanting to do that since I met him in 2001. It's just taken a while to get the right song to sing to. I think it adds another weapon to his vocal armory. Always pushing himself and the band for new ideas. I thought it sounded great. Very fresh.

Morley: Were you surprised at the tremendous response given to Nymphetamine --- Grammy nomination and all?

Dave: Well, it was unfortunate that we were over in the UK for the most part, where the Grammys don't really mean as much. And we were busy at the time so couldn't attend the awards. So for us, even though it's a great brag, we didn't really feel the hype.

Morley: Predictions for the 2006 Washington Redskins?

Dave: If they produce another exciting season like last year and win one more game and progress, I'll be happy with that. I don't think they will win the Superbowl just yet. But it's exciting to see them play now. At least we can now score from anywhere on the field.

Morley: What's your schedule like for the rest of 2006?

Dave: Summer festivals with COF. Video shoot, press photos, website will be relaunched which me and Paul are working on. Touring for the new album later this year which will then spill over way into 2007. Repeat 'til dead.

Morley: Anything else you're up to we should know about?

Dave: I drink!

Morley: Thanks a lot for taking the time, Dave. I know it's a busy period for you. Good luck with the record.

Dave: Thanks for this Morley. All the best.

Morley Seaver and BellaOnline thank Dave Pybus for this interview.

You Should Also Read:
Official SixSixSix Records MySpace website
Official SixSixSix Records website
Official Cradle of Filth website


Related Articles
Editor's Picks Articles
Top Ten Articles
Previous Features
Site Map





Content copyright © 2022 by Morley Seaver. All rights reserved.
This content was written by Morley Seaver. If you wish to use this content in any manner, you need written permission. Contact Morley Seaver for details.