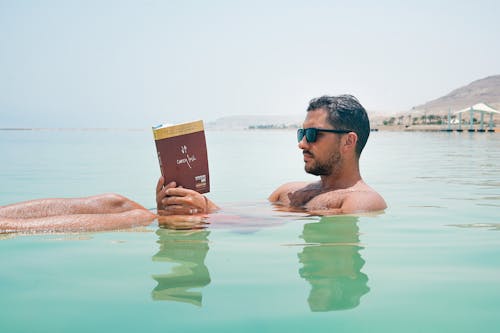 Recently, I saw a meme on Facebook that horrified me. It claimed that 42% of college graduates never read a book after they graduate from college. I didn't believe that statistic, but a look at statisticbrain.com let me know that the number is real. Apparently, once their formal education is over, college graduates don't see why reading books is relevant to their lives. Why is it important for adults to read books?

Intellectual improvement:
One of the best ways to get a lot of information in a short amount of time is to read a book. There are books that speak to each of us. Some people enjoy non-fiction. There are subjects ranging from Croatian culture to true crime stories. Myriad books are written on self-help subjects and how-to do almost anything at all. Fiction works include westerns, mysteries, science fiction, and romances. In recent years, there are even romantic mysteries. Both non-fiction and fiction are powerful vehicles for exploring the nuances of intricate ideas. The act of reading can help improve both focus and the recall of facts. These skills, understanding complex ideas, laser-like focus, and easily recalling facts, transfer effortlessly to learning new skills in the workplace. They also prepare adults for convoluted intellectual discussions.

Experienced readers are better writers:
When you want to be a better writer, you need to read more. Readers come equipped with intrinsically expressive vocabularies. They don't need to study vocabulary; they learn it in an organic manner. As they read and encounter words in the text, they understand some words from the context. Others, they look up on the spot. Another perk of reading is in understanding sentence structure. Readers peruse hundreds to thousands of sentences as they roam through the pages of a book. These sentences become a part of who they are. So, when readers start to write, they have a strong background in structuring their writing.

Positive leisure time activity:
Reading is a positive way to spend leisure time. In addition to enriching your intellect, promoting an understanding of the world, and building writing skills, you can be transported into experiences that you might not otherwise be able to have. In our fast-paced world, it is difficult to get away and travel to other countries. Never mind the money that travel adventures cost! In the pages of a book, you can find many explorations. Travel to foreign lands or back in time. Learn about cultures and why they evolved. Go to possible futures. Get into the heads of famous people. All of these experiences can be found in the pages of a book.

Finally, there is another potent reason why adults, especially parents, need to read books. Going back to the meme that said 42% of adults never read a book after they graduate from college, I realize one of the reasons that I was horrified. As a retired school teacher, the first thought that crossed my mind was, "That is one of the reasons why so many kids have trouble reading. They lack a reading role model." When children never see their parents read a book, those children know that reading is something that their parents do not value. This subtle message sneaks into their thinking, and they don't value reading, either. Reading fluently and fluidly is a product of practice. When children do not read a lot, they do not become accomplished readers. While this impacts their leisure time activities, it also affects their schooling. When you can read easily, all subjects are more accessible. If learning is easy, it is more likely to be pleasurable. Parents can make children's educational lives easier by modeling reading and showing that reading is a prized activity. That means that adults need to read books, even after they graduate from college.

Resources:
https://www.statisticbrain.com/reading-statistics/ (The Statistic Brain Research Group-A look at reading statistics)

NEWSLETTER: I invite you to subscribe to our free weekly newsletter. This gives you all of the updates for the Reading Site. Sometimes, this newsletter has information on books and reading that is not in the articles. Fill in the blank below the article with your email address - which is never passed on beyond this site. We never sell or trade your personal information.

Related links: The Related Links below this article may be of interest to you.

There are times when I recommend an item related to my article and add an Amazon link, so that you can check it out. I am an Amazon Associate, and when you purchase an item after clicking on my link, I do make a commission for purchases made through that link.





You Should Also Read:
Reading Develops Writing Skills Naturally
Reading is a Skill for Life's Activities


Related Articles
Editor's Picks Articles
Top Ten Articles
Previous Features
Site Map





Content copyright © 2022 by Connie Mistler Davidson. All rights reserved.
This content was written by Connie Mistler Davidson. If you wish to use this content in any manner, you need written permission. Contact Connie Mistler Davidson for details.