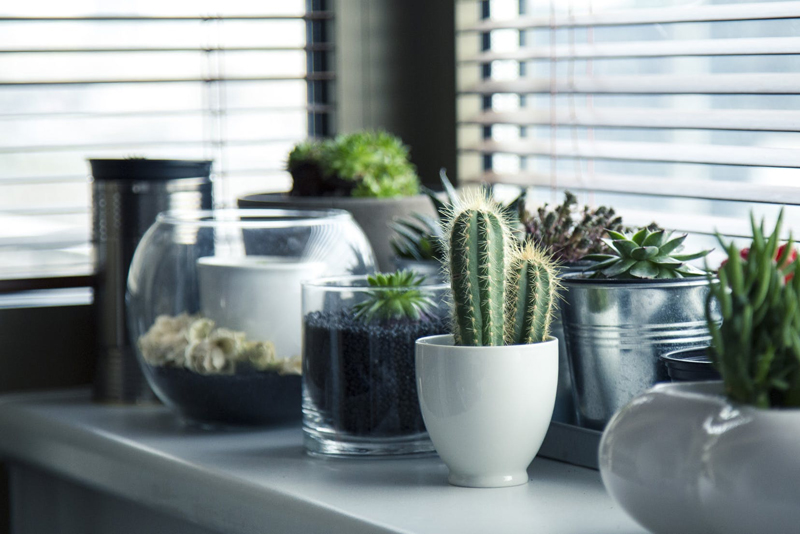 I love plants that really make a splash in a room, and banana trees do it well. Tropical plants are gaining popularity again, not just for indoor gardeners like me, but as annual plants in the garden or patio containers for those in cooler regions.

I'm really excited about this because it means that more and more varieties of tropical plants are becoming available. With banana trees, this is beneficial because it means that shorter varieties are easier to find. While a banana tree looks good in your living room or foyer, it won't make you very happy when it starts to become smashed against your ceiling.

For homes with higher ceilings, commercial variety banana trees can be a good way to go. Varieties such as Musa acuminata 'Grand Nain', better known as a 'Chiquita banana' grow to about eight feet tall. This is kind of a fun option if you want to get some edible, full sized fruit.

There are several types of dwarf banana trees, including the Super Dwarf Cavendish and the Dwarf Red that are suitable for indoor growing. There is even a Super Dwarf that grows to only 3 feet tall, if you are really cramped on space. Like most plants, if you want to keep it on the small side and stunt its growth a bit, you can grow it on the dry side and don't fertilize. You can also keep it in a small pot. Restricting root growth and nutrients will help you keep your banana tree in check.

Chinese Yellow Banana (Musella lasiocarpa) is also an attractive option. This plant is thought by some to be extinct in the wild, but is fairly easy to find for purchase. It has large yellow flowers resembling lotus blossoms, and the flowers last for months. This banana tree grows between 3 and 6 feet tall.

Be sure to look for the height listed or ask someone before purchasing a "dwarf" banana tree. Height is all relative, here. Dwarf varieties are merely shorter versions of the normal varieties, and that doesn't always mean that it will be short.

In order to successfully choose the banana tree that is right for your home, you should first decide where you will put it. Ideally, the plant should get bright, but filtered sunlight. Consider how high your ceilings are and picture how tall you want your banana tree to grow. Avoid choosing a plant that will become too tall for the area you have selected. You will be much happier in the long run if the plant is a good fit.

When you have decided where you will place your tree and what kind of tree it will be, pick out a planter that adds that finishing touch. Remember to keep it simple: a large tropical plant is an eye-catcher all on its own and you don't want to overdo it. A tasteful planter will help your exotic new friend fit in nicely.


This site needs an editor - click to learn more!


Related Articles
Editor's Picks Articles
Top Ten Articles
Previous Features
Site Map





Content copyright © 2022 by Lisa Beth Voldeck. All rights reserved.
This content was written by Lisa Beth Voldeck. If you wish to use this content in any manner, you need written permission. Contact BellaOnline Administration for details.