Zoo Publishing is a relatively new company producing monthly, downloadable (PDF format) digital art magazines. For the 2D digital artist (PhotoshopR, PainterTM, etc.), they offer 2D Artist Magazine and for the 3D artist (AutodeskR MayaR, LightWave 3DR, PoserR, etc.), they have 3D Creative Magazine. In my opinion, both of these publications are top notch.

The first thing you will notice about these magazines is the striking, full-color, full and half page images which accompany the articles representing some of the best of today's digital artists. With each issue averaging 90 pages and only three or four of these pages containing ads, you certainly get your money's worth at $4 per issue. So what do you get? Variety seams to be the keyword for both magazines which contain articles, reviews, interviews, tutorials, image overviews, galleries and competitions.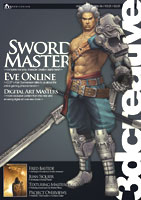 Interviews
In each issue, you will find an average of three interviews with leading artists who represent a variety of artistic styles and techniques. For example, the April 2006 issue of 2D Artist had an eight page interview with Dylan Cole, a leading digital artist. Cole discussed how he creates his matte paintings which have been seen in several popular movies such as Lord of the Rings and Chronicles of Riddick. The interview opened with a beautiful, full page matte painting and many more samples of his artwork were scattered throughout the interview. Moving from fantasy to cartoon art, there were interviews with prominent digital cartoon artists. Aurore discussed working on the Pixie comics for Delcourt Publishing and Patrick Jensen from DreamWorks talked about how he got started and his work on Shrek 3. Over the past months, 3D Creative has had an interview with 3D modeller Heber Alvarado who talked about his work at Propaganda Games (Disney) and another interview with Michel Roger. This interview introduced Roger's Joan of Arc tutorial (reprinted in English) which spanned several issues.


Tutorials
Each issue has several detailed, step-by-step tutorials from leading digital artists. Some of these tutorials conclude in one issue and others, the Elements and MasterClass series, carry over to several issues allowing for more in-depth study of artistic style and technique. For example, the 3D texturing MasterClass spanned over four issues and included Mapping and Unwrapping A Head, Texturing A Human Head, Texturing A Scene and Low Poly Character Texturing. For the Elements tutorial series, the topic of the month (i.e. skies, water, terrain) is discussed by more than one artist so that you can compare each artist's approach to the same subject. Each tutorial gave step-by-step, detailed instructions with accompanying images that showed each stage of the process.

Making Ofs Image Overviews
These articles are much like the tutorials. However, in place of step-by-step instructions, you have the artists discussing a general overview of his/her creative process. As you would expect, progressive images from start to finish accompany the discussion. After you master the software, articles such as these become increasingly important to advancing your own style.

Competitions and Ten of the Best Galleries
Each issue contains a gallery of ten of the best images, spanning a wide range of styles, that have been submitted to Zoo Publishing. Also each month there is a competition. You can enter these monthly drawings by email and the prizes can be anything from digital software to training DVDs.

You can purchase issues of both magazines at 2dartistmag.com and 3dcreativemag.com. There you will find preview versions of each issue (free download) and the full versions are sold separately and by six and twelve month subscriptions. Back issues are still available.



3D Creative Magazine cover used with permission from Zoo Publishing.