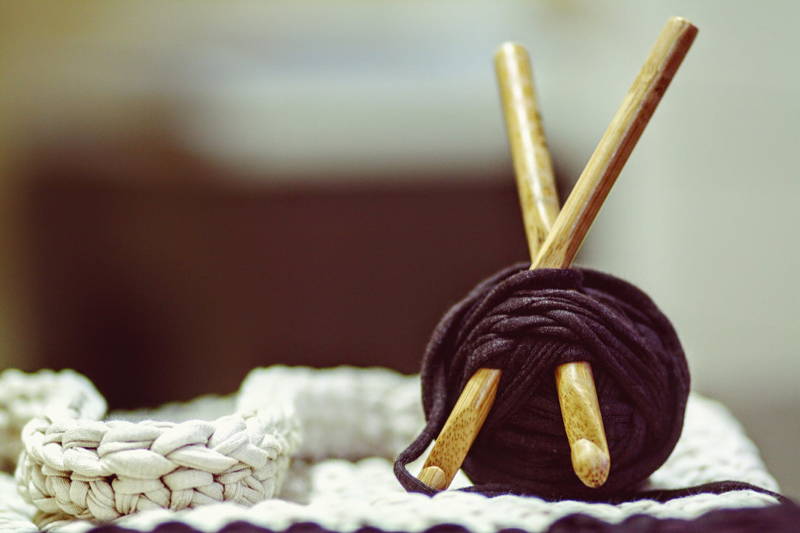 Wool yarn is derived from various animals; such as sheep, llama, some dogs, some cats, some goats, yaks and many more. But, I'd like to concentrate on the most popular woolen animal and that's a sheep; aka: ewe (a female sheep).

The female (and the male) sheep is typically shorn (shaved) once a year and, generally, in the springtime before their baby lambs come into the world. The shaving of the ewe has multiple purposes.

1. It keeps the ewe clean and easier for the lambs to nurse
2. Without the natural 'wool coat' they wear, the ewe is more apt to seek out shelter from the elements and to bring her lamb with her; helping to protect and warm them with shared body heat.
3. There's a good market for the roving that comes from wool.

This shorn wool is now called a fleece. Unfortunately, sometimes, about half of this fleece is not useable. Wool on the back legs, tail and belly are most often matted up with the field and body wastes, to such a degree, it cannot be cleaned and needs to be removed from the fleece before the cleaning process begins.

Cleaning the wool is done to remove not only the field and body wastes, but also to clean the natural oils from the fleece; which come from the ewe's body. The cheapest (and yet one of the best methods) is to use soap and water. I've used a mild shampoo (and sometimes condition it also), dish detergent and laundry detergent. But, never use bar soap, as this requires needing to rub the fleece with the soap bar and there's a good likely-hood that the fleece will felt.

Another method of cleaning is by using an acid bath. Be sure to follow the manufacturers instructions, which should be printed on the label.

After washing the wool, it is now picked. I always think of this as hand-picking any stray pieces of hay, hair, sticks or whatever else might have been caught up in it. While I do this by hand, there are machines which will pick it up, pry the fibers apart and blow air through this to separate the fleece and waste. Also, at this time, the manufacturers will use the opportunity to add a special oil which helps the fibers to slide against one another. And this process helps prevent the fibers to slide smoothly against each other, but it also helps them to stick together.

Once this process is done, the fibers will need to be put through a carder to turn into roving. First, let me tell you that carding machines can be quite costly. But, there's places where you can purchase manual carders. Again, this is not all that inexpensive. A method that I've used is to purchase two large dog brushes. Lay an amount on one of the dog brushes (bristle side up). Turning the second brush, bristles down, place it on top of the first brush and gently stoke across the metal prongs one the brush, repetitively. While doing this movement, the brushes should be in a straight line from each other.

Once done with this process, you now have a finished product called roving. In your carding process, you can develop small strips of roving called pencil roving. This is called thus, because of the long narrowness of the strip.

These spools of pencil roving will be placed on the spinning frame to make yarn. This can be done on a multitude of various spinning machines or it can be done by hand with a drop spindle. Whichever method you choose to use, it will produce a ply of fibers that twists into yarn.

After plying, this yarn can either be put onto large bobbins, for weaving or knitting machine use, or it can be put into yarn skeins.

The last step is to finish the yarn. One would think it would be finished, since it's plied, but that's not necessarily the case. Sometimes the added oil may need to be removed. This process will help set the twist so that the ply has less chance of dividing back out to what it once was.

Removing the oil will also allow the fiber to 'puff up' and makes a fun material to work with. You may have some textured yarns, but if you were really good, with the plying process, you'll have a nice, soft and fluffy yarn to work for thumbing, making bulky items and whatever else you may want to use a thick count wool fiber on.

I hope you find this information to be informative and helpful and knowledgeable. And, maybe the next time you see some sheep, out to pasture, don't be afraid to talk with the farmer and see if you might purchase some fleece at the next shearing. Quite often they sell the fleece to the general public and you may be able to pick some up fairly inexpensively.


Related Articles
Editor's Picks Articles
Top Ten Articles
Previous Features
Site Map





Content copyright © 2022 by Beverly Elrod. All rights reserved.
This content was written by Beverly Elrod. If you wish to use this content in any manner, you need written permission. Contact Holly Messenger Aamot for details.