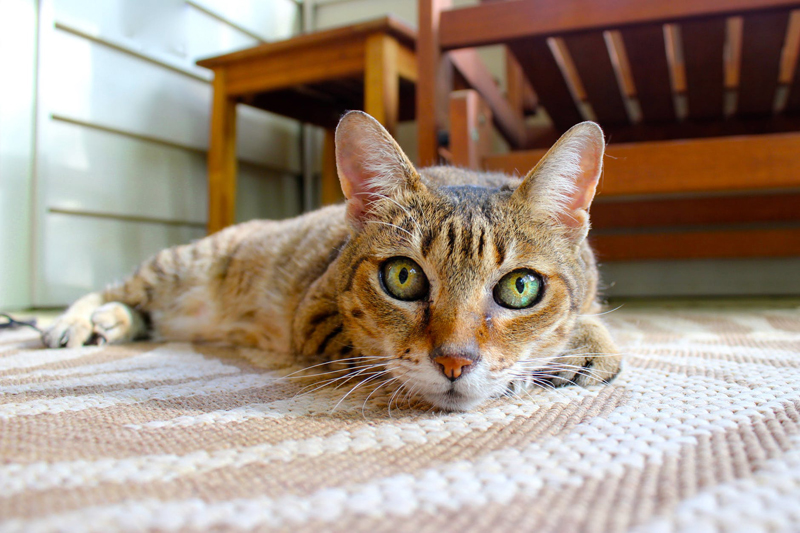 Quilting a rug

When we want to make a cheerful rug for a child's room, or perhaps a vibrant accent to our own living quarters, a quilted rug may deserve consideration.

In this case I do not have the patched quilt in mind, but rather a free form of quilting that resembles appliqué work, the stitching of various pieces of fabric on a background. Quilting and stitching can of course be applied as well.

For this type of rug, vintage material from coats may be used, while for the application of the design various materials may be suitable, particularly materials that contain images. These may be cars, flowers, or geometric shapes. There are many fabrics that have wonderful images.

How often have you seen these wonderful fabrics without having a real place to use them? Yet when you are making a rug for a child's room or your private space, small segments of that fabric may be just what you need.

Preparation: Wash and dry all fabrics thoroughly. This will prevent uneven shrinkage in future cleanings or washings.

Selection and shape: Round rugs or rugs with round corners will maintain their shape better, and are more easily adjusted by using running stitches along the edges,

Color is important, so select the background color first. This may be light or dark, depending on what would look best in your room. Then start collecting images from fabrics. Cut them out and start placing them on the background material until you have a design with harmonious colors and a pleasing composition.

The background could also be patched from similar fabrics in different colors. As coating materials do not tend to fray much, these pieces can be patched without folding the fabric. Just overlap and piece them together with two rows of running stitches to keep them in place. Then use a decorative stitch to keep the edges down. There are several stitches to do this, either by hand or by machine. By hand use the blanket stitch or the buttonhole stitch.

To ensure that the coating fabric retains its shape throughout the quilting process, start with a row of running stitches along the edges. This will allow you to adjust tension whenever this might be necessary, and will prevent sagging or bagging. Coating fabrics press well, so it would be a good idea to press the project from time to time.

Once the larger color areas have been defined, you are ready to start placing the smaller images (pictures) you have gathered. At this stage the children may want to get involved and decide where the pieces should go and which pieces they would like to see in there. This could be a memorable event for them.

These pieces will be of thinner materials, so they can be applied using the needle turn method, turning over the edge and blind stitching the pieces in place. For best results use firm materials that do not stretch. When using larger pieces, use additional quilts stitches along lines of the design on the piece to attach it to the background. Using a light layer of filler may be appropriate in some cases.

Finishing: Remove temporary running stitches. Apply a double row of machine stitching along the outer edge of the rug. Then finish according to your taste. A simple edging with a blanket stitch is often all that is needed. Applying a fringe is another option. At all times keep the outer edge flexible and adjustable and press well after completion.

You should end up having an eye-catching rug that will add interest to the room you are creating for your child or for yourself.
This site needs an editor - click to learn more!

You Should Also Read:
The Craft of Hand Made Rugs
BellaOnline Quilting
BellaOnline Sewing Basics




Related Articles
Editor's Picks Articles
Top Ten Articles
Previous Features
Site Map





Content copyright © 2023 by Iris ten Holder. All rights reserved.
This content was written by Iris ten Holder. If you wish to use this content in any manner, you need written permission. Contact BellaOnline Administration for details.