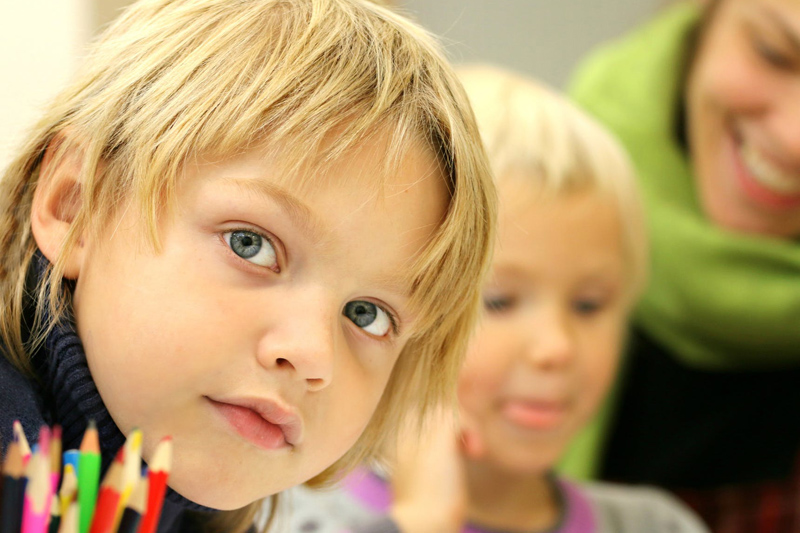 Learning to write their name is often one of the highlights of a child's first year of school. Preschoolers typically have the desire to learn to write long before the actual skill set required to do so has developed. The great news is that there are many activities you can do with your child to promote the fine motor skills necessary for them to start writing. This article will give you fun ideas on how to build the fine motor skills necessary for your little one to start honing their early writing skills; many of the resources needed for these activities can be found around your home.

Stringing beads
Pipe cleaners are a great material to use with young kids because they are sturdy and hold their own shape unlike yarn or other string; however, any type of string can be used. Pony beads or any other large bead are a great option for beads. If you do not have beads on hand, try using penne pasta noodles or any other noodle with a hole in the middle. Straws can also be cut into manageable sized pieces and strung onto pipe cleaners or string. Get creative! You will soon start seeing random household objects as items that can be used for a beading activity.

Lacing cards
You can find pre-made lacing cards at stores such as Target or online through Amazon. You can also find some great lacing cards at the Dollar Tree. Alternately, if you have a hole-punch, construction paper, yarn (or an old shoe lace), and some scotch tape at home then you have all the materials necessary to make your own lacing cards. Cut a variety of shapes out of the construction paper, at least 6"x6" in size. Then punch holes around the outside of the shape leaving roughly a ½" between the holes. Wrap a small piece of tape around one end of the yarn, to help keep the yarn from fraying, and tie a knot at the other end of the yarn. The lacing cards are now ready for your child to start lacing. Side note: if you happen to have access to a laminator, you can laminate the shape prior to punching the holes for extra durability.

Pom-Poms
Pom-poms are found in the craft section typically by the pipe cleaners. They are round, fuzzy balls about an inch in diameter. These can be used in a variety of ways to promote fine motor skills. Show your child how to pick up the pom-poms using tongs and place them in an empty ice cube tray. If they aren't ready to use tongs yet, have them use their fingers to pinch the pom-poms and place in the ice cube tray. Another simple activity is to use any empty plastic container (margarine tub, large size yogurt tub, sour cream tub, etc). Cut a small hole in the lid. You want a pom-pom to be able to be pushed through the hole with your finger, but not so big that the pom-pom can drop through without some assistance. Put the lid on the container and have your child push the pom-poms through the hole. To add another dimension to this activity you can cut multiple holes in the lid and using a permanent marker color a different color around each hole. Then have your child put the matching color pom-pom through the coordinating hole.

These three easy to set-up activities really promote fine motor development which is a precursor for writing skills. Try introducing one of these activities to your preschooler today and watch their fine motor skills blossom!




Editor's Picks Articles
Top Ten Articles
Previous Features
Site Map





Content copyright © 2023 by Amy Tradewell. All rights reserved.
This content was written by Amy Tradewell. If you wish to use this content in any manner, you need written permission. Contact Amy Tradewell for details.