Aung San Suu Kyi and Burmese Buddhism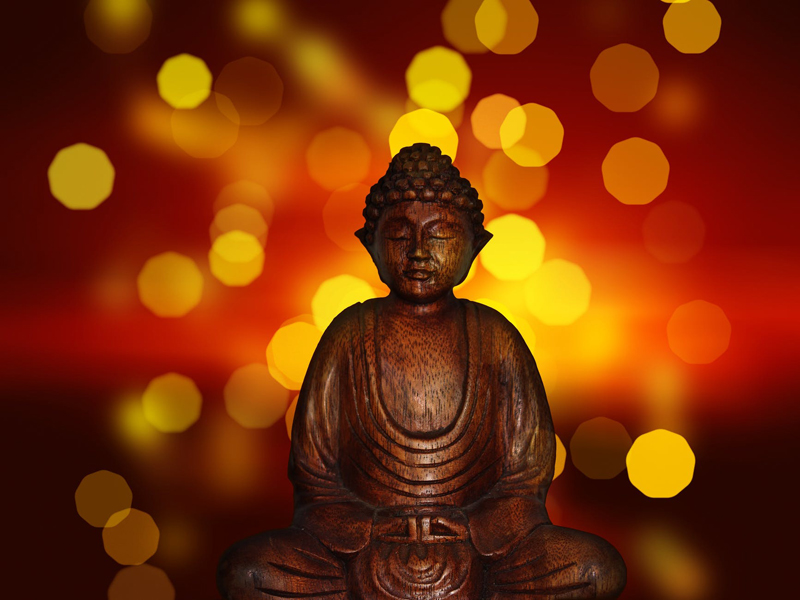 Burma (also known as Myanmar), and pro-democracy leader Aung San Suu Kyi, have been in the news often in the last few years, because of her continued house arrest and the highly publicized 2007 public demonstrations protesting the government. What has been less covered is the role Buddhism has historically played in Burmese politics, and in the development of Aung San Suu Kyi's political philosophy.
Aung San Suu Kyi was born in 1945 into both Buddhism and Burmese politics. The Burmese population is almost 90% Buddhist, mostly of the
Theravadin tradition
, and has the highest proportion of monks in the population of any country. Aung San Suu Kyi's father founded the modern Burmese army, and helped negotiate its independence from the U.K. in 1947. He was assassinated by Burmese rivals shortly thereafter. Her mother later became the Burmese ambassador to India and Nepal, and Aung San Suu Kyi attended university in India. She later continued her education in England, met and married her husband there, and lived in London with him and their two sons for many years.
She returned to Burma in 1988 to aid her ill mother, and because of ongoing turmoil in the country at the time, became politically active. She helped found the National League for Democracy, which won the 1990 election, making her the assumed Prime Minister. But the military leadership refused to hand over power, placing Aung San Suu Kyi under house arrest, where she has been for 13 of the last 19 years. She has been denied visits by even her family since 1995, and her husband died of prostrate cancer in 1999 without seeing her. She was awarded the Nobel Peace Prize in 1991, which her sons accepted on her behalf, and she used the 1.3 million dollar prize money to start a foundation to aid the Burmese people.
Aung San Suu Kyi is a devout Buddhist personally and credits her practice with helping her survive her house arrests. The few who have been able to spend time with her over the years say that she spends much of each day memorizing sutras and meditating. She has also said that she believes Buddhist teachings support democratic principles, which stands in direct opposition to statements by the current Burmese government, which asserts that democracy is a western invention and therefore 'un-Burmese.'
In a collection of her writings,
Freedom from Fear
, she asserts that Buddhism and dictatorship contradict each other, because Buddhism places the highest value on every individual's ability to attain Buddhahood, while authoritarian regimes devalue individuals, turning them into a "faceless, mindless—and helpless—mass to be manipulated at will." She also asserts that the Buddhist emphasis on righteousness and virtue supports the idea of political protest when a regime is unjust, as opposed to non-engagement, which some Buddhist traditions have historically taught. She believes that as long as protests are non-violent, and therefore do not violate the precept to do no harm, they are an expression of Buddhist virtues and practice. Like the Buddha, she talks about the hindrance of fear, but in political terms, as in this quote from her most famous speech:
"It is not power that corrupts but fear. Fear of losing power corrupts those who wield it, and fear of the scourge of power corrupts those who are subject to it."
Since Burma has long been predominantly Buddhist, Aun San Suu Kyi's ability to integrate Buddhism with western democratic ideals has been crucial to her success at inspiring and motivating the Burmese people. Like Vietnamese monk Thich Nhat Hanh, she has become a modern proponent of engaged Buddhism. A shift has occurred, especially within the ranks of Buddhist monasteries in Burma, with more monks willing to become politically active. One result of this was the 2007 uprising against the government in protest of certain economic policies, which was largely led by Buddhist monks and nuns. Unfortunately, many were killed and imprisoned, and the movement has been forced to regroup.
Today, Aung San Suu Kyi remains under house arrest, and is currently on trial for allowing an American man to stay at her house for two days to recuperate, after he swam across a lake to get to her. She has become a hero of human rights in the West, and even has a bestselling pop song dedicated to her - U2's
Walk On
. Many organizations advocate for her message and release - check out the Related Links below for some. Or
visit the forum
to view some more Aung San Suu Kyi quotes, or to add your own.
You Should Also Read:
Freedom Now Website
Action Burma Website


Related Articles
Editor's Picks Articles
Top Ten Articles
Previous Features
Site Map



Follow @mommymystic
Tweet



Content copyright © 2023 by Lisa Erickson. All rights reserved.
This content was written by Lisa Erickson. If you wish to use this content in any manner, you need written permission. Contact Lisa Erickson for details.