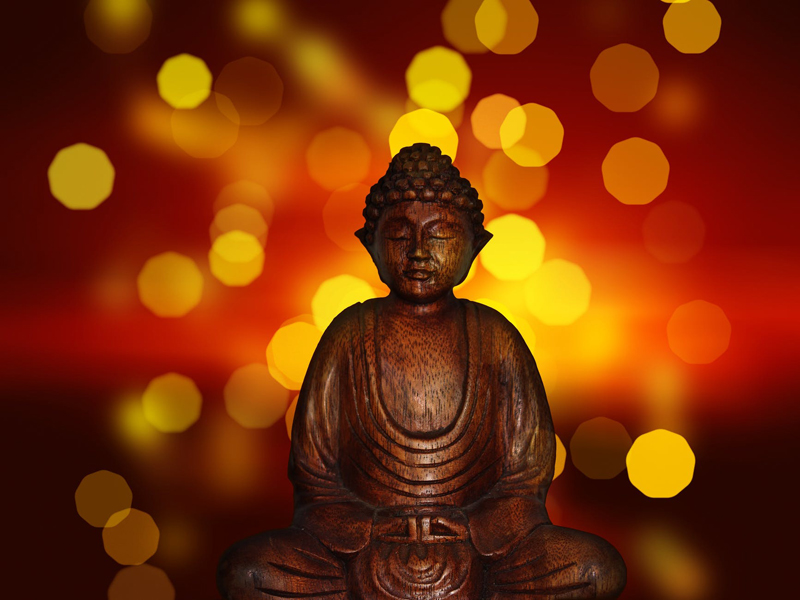 Is a Buddhist a person who has a picture or statue of the Buddha? Is a Buddhist a person who wears a mala and recites a mantra? Does a Buddhist just memorizes texts and read a lot? Is a Buddhist a person who meditates?

Though many Buddhist do some, if not all of the above things doing those things is not what being a Buddhist is about. A person is a Buddhist who lives according to the Buddha's teachings. A Buddhist strives to understand The Four Noble Truths and makes every effort to follow The Eightfold Path in order to gain enlightenment and end suffering.

Many lay Buddhist practitioners take five basic precepts. Some Buddhists chose to observe more as is the case for those choosing the monastic lifestyle.

Buddhists believe that it is only by understanding the Four Noble Truths (not just being able to repeat the words) and living by the eightfold path that enlightenment can be reached. Simply reading Buddhist texts and saying mantra's isn't enough, only through effort can enlightenment be reached.

With that said, I know many people who know little if anything about Buddhism and yet they try to never harm any living creatures, they do not steal and always their words are wise and helpful. Sadly, I've known people who consider themselves to be Buddhist who seem to make it a habit of doing the opposite of the precepts and become farther and farther from their goal of enlightenment while those whose actions follow the eightfold path are getting closer and closer.

If you look around, you will find many people who are wise and wonderful people living to help others. We are all striving to be happy; each person must choose their own path. I found the teachings of the Buddha to be the ones that seem to make the most sense to me and so I consider myself to be a Buddhist. What helps you?

If you are new to the Buddhist path, here are some books I recommend.



The author uses easy to understand examples and dialouge.



A lot of people are against "The Complete Idiots Guides" and the "dummies" series of books but I for one, love them and think they are a good starting point.


Related Articles
Editor's Picks Articles
Top Ten Articles
Previous Features
Site Map



Follow @mommymystic
Tweet



Content copyright © 2023 by Jeanette Stingley. All rights reserved.
This content was written by Jeanette Stingley. If you wish to use this content in any manner, you need written permission. Contact Lisa Erickson for details.