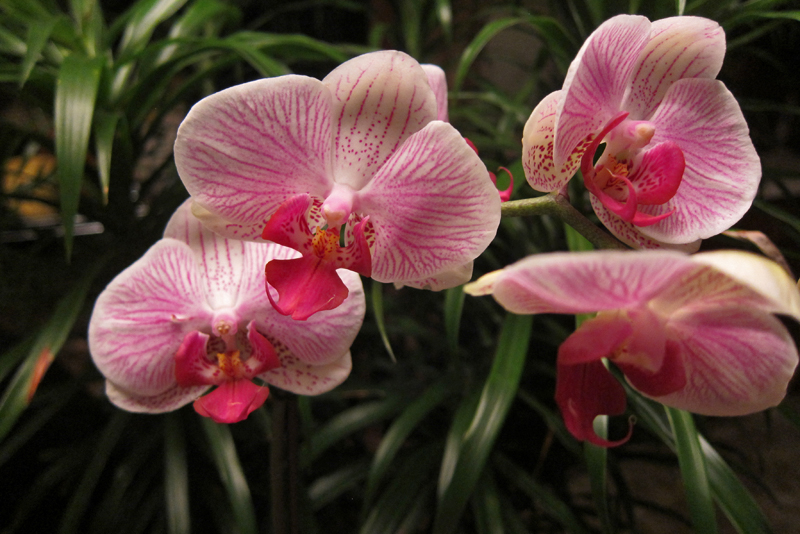 One of the most common questions I get is "What kind of orchid should I start with?" For a true beginner, I would always recommend a Phalaenopsis or Moth Orchid. They are reasonably priced, the flowers are lovely and will provide enjoyment for a long period of time; they come in a number of different colors and are reasonably adaptable to conditions in the home. They normally come in either standard (12 inch or 30.5 centimeters leaf size with 3 foot or 1 meter inflorescence) or miniature sizes (4 inch or 10 centimeter leaves and 15 inch or 38 centimeters inflorescences). The most popular is the standard white or pink, large-flowered variety with 4 to 5 inch, or 10 centimeter flowers. These are used around the world in exotic arrangements at hotels, meeting places, airports, etc.
If you want to start at home with an orchid, this is the one to try. Many hardware stores, grocery stores, and markets now sell these in a variety of colors. This is how I got started in orchids,
So you want to start growing orchids?
.
At home these orchids need a bright location with no direct sunlight. They will be happier if you provide additional moisture by placing them on a tray with rocks and water to provide humidity. It is very important to be sure that the water is not touching the bottom of the pot since that will cause the roots of the plant to rot.
In a recent series of posts on an orchid forum
Oncidium Sharry Baby
was listed as one of the easiest of all orchids to grow. This can get to be a fairly large plant -- 15 inches or 38 centimeters high, with 24 inch or 60 centimeter inflorescences. The flowers are small, but extremely fragrant and long lasting. And best of all,
the flowers smell like chocolate!!
Other popular Oncidiums are Grower Ramsey and
Oncidium Sweet Sugar
which have attractive bright yellow "Dancing Lady" flowers. The flowers are so named because if you look closely, they look like little dancers with a big skirt. When in movement from air currents they look like they're dancing.
Another kind of orchid which is very good for beginners is the Dendrobium, also available at reasonable prices and widely distributed. I am particularly fond of this genus as the flowers are more varied in color than Phalaenopsis and are also extremely long lasting. I would recommend that if you are just starting and don't have a greenhouse, just get the miniature size Dendrobiums. The standards, while beautiful, are very hard to handle as they are grown in small pots and can get to 3 or 4 feet or 1 meter tall. When I first started growing them I had all kinds of wires and ties trying to keep them from falling over. If you can grow outside on a patio or porch, they do well in hanging baskets. They are easy to grow and, in my opinion, easier to re-flower than Phalaenopsis.
You Should Also Read:
Join an "Orchid of the Month Club"
Phalaenopsis--Pick a good one
Phalaenopsis Orchids—A Primer


Related Articles
Editor's Picks Articles
Top Ten Articles
Previous Features
Site Map





Content copyright © 2023 by Susan Taylor. All rights reserved.
This content was written by Susan Taylor. If you wish to use this content in any manner, you need written permission. Contact Anu Dharmani for details.