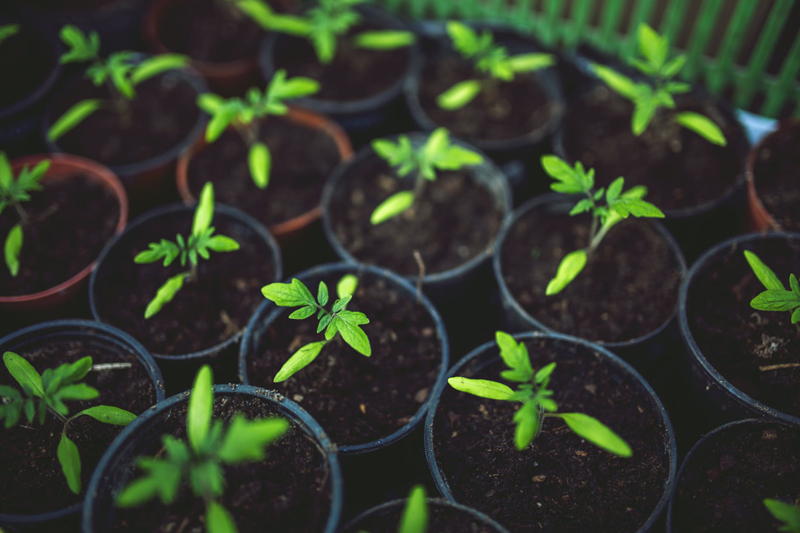 Organically Grown Garlic
My grandfather on my dad's side was a master gardener of garlic. He could produce cloves that were huge. No it was not elephant garlic, it was ordinary garlic. He knew garlic was good for your health even before all the medical reports confirmed it.

Garlic is part of the lily, onion and leek family and it is always alive. You can divide it, and it can clone itself into many smaller pieces. People have cooked and used the garlic plant since beginning of time and it has stood strong through the centuries.

When to Plant

The nice thing about planting garlic is that it is planted during the months of September and March, preferably after the first frost. Most of the old time gardeners would plant theirs as close to the autumnal equinox as possible. When you plant the garlic in the fall, it will begin to form roots. It will begin to develop, giving it a start to withstand the winter months that are coming. Then, when spring comes, the garlic will resume life and start to grow. Garlic loves to grow during the spring and the more it grows the bigger their bulbs will be. Garlic will continue to grow until the weather turns hot. The hot weather causes your garlic to mature and bolt, ending its growing cycle. Did you know that garlic does not produce seed? Instead, it reproduces itself by forming many cloves inside a bulb of garlic.

Preparing the Bed

Now that you know when to plant garlic, it is time to prepare the bed before that season comes. With a garden fork, shovel, or a tiller, loosen and work the ground. Dig down at least six or more inches. Garlic needs loose soil because that is where the bulbs form and grow. The best kind of soil to have is one with a little sand, and lots of organic or rich compost soil. You also need to have a soil that drains well. If it does not, your garlic may rot.

Planting the Garlic

When you have your soil prepared and ready, it is time to plant. Break apart your garlic bulbs so they are now individual cloves. Garlic is prone to fungus so to keep them safe you should soak them in one heaping tablespoon each of baking soda and liquid seaweed per gallon of water. This will not only treat them for fungus, but will also give them an energy boost. Soak your cloves of garlic overnight. This helps the peeling around each clove to come off. The peelings hold the fungal spores or eggs of pests. The next day remove them from the baking soda solution and put them in a bowl of rubbing alcohol or 100 proof vodka for three to four minutes. This final soaking is to kill any eggs or fungus spores that the first solution missed. Plant the garlic immediately. You don't have to do either of these soaking steps, but some of the old time gardeners swear that their bulbs of garlic are better when treated in this solution. Plant your garlic cloves, three inches deep with the root end down, usually that's the flat fat end, with the other end pointing straight up. Cover with your soil. Space your cloves about 4 inches apart.

Mulch

Cover with 3 inches of mulch to keep the weeds down and help hold the soil moisture in.

Next spring, the garlic will begin to grow. Keep the garlic bed slightly moist, but not too wet. Most recommend not fertilizing, but if you feel you must, do this in the early spring. If you fertilize after the bulbs begin to form, then most of the growth will go into the leaves and not the bulb.

The Time to Harvest

How do you know it is time to dig up your garlic? Begin by watching the leaves. They will tell you when it is time to harvest. When the lower leaves turn brown, but you have around six top leaves that are still green, the time has come to harvest. Do not wait until all the leaves turn brown and fall over. If you wait until that happens, your garlic bulbs could over ripen and they have a better chance of getting fungus, or pests in them.

Carefully dig them up. Do not bang them around. You must be gentle with them as they bruise easily. Lay them in a cool shady place to cure. Do not put in direct sunlight as this will sunburn them or cause them to dry too quickly. Continue to dry them until the roots and necks are completely dry.

Storing Garlic

You can either braid the garlic together or trim them. To store them keep your garlic around 55 F degrees. Store them any place where it is cool, dark, and relatively low humidity.


Related Articles
Editor's Picks Articles
Top Ten Articles
Previous Features
Site Map





Content copyright © 2021 by Gail Delaney. All rights reserved.
This content was written by Gail Delaney. If you wish to use this content in any manner, you need written permission. Contact Gail Delaney for details.