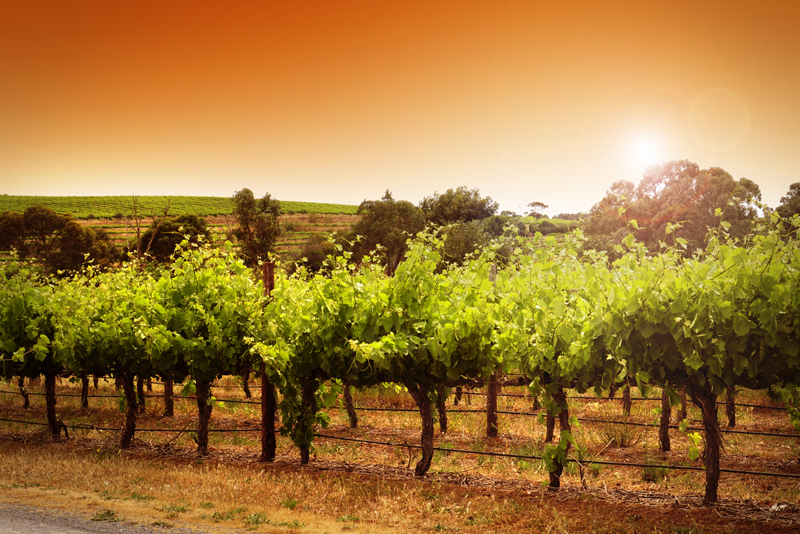 Almost every corner of California has a winery open for tasting or a vineyard ready to be toured, and wine-making has become an essential part of California's economy. The visitor try California wines in a number of venues, including restaurants, tasting rooms, and visits to vineyards. Wine-tasting can be, and often is, the entire focus of a visit to California, but it can also be a respite from more athletic pursuits. However important wine-tasting becomes to one's trip, it is one of the highlights of eating and drinking in the state.

Different "American Viticultural Areas", or AVAs, provide different experiences for the traveler. Wine is difficult to make well precisely because the grape plants respond individually to the "terroir", or geography, of the planting. Climate differences often mean that a grape varietal will do better or worse in a particular area. In addition, there are 'microclimates' created by cooling air from the ocean, warm area in an inland valley, the amount of rain available, and the like. One of the reasons that California became such a haven for wine-making lies in the complexities of the available terroir.

The industry actually started in the southern part of the California. While the Franciscan fathers planted grapes at the missions in order to produce communion wine, Los Angeles was the site of the first commercial plantings. With the advent of the Gold Rush, California history moved to the north-central part of the state, taking wine production with it. Over the years, the industry has expanded, contracted, and grown in tandem with history.

Around 1860, a world-wide wine crisis was created by the phylloxera louse. During the second half of the nineteenth century, exchanges of root stock between New World and Old world plantings caused the pest to spread. In 1863, vineyards in Provence were affected; by 1900, a great deal of European viniculture was destroyed and transplanted vines in North America were also showing infestation. The solution turned out to be simple yet profound: European varietals were grafted onto resistant North American rootstock.
California vineyards barely had time to recover from the phylloxera scare before Prohibition shut down wine production in the state. The industry would have been decimated had growers not taken advantage of certain loopholes in the law, one being the allowance of wine-making for sacramental purposes. In addition, grapes were grown in California and then sold to buyers who did not specify the intended usage – namely bootleggers. In this way, vineyards were able to stay financially solvent and sometimes even lucrative, until the Volstead Act was repealed in 1933.

California wines became internationally known after the infamous "Judgment of Paris" competition in 1973. At this event, two Napa County wines, Chateau Montelena Chardonnay and Stag's Leap Cabernet Sauvignon, won first place in blind tastings – over the French wines that were supposedly pre-eminent. This happened again in 2006, further eroding the idea that New World wines are inferior and further burnishing Napa's prestige as 'the' winemaking center of the state.

Today, while wine enthusiasts enjoy vintages from such far-flung areas as Chile and Australia, they do so thanks to California's pioneering spirit. The state continues to make superb wines, and the industry has exploded within the last two or three decades. Today, there are vineyards and wineries in almost every corner of the state, with a number of California AVAs that produce different kinds of grapes, different blends, and different styles of wine.

You Should Also Read:
Laetitia Vineyards and Winery
Winter Wine Tasting in Sonoma County


Related Articles
Editor's Picks Articles
Top Ten Articles
Previous Features
Site Map





Content copyright © 2022 by Korie Beth Brown, Ph.D. . All rights reserved.
This content was written by Korie Beth Brown, Ph.D. . If you wish to use this content in any manner, you need written permission. Contact Korie Beth Brown, Ph.D. for details.