This is by far one of my favourite appy's and I honestly I will find any excuse to make it, the great part is that everyone else loves it as well. Just last week I made this yummy side for our playoff party (yes we truly are hockey loving Canadians) and the dish came back so clean that I could have put it back in the cupboard. So if a group of hockey watching, beer drinking, hot wing eating guys loved this dish I promise you anyone will. So whether your planning a big event, a girls night in or even just a night of veggin out on the couch this simple appy is a perfect choice.
2 medium sized red onions
1 lbs hamburger
1 1/2 tsp taco seasoning
3 cloves garlic
1 tsp garlic powder
1 tsp chilli flakes
1 500 ml container of sour cream (or 2 cups)
1 375 ml jar of salsa
1 red pepper
1 yellow pepper
2 cups grated marble cheese
1 cup chopped green onions
2 medium tomatoes
Dice one red onion (white can be substituted) into small pieces, the pieces should be about the size of your fingernail. Add hamburg and diced onion into pan to brown at a med-low heat. While meat is browning use a garlic press and mince each of your garlic cloves and add into meat mixture. Next add in the garlic powder, chilli flakes, and taco seasoning. Make sure the spices get mixed well into the meat and that the meat is not in clumps (the hamburg should be crumbly).
Once meat is fully browned pour into casserole dish. I usually choose clear dishes as it shows off the layers nicely. Dice both peppers and remaining red onion, you want them to be about the same size as the onion earlier. Also cut up your tomato, this should be a little bit bigger then your other veggies (but still be small enough to easily be scooped with a chip). Sprinkle peppers and onions over the meat mixture but save your tomatoes for later.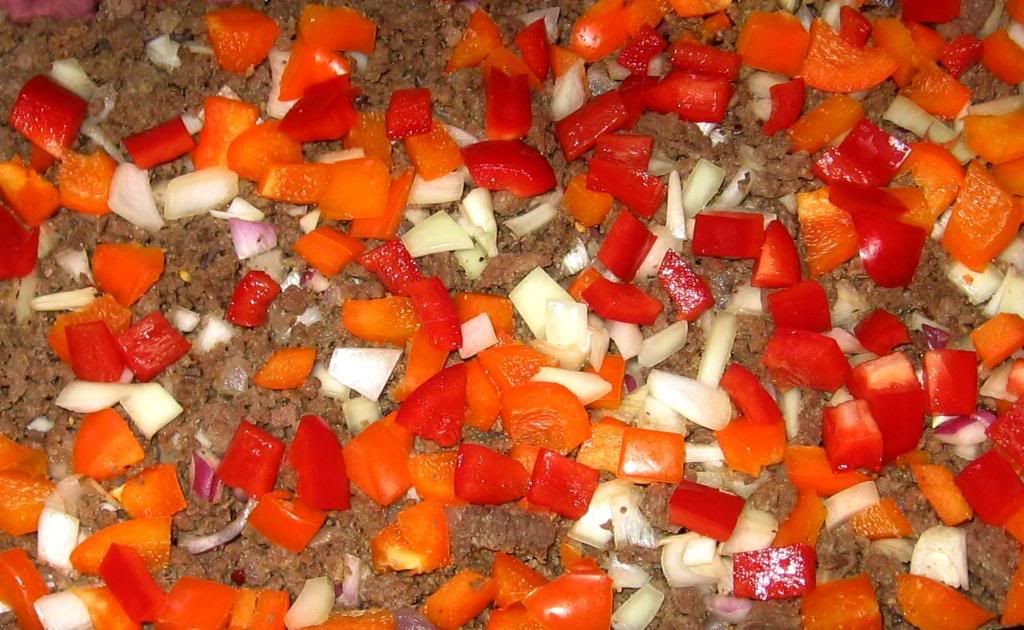 The next step is to add the salsa. I always layer on the salsa before the sour cream because I find that if done the other way around, the salsa causes the sour cream to become watery and runny. Pour on the salsa and spread evenly over the veggies.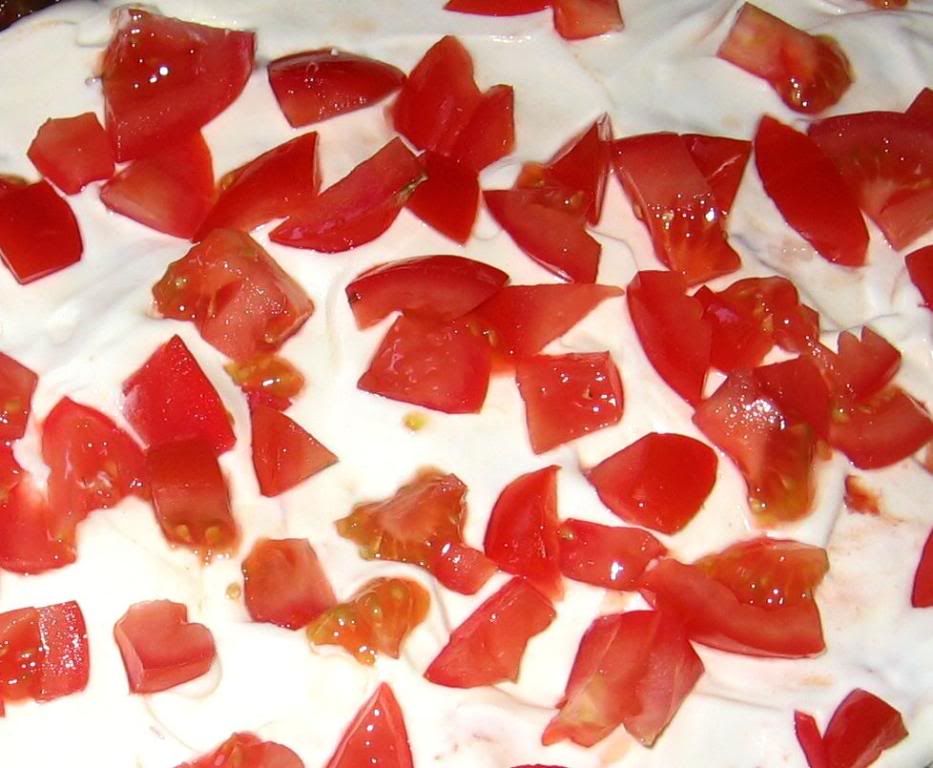 Spread sour cream evenly over salsa mixture and top with the tomatoes that you cut up earlier and sprinkle with cheese. All that is left now is to top with chopped green onions.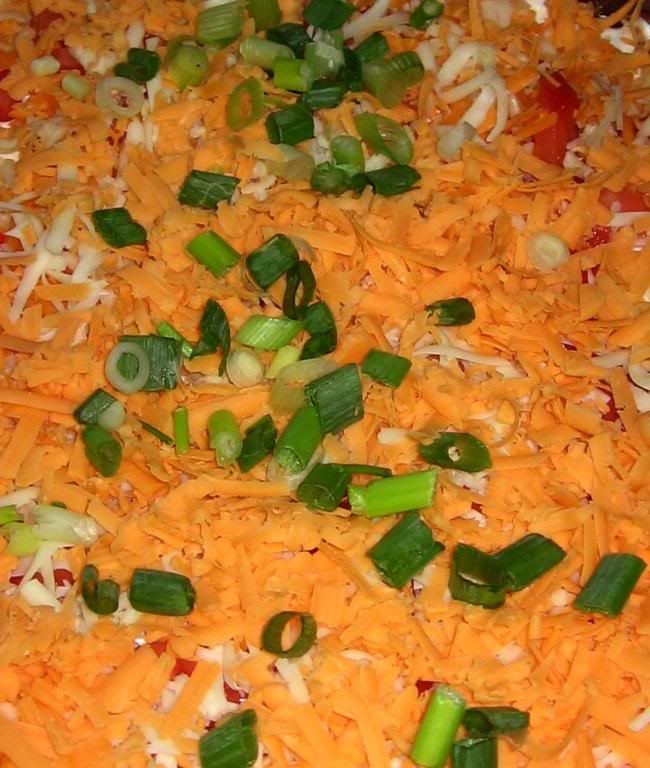 Put dip in the fridge to chill, serve with tortilla chips.
My Tips and other Idea's :
Try switching around the layers. Surprisingly enough I find that switching the textures around changes the whole dish even if it is something as simple as putting the veggies on top of the cheese or even topping it with the meat. So be creative and switch things up once in a while, find your own favourite way.
Try layering in other ingredients. This dish is so easy to add to, you can pretty much suit it to any theme or any tastes. Here are some "Addition" idea's you might like to try. Olives, you can buy them in a can already pitted in sliced how much easier can they get? This simple addition can take this dish and give it a sophisticated edge. Another quick, simple and inexpensive addition, refried beans. Layer this on top of the meat, it will add to the mexican theme of the dish and will throw in another yet another texture. The only down side of this tasty addition is that not everyone likes refried beans so if you do not know the tastes of your guests then this addition can be a gamble. Have some left over chilli in the fridge? Feel free to use it for your meat layer it will only add flavour to the dish. Just make sure to warn people if it is your famous "world's hottest 5 alarm chilli". You can also mix in some cream cheese with the sour cream if you wish though this will really boost the calorie count (but really in something this good who cares). Of course I couldn't finish off these additions without mentioning guacamole. I mean basically anything that has salsa in it can have guacamole thrown into the mix as well. Besides the taste what other perk does this addition have? Color, Remember that clear dish I told you about earlier, well it really does show off the yummy goodness of this dish and adding in the extra color of the guacamole makes it even more visually inviting.
Though tortilla chips have always been my favourite choice with this dish feel free to experiment for yourself. Flavoured triscuits like rosemary and olive oil are also a great pick, the only down side to them, they fill you up faster (I know its not REALLY a downside but I really love this dip)
This site needs an editor - click to learn more!

You Should Also Read:
RED hot chilli
Nanny Nora's Cinnamon Rolls
Red and White Red Hot Salsa Dip




Related Articles
Editor's Picks Articles
Top Ten Articles
Previous Features
Site Map





Content copyright © 2018 by Cavelle Natasha Layes. All rights reserved.
This content was written by Cavelle Natasha Layes. If you wish to use this content in any manner, you need written permission. Contact BellaOnline Administration for details.