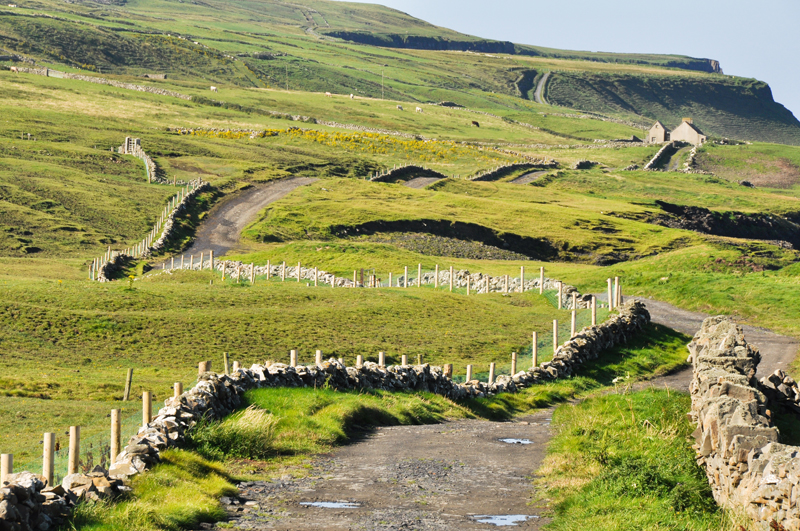 One thing to remember when visiting Ireland is that they take their gardens seriously. A land known for its lush green fields should not be second place for its gardens, and Ireland is not!
Among the most famous formal gardens in Ireland is Muckross House in Killarney, Co. Kerry. Once visited by Queen Victoria, this nineteenth-century 100-room manor house is situated in the center of the Killarney National Park. In 1911, the estate, all eleven thousand acres was bought as a wedding present for Arthur Vincent and his new wife Maude. After the death of Mrs. Vincent, the entire estate was given to the Ireland to be used as a national park. Muckross Gardens are best known for outstanding displays of rhododendrons and azaleas and for their water gardens.
The National Botanic Gardens are situated in the quiet Dublin suburb of Glasnevin. These gardens were once more famous than the Royal Botanic Garden at Kew. It is here that the fungus that devastated the Irish potato crop in 1845-48 was first fully identified. It is also here that the first orchids were raised from seed to full flowering. A descendant of the Old Blush rose from Jenkinson House, Co. Kilkenny that inspired Thomas Moore's "Last Rose of Summer" grows just inside the entrance to the National Botanic Gardens. Other attractions include the Great Palm House, built in 1884, the Curvilinear Range, recently restored by the Office of Public Works, a Yew Walk, a watercourse, and the lovely sinuous pool planted with water lilies in pink and white.
Glanleam Gardens on Valencia Island are different from other formal gardens in that they're laid out in a series of walks through a wooded spit of land. Included are a bamboo garden, a bog garden, and a water garden. Glanleam, where once the Knights of Kerry lived, has only been open a few years, but a visit to stroll through the walkways is a delightful experience.
Tully, in Kildare, boasts an exotic Japanese Garden. In 1900 Col. William Hall-Walker bought the farm at Tully where he founded the gardens and a stud farm. Hall-Walker, a keen follower of oriental customs, engaged Tassa Eida, a noted garden designer, to create the Japanese Gardens.
Mount Usher Garden at Ashford is 4 miles north of Wicklow on the main Dublin to Wexford road. It is a personal garden, Mount Usher is best known for its trees of particular rarity and beauty. Beeches of the southern hemisphere, weeping spruce and magnificent eucryphias that flower in the spring are but a few of hundreds of varieties. Camellias and rhododendron abound.
Altamont Gardens, Carlow, is a beautiful old world garden, Robinsonian in style with a strong emphasis on the informal tradition of combining a good plant collection within the natural landscape of its environment. Lawns and clipped yews slope down to a lake surrounded by rare trees and shrubs and a profusion of roses, old and modern, and herbaceous plants scent the air.
Heywood Gardens, Laois, consists of gardens, lakes, woodland, and architectural features. It was transferred to State ownership in November 1993 from the Salesian Fathers who had taken care of it since 1941. The formal Gardens form the centerpiece of the property and were designed by the famous architect, Sir Edwin Lutyens (1869-1944) and probably landscaped by Gertrude Jekyll (1843-1932). It is one of four Gardens in this country designed by him, the others being in the War Memorial Park, Lambay Island and Howth Castle.
Fota Arboretum contains an extensive collection of trees and shrubs extending over an area of approximately 27 acres and includes features such as ornamental pond, Italian, and walled gardens. The collection includes many tender plants that could not be grown at inland locations with many examples of exotic plants from the southern hemisphere. The Gardens at Fota were laid out by James Hugh Smith-Barry in the first half of the 19th century
Dont forget to stop and smell the roses!
If you'd like to visit Ireland and her fabulous gardens, there's no time like the present to start planning the trip. Check here for ideas:
Ireland's Japanese Gardens
A Garden Lover's Guide to Ireland
You Should Also Read:
Rock of Cashel


Related Articles
Editor's Picks Articles
Top Ten Articles
Previous Features
Site Map





Content copyright © 2022 by Mary Ellen Sweeney. All rights reserved.
This content was written by Mary Ellen Sweeney. If you wish to use this content in any manner, you need written permission. Contact Bee Smith for details.