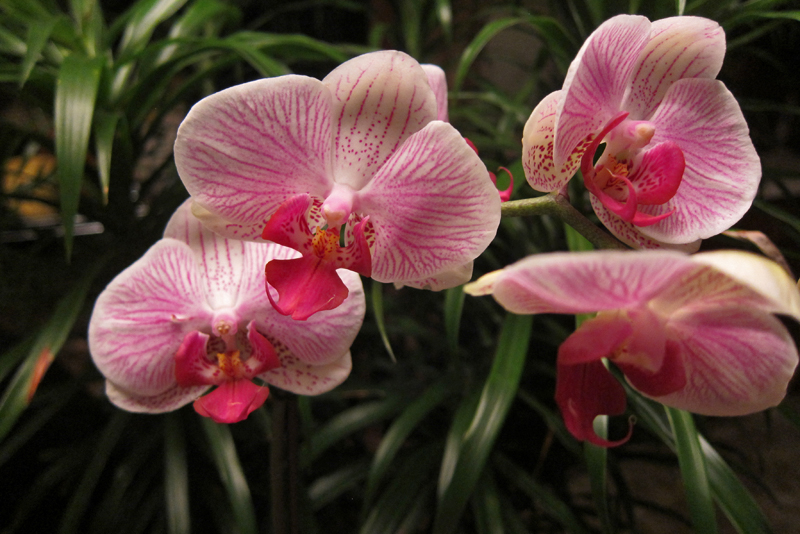 Just like birding books have special sections on "Confusing Fall Warblers" the Cattleya alliance has confusing plants. This is most apparent in the hybridization of species Cattleyas and the introduction of other species in the alliance. Even seedlings of the same cross can flower at different times and in different ways. Until you know when and how your plant flowers, don't get discouraged. Just watch and write down what happens so you are ready for it when the plant flowers next time.

There are two types of Cattleya species, the unifoliates and the bifoliates. This refers to one leaf per pseudobulb (unifoliate) and two leaves per pseudobulb (bifoliate) growth habit. These species are fairly standard, although occasionally a bifoliate will grow three leaves on a pseudobulb. Where all the confusion happens is in the hybrids between these species and other species within the alliance.

Some hybrids will suddenly start producing two leaves on new pseudobulbs rather than the single leaf they had been producing. Sometimes an extra third leaf will appear. Or a bifoliate will suddenly only produce one leaf. If this happens to your plants, don't worry. A change in growing conditions can cause this as well as changes in watering or fertilizer.

When it comes to flowering it gets even more interesting. Some Cattleya hybrids will produce a sheath on a new growth and the sheath will appear to die off and turn brown. Don't cut it off!! Some species Cattleyas will produce a growth and sheath and then wait up to six months before flowering. These are likely in the background of hybrids that don't flower immediately. Sometimes the sheaths don't even turn brown; they stay green and sit there for several months.

Others will produce a growth with sheath and the flower bud(s) will appear immediately. These are the easy ones — and it is fun to know that they're going to do something right away. Many of the freer flowering hybrids are like this — each new growth will produce a flower. Some will flower three to four times a year. Other Cattleya Alliance hybrids will not produce a sheath at all — you will just see a spike start to appear from the apex of the leaf. And of course some plants will occasionally produce a sheath that never flowers (these are called blind sheaths).

So, when your Cattleya hybrids are doing something unusual … just take it in stride and document when it happened. It may happen again next year at around the same time and signal that it's going to flower for you! And above all, don't cut off any sheath because it may be one of those that is maturing and will flower later.

You Should Also Read:
Orchid Name Tags
OrchidWiz Encyclopedia v 2.0
Light Meters and Hygrometers


Related Articles
Editor's Picks Articles
Top Ten Articles
Previous Features
Site Map





Content copyright © 2022 by Susan Taylor. All rights reserved.
This content was written by Susan Taylor. If you wish to use this content in any manner, you need written permission. Contact Anu Dharmani for details.