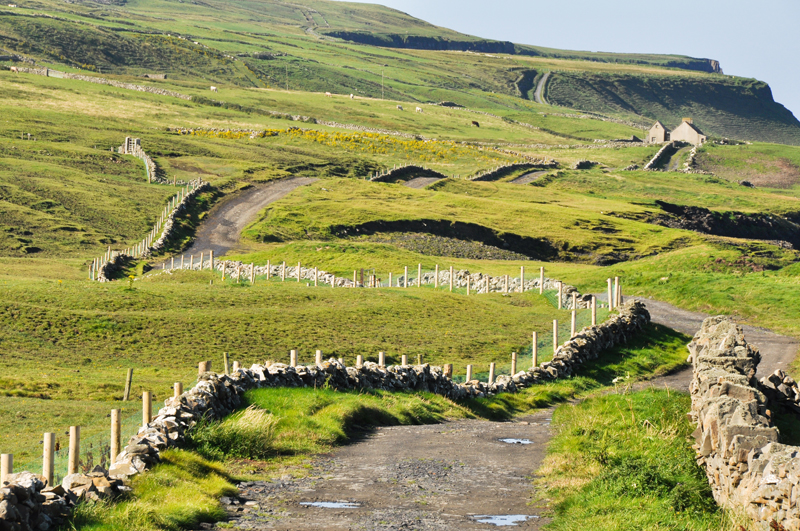 Biddy Early was a Clare wise woman or 'cunning' woman born in east County Clare in 1798. Biddy Early survived not only the ravages of the worst Famine years; she also has the distinction of being the last person in Ireland to be brought to court charged as a witch.

Biddy Early was born a Connors in County Clare. The family was poor and Biddy went 'into service' in a wealthy household before the first of what are thought to be four marriages in her lifetime. A controversial character in her lifetime, Biddy's biography is shrouded in myth making and the embroideries of the oral tradition.

There are two undisputed facts about her life. Biddy was an herbalist who had 'the cure' for many ailments that plagued her impoverished neighbors. There was a long tradition of these 'cunning women' in Europe. Not unlike many of those impoverished widows and spinsters, Biddy found herself in the dock charged as a witch in 1865, in Ireland's last trial under a 1586 statute.

Reading the various accounts and legends of Biddy Early, she cuts an unconventional character. While she was widowed several times, Biddy only remained single when she outlived her fourth husband by a few years. She also would have been classed as a bit of a 'cougar' in our modern definition, as she is alleged to have married men as much as twenty-five years younger than herself. She is also alleged to have married her stepson after her first husband died.

Biddy also had regular run - ins with the local priests. One of my favorite legends is how she 'put a spell' on a particularly cranky cleric by 'stopping' his horse, keeping it rooted to one spot on the highway for several hours until the priest had run himself out of ranting. The priest himself is alleged to have been unable to dismount. Then, out of pity for the horse, she released him from the 'stopping 'place.

What was most probably true is that Biddy was an astute and kind woman with extensive traditional medicine knowledge; she is also said to have had an affinity with animals and was often helping neighbors cure their ailing cattle. She is said to never have taken money in exchange for a cure. People donated food and poitín. The latter may account for why her home was, at one point, accounted to be something of a shebeen, an unlicensed, illegal drinking den.

As with all medical practitioners, one is bound to fail to cure some patients. Like the women who were charged with witchcraft across Europe, not every client would have been satisfied, and Biddy became an object of malicious gossip and fear to some in the community. It became whispered that Biddy was 'in' with the fairies, which would have terrified some local people who viewed fairies as malign forces. This may be why the charge of witchcraft against Biddy was dropped on the grounds of insufficient evidence. Witnesses were wary of giving sworn testimony in court.

So many of Biddy Early's life's details are disputed, no one can even agree if her magical bottle was green or blue. Most stories do agree that upon her death this bottle was hurled into Kilbarron Lough beside Biddy Early's humble, two-roomed cabin.

I visited Biddy Early's homestead back in the 1990s when it was up for sale. It was roofless, with the remaining walls covered in ivy. It didn't have a welcoming atmosphere and locals were all for just 'letting it be.' The sale of the property did not bring the new owner joy or riches and it remains a ruin.

Learn more about Biddy Early in these books.






Related Articles
Editor's Picks Articles
Top Ten Articles
Previous Features
Site Map





Content copyright © 2022 by Bee Smith. All rights reserved.
This content was written by Bee Smith. If you wish to use this content in any manner, you need written permission. Contact Bee Smith for details.