Beaded Cluny Necklace - Dagmar Pezzuto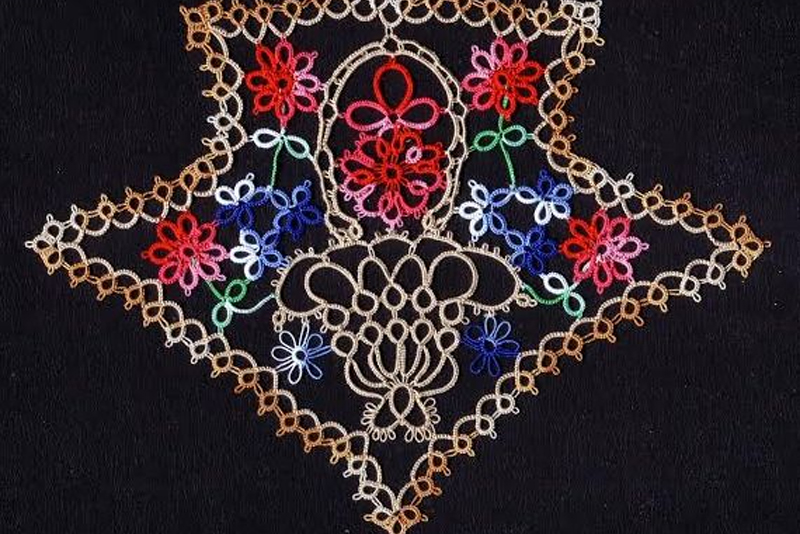 I first encountered "cluny" or "petal" in Aunt Ellen's "Tatting Handbook" A Treasury of Techniques and Projects (a Workbasket publication.) Many were the times that I would wrap my hand for the loom, stick my tongue in the left side of my cheek and give it a try. Personally I called it "death grip tatting". Eventually I was able to manage it but my first attempt at a real motif using cluny tatting was less than perfect.







This type of cluny is used in the place of a chain or a split ring, in order to progress from point A to point B.




However, this new pattern by Dagmar Pezzuto (see also https://www.bellaonline.com/articles/art5040.asp Cluny Butterfly) uses the "hanging" cluny. The Hanging Cluny (HCL) progresses from point A to point B but does not continue. It returns to point A. It can, however, join to another tatted element such as a picot.


Abbreviations:

R = ring

CL = cluny

CH = chain

SR = split ring

HCL = hanging cluny

- = picot

ZZ = zig zag

Clr = close

small circle = seed beads

medium circle = beads nº 4

large circle = beads nº 8



Load seed beads on the chain thread.

Load the seed beads for the cluny leaf on shuttle one.



MEDALLION

R1 = 5ds – 5ds ( + the bead ) – 5ds clr

R2 = 5ds + R1 5ds (3 seed beads)5ds – 5ds. clr

HCL 1 = (20 Passes) with 3 seed beads in passes 5, 10, 15 .

Leave a picot.

Put the bead nº 8 (large bead) in picot and secure with clip, safety pin, or paper clip.

SR 3 = 5ds + R2 5ds + bead / 5ds – 5ds.

Repeat 6 x.

In the last hanging cluny join to the central bead. Cut and Tie.



CHAIN ( 2x)

R = 1ds (seed bead) 1ds(seed bead) 1ds(seed bead) 1ds + ( between SR3 / SR4) 1ds(seed bead) 1ds(seed bead) 1ds(seed bead) 1ds. Clr

ZZ = 1ds(seed bead) 1ds(seed bead) 1ds(seed bead) 1ds. (4x)

CH = 5ds 5ds 5ds.

Make the desired length.

Attach to the clasp.








For an alternative method to work this necklace center with regular cluny leaves instead of the hanging cluny leaves, please email me at https://www.bellaonline.com/about/tatting

You Should Also Read:
Cluny Butterfly by Dagmar Pezzuto
Cluny Tatting


Related Articles
Editor's Picks Articles
Top Ten Articles
Previous Features
Site Map





Content copyright © 2022 by Georgia Seitz. All rights reserved.
This content was written by Georgia Seitz. If you wish to use this content in any manner, you need written permission. Contact Georgia Seitz for details.