Floorcloth - Historical or Artistic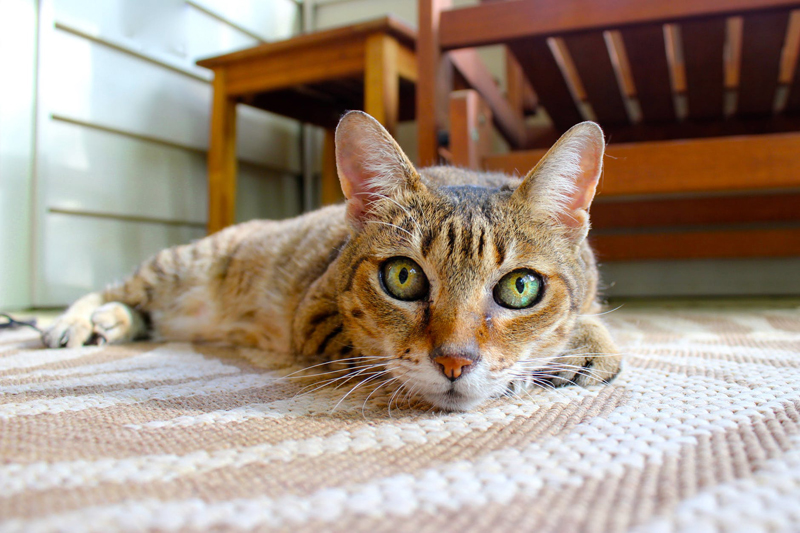 .

Any time of the year is a good time to make a floorcloth or painted rug, but it is certainly a great summer project that can be done outdoors as well.

To get started on a project, it is helpful to know what to buy and where. Fabric shops will seldom sell cloth of the right weight, although heavy weight denim would be suitable. Camping stores are a good source. An old tent might be suitable as well.

While in an artists supply store I realized that painter's canvas is ideally suited for this purpose, the canvas is already framed, and prepared for painting. I looked for a large framed canvas. As it is best to frame the canvas to paint the rug, this would provide another shortcut. The rug can be cut from the frame when completed

Painter's canvas is also sold by the yard in several widths, prepared or natural, and in two weights. The heavier thickness is most suitable for making a floorcloth. It is recommended to span the canvas on a frame, not unlike making a painting. The natural canvas must be covered with a clear base coat or with gesso, the latter providing a white background. A yard of canvas 64" wide costs about $10.00. That would make a 3' x 5' rug or two small ones, one 2' x 3' and one 3'x 3', which can be either round or square. After allowance for the hem, the finished sizes would be somewhat smaller.

The art store also sells the acrylic paint and the brushes. Here too there is a choice. Painters buy the high quality paint, but there is also a cheaper student quality paint, which has lower pigment content. This is a good way to start. Containers with student quality paint cost about $10.00 each. This would be suitable for the large color areas. For accents and smaller areas it is also possible to buy tubes. Choose wide brushes for large areas and fine brushes for the detail. The cost for the additional brushes will pay off handsomely.

For the finish coat the hardware store (or a hardware department in a department store) will sell the polyurethane, varnish or polycrylic. For the hem use contact cement, carpenter's glue, fusible material or double sided tape.

The total cost could be between $30 and $60, depending on the size of the rug.

There are several artists who have websites that are worth your while visiting for design inspiration and further tips on construction and choice of materials, The Beamish Museum in the UK gives an interesting historical background.
https://friendsofbeamish.co.uk/oilcloth/index.html

Val Gallagher is the artistic director of The Painted Rug Company in Canada. https://www.thepaintedrug.com/about.htmShe has an excellent feeling for design and describes the construction process
https://www.thepaintedrug.com/construct.htm Look here for bold modern designs or tiled designs as one would find in old Dutch paintings.

Neelam Paralkar, artist and owner of Design Village in New Jersey https://www.floorcloth.net/about_us.shtml shows various historical designs. Similar designs can be made using a stencil. This is more detailed and demanding work suitable for more formal settings

Sharona of Key West shows free hand artistic design rugs on her site. https://www.sharonaofkeywest.com/rugs/index.htm. Having been at the sunset celebration in Key West, I enjoyed reading her background and taking a short detour to the Key West site from the link she provides.






This site needs an editor - click to learn more!

You Should Also Read:
Floorcloth Magic
Painted Summer Rug




Related Articles
Editor's Picks Articles
Top Ten Articles
Previous Features
Site Map





Content copyright © 2022 by Iris ten Holder. All rights reserved.
This content was written by Iris ten Holder. If you wish to use this content in any manner, you need written permission. Contact BellaOnline Administration for details.