Round Knitted Rug in Yellow, Green and Brown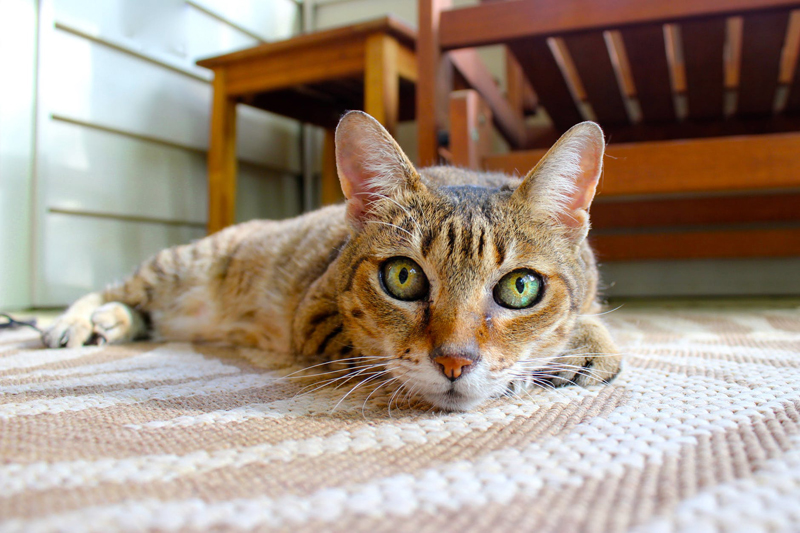 It's time for a new design for a round rug. This is one of a series of small round rugs created by knitting 10 pie-shaped sections. Although these sections could be made individually and then assembled, the magic of knitting allows the making of such a rug without casting off stitches until the end.

There are many ways to create a color design for the rug, such as alternating solid color sections and tweed variations described in an earlier article.

This variation divides each section into three bands and places small accent points around the outer edge of the rug. The effect is quite striking.

The three design elements are: background, accent lines, and accent points, To visualize the possibilities when using three colors - green, yellow and brown - consider the following six options.

Yellow Rug
Brown points and green accent lines.
Green points and brown accent lines
Brown Rug
Green points and yellow accent lines
Yellow points and green accent lines
Green Rug
Yellow points and brown accent lines
Brown points and yellow accent lines

When using thinner yarn, it is possible to mix colors by combining two different colored yarns and knitting them together. The additional three shades add more variety to each pie section or to the three bands within each pie section. Combining yarn this way will produce a tweed effect.

The combinations possibilities are abundant for this or other color combinations.

Hard to choose? It will be helpful to make a few sketches. Draw a circle and divide into 10 pie-shaped sections. Then divide each pie-shaped section in four by drawing lines parallel to the radius, that is, from the outside to the center. This will create bands that get smaller as they approach the next piece of the pie. The last piece will be a mere triangle on the outer rim. These triangles will form the accent points.


This article describes a golden yellow rug with brown accent lines and green accent points,

Cast on 60 stitches in brown, knit one row and return.
* Change to yellow and knit 12 rows, each time leaving two stitches on the needle when returning.
Change to brown and knit one row, leave two stitches and return*
Repeat * until there are three yellow bands.
Change to green and continue knitting in the same way, leaving two stitches on the needle. After 12 rows all stitches will have been used up.
This completes one section.

To continue, change to brown and pick up all the stitches and repeat the same sequence for each of the 10 sections that are needed to complete the rug. When putting the rug flat in a circle, the first and the last section should meet. If they don't, add one or two sections. This may depend on a number of factors, such as the thickness of the yarn and the knitting tension.

Note: the first row in each section is knitted to the end and return. On all other rows, leave two stitches on the needle (in addition to the ones that are already there) and return.
All returns are on even rows and take place in the center of the rug
All color changes happen on odd rows at the outer edge of the rug.

To finish the rug, sew the last section to the first, and weave in the ends all around the rug.

Voila! Enjoy!
This site needs an editor - click to learn more!

You Should Also Read:
Yarn Magic
Purple Shaded Rug
Bold Designs for Round Accent Rugs




Related Articles
Editor's Picks Articles
Top Ten Articles
Previous Features
Site Map





Content copyright © 2022 by Iris ten Holder. All rights reserved.
This content was written by Iris ten Holder. If you wish to use this content in any manner, you need written permission. Contact BellaOnline Administration for details.