Guest Author - Elizabeth Darrach
Hello, and welcome back! I hope you're finding plenty of good romances in your TBR stack this month, as always! And if you find a real stinker, put it down and don't waste your precious reading time finishing it; instead, pick up a different read, something you really do enjoy. We often have to limit our reading time so we can get everything else done, there's no good reason to waste our precious reading time on books that don't make us happy, right?
This time out, I have Kate Freiman's book list to share with you. Ms. Freiman has been creating fantastically emotional stories with larger than life heroes and heroines you can believe in for years, and every romance fan should read her at least once. I've provided links for those books currently available. For those out of print, visit Romantic Notions Shop so you can hopefully find used copies of them.

Novels:

Lady Moonlight.

Mother Nature's Hidden Agenda.

The Bachelor and the Baby Wish.

No Limit to Love.

Jake's Angel.

Here to Stay.

Irish Moonlight.

Earth Angel.

Novellas:

"Joy to the World" in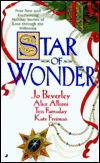 Star of Wonder.

"For C, Who Changed My Life" in Secret Valentines.

Sadly, it has been a while since she's written a new romance, but I live in hope that her name will cross my desk again with a new book I can share with all of you.

Until next time, happy reading!