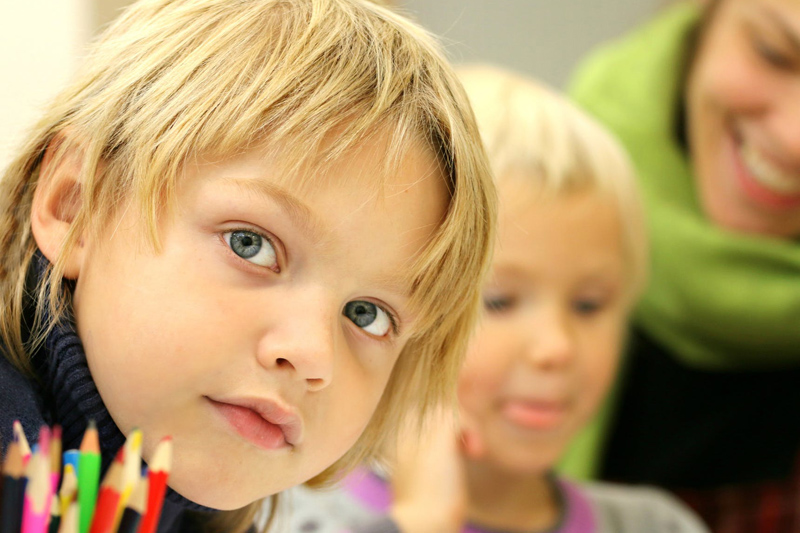 Four year old children are often grouped either alongside three year olds or five year olds. While every child is different, there are some skills and personal developmental traits that you should expect to see from your four year old child. As a middle of the pack preschooler, the four year old child will most likely be able to display the following:


-Is able to hop, skip, jump, and stand on one foot for a few seconds.
-Can throw and catch a ball (usually with two hands).
-Can copy shapes such as triangles or circles, draw stick figures, and print a variety of letters.
-Is visibly more skillful when using a spoon or a fork, and may even be able to cut soft foods with a butter knife.
-Can brush his or her own teeth, wash themselves and wipe their own bottoms (though parental supervision and help will still be needed).
-Can gallop, walk downstairs alternating feet, and pump his or her legs while swinging.
-Can dress self without help and is learning to tie shoes.
-Is able to cut with scissors and hand preference is suggested (righty or lefty).
-Can throw a ball overhand.
-Can communicate in complete sentences and is considerably more talkative.
-Is using a large vocabulary, roughly 1500-2000 words, including silly words.
-Is asking many questions, including lots of "hows" and "whys".
-Is more imaginative, and tells tall tales.
-Is beginning to learn the difference between fact and fiction.
-Is able to recognizes colors, shapes, some numbers, letters of the alphabet and his or her printed name.
-Is becoming more social.
-Is able to play cooperatively with others, by taking turns and sharing.
-Can participate in dramatic play, and recreates adult occupations and situations.
-Is able to enjoy simple organized group games, such as tag and duck-duck-goose.
-Is showing a regular sleep pattern, roughly requiring 11-13 hours of sleep per night.

Remember that these are guidelines, and every preschooler is unique. If you have a concern speak to your child's preschool teacher or pediatrician.






Related Articles
Editor's Picks Articles
Top Ten Articles
Previous Features
Site Map





Content copyright © 2019 by Alissa Moy. All rights reserved.
This content was written by Alissa Moy. If you wish to use this content in any manner, you need written permission. Contact Amy Tradewell for details.