Be Organized in a Small House or Apartment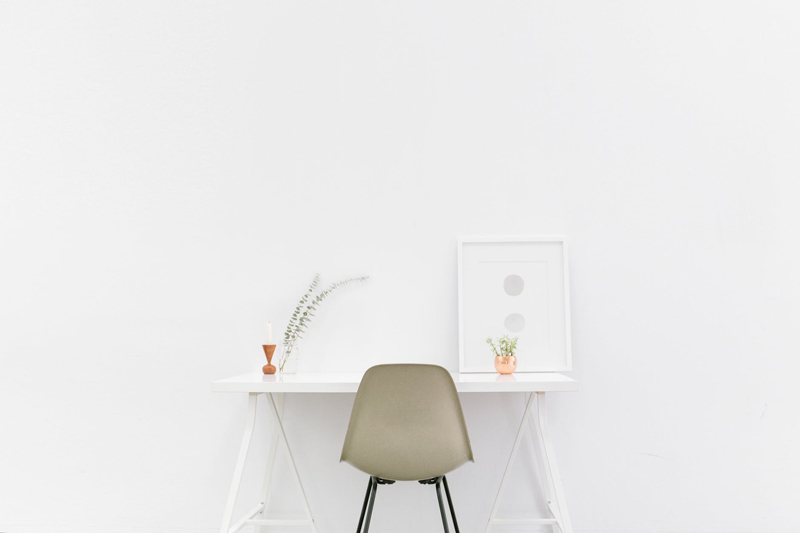 If you live in a small home or apartment it is possible to stay organized, but you will have to put some effort into it. Here are some ways to stay organized in a small house or apartment.
Reduce
Get rid of stuff you don't love or need. Reducing what you do have will give you more available space and mean that you need less storage areas. Regularly purge and reduce the stuff you do have. Linens especially seem to grow. Make sure you use all the linens you have and don't keep more than you need.
Have a home for everything
Knowing where everything goes is a start to being able to keep areas clutter free. Clutter starts to build when we don't know where to put something, and so leave it lying somewhere where it doesn't belong. Put things where they belong daily.
Smaller furniture
Look for smaller furniture. You don't need a table that seats six if there are only four in your family. Find armchairs with small arms. Buy a love seat instead of a three-seater sofa.
Make use of vertical spaces
Look up, can you use the wall as storage space? Can you attach bookshelves, or hooks directly on the wall? What about the back of doors? You can buy hanging pockets that will fix on doors and add extra storage. Or hanging pockets that will fit in closets.
I have seen a high shelf all the way round the kitchen, twelve inches down from the ceiling. The amount of added storage space was huge, and especially needed in the kitchen. Or use the space between the cabinets and the ceiling.
Use windows as storage space
I've seen attractive bay windows with added shelving. Just because you have windows doesn't mean you can't add shelves to them. Just be careful what you put on shelves in windows. You don't want to put things that fade when the sun gets on them.
Use under bed storage
Generally I don't think it's good to use the storage space under the bed, but if you live in a small house, then it can be a very useful area. You can buy under bed plastic storage containers that will stop the stuff getting dusty. It is really useful to store extra bed linens and pillows under beds.
Make the most of your closets
If your closet has one long rod and a shelf on top, then maybe you aren't using it to the best of its ability. There are many things you can buy to make the most of your closet space, for instance plastic shelving, and hanging storage. Just make sure you are using your closets to their full capacity.
Use the space over the toilet
Use the space against the wall and over the toilet for extra storage space. You can buy a purpose built unit, or install shelves on the wall.
Buy furniture with storage inside
It's a little more expensive but you can buy furniture with built in storage. Ottomans are an example, but also you can buy a sofa with in built storage, a bed with a drawer underneath, or a bed headboard with space to keep your books. Coffee tables also can be found with storage space in them.
Don't be tempted to over buy in bulk
Buying in bulk is a good idea if you have the space for storage. But if you don't have the space then don't be tempted to buy too much quantity.
Invest in an eReader
Get rid of your books that occupy so much space and invest in an eReader. There are many good ones now: the Kindle, the Nook and others. An eReader takes up a lot less space than hundreds of books.
Get a stackable washer/dryer
If you currently have a side-by-side washer/dryer, when you come to replace it, invest in a stackable washer/dryer, or an all in one washer/dryer, then that will free up a lot of space. Then maybe fill the empty space with shelving for added storage.
Outside storage space
Look outside your property. Can you use some space in the garage, or can you erect a shed in the back yard? Of course you have to be careful what you store in an outside shed, but it could relieve the pressure in some of the storage spaces inside.
It's not easy to live in a small space with lots of stuff, but with some of these suggestions, maybe your life will be made a little easier.
Zenith Products 9107W Country Cottage Etagere Over-the-Toilet Shelving System, White
Convenience Concepts 143012 Sheridan Faux Leather Storage Bench with 2 Side Ottomans, Espresso
You Should Also Read:
Living Simply - Improve Your Life with Less Clutter


Related Articles
Editor's Picks Articles
Top Ten Articles
Previous Features
Site Map





Content copyright © 2023 by Tina Razzell. All rights reserved.
This content was written by Tina Razzell. If you wish to use this content in any manner, you need written permission. Contact Tina Razzell for details.