Artists Who Paint Themselves & Profession in Art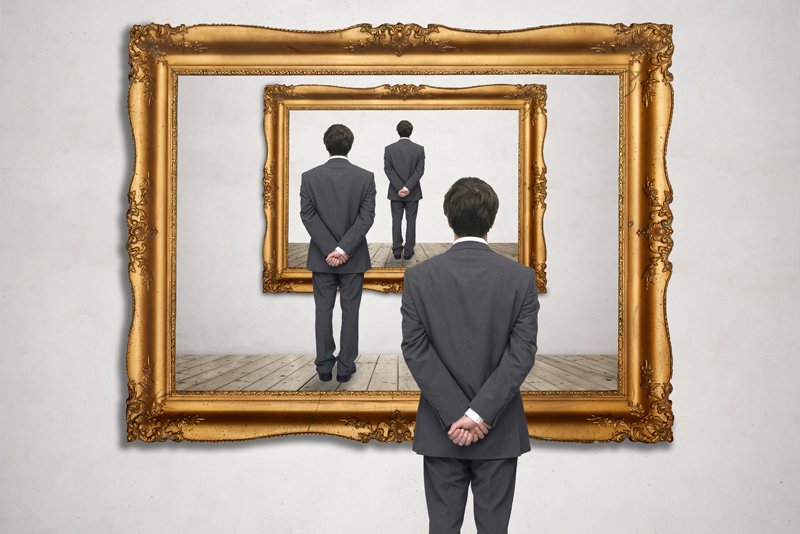 Throughout the history of art, artists such as Michelangelo and Velázquez have painted themselves into their paintings. Is it possible others painted using symbols of their profession? I'll explain who, what and why?

Michelangelo's fresco of the "Last Judgement" (1536-1541) from the Sistine Chapel in the Vatican, Rome shows Saint Bartholomew and his flayed skin with Michelangelo's self portrait.
It has been speculated that this tragic self portrayal was due to his tortured soul.

Albrecht Dürer's "Self Portrait as Christ" (1500) has been recognized as a symbolic representation of Christ. One can only imagine (myself included) whether geniuses such as the artists included in this article actually received some sort of "divine intervention" to fulfill their life's quest.

Rembrandt's "Storm on the Sea of Galilee" (1633) is known as this master's only seascape painting. It resided at the Isabella Stewart Gardner Museum in Boston until 1990 when it was stolen. To this day, it has not been located.

As there are fourteen people on the boat, it is believed that the twelve disciples, Jesus, and Rembrandt himself, are on the boat. Why shouldn't an artist be in great company?

Diego Velázquez's "Las Meninas (The Maids of Honor)" (1656) depicts himself as an artist, looking directly at us, the viewer, while he stands alongside a large canvas where he apparently is working.

Artemisia Gentileschi's "Judith Slaying Holofernes" (1611-1612) shows herself as Judith. Although it was a classic scene from the Bible, it was particularly personal for Artemisia as she was a victim of rape. It may have been a way of cleansing her mind (and soul) of this violent act.

Do artists paint themselves into their paintings because they hope they (and their works) will become immortal? Or do they consider themselves on a greater plane - or level of achievement - that supersedes all human comprehension?

I agree with the latter, as I believe there is some divine intervention when it comes to great art. For example, if you have ever seen a painting by Vermeer or Caravaggio, and the way in which they create a light source, you'll understand what I mean.

Or perhaps the artists felt the need to have a record of their very existence on earth. Whatever may be their intentions, generations to come will know more about the lives of these fascinating artists because of their deliberate intentions.

Some art critics have even gone so far as to claim certain artists painted arrows into their work to represent paint brushes. This may very well be possible. To the viewer, this allows for a number of interesting interpretations when viewing art.

You can own a giclee print of Rembrandt's "Storm on the Sea of Galilee" (1633).

You can own a giclee print of Velázquez's "Las Meninas (The Maids of Honor)" (1656).



Related Articles
Editor's Picks Articles
Top Ten Articles
Previous Features
Site Map





Content copyright © 2022 by Camille Gizzarelli. All rights reserved.
This content was written by Camille Gizzarelli. If you wish to use this content in any manner, you need written permission. Contact Camille Gizzarelli for details.