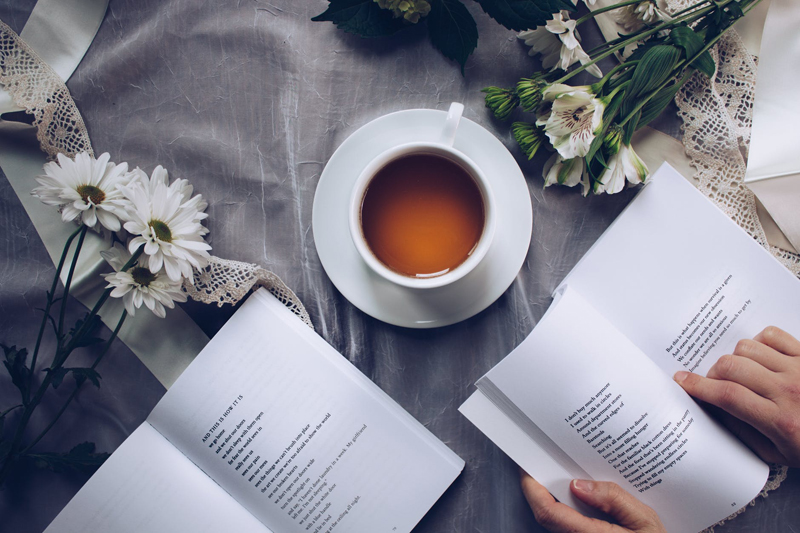 In a previous article, we looked at Emily Dickinson's classic poem "
Because I Could Not Stop for Death
", a beautiful classic describing Death as a gentleman suitor that politely comes to carry Emily off beyond the sunset to her grave. At the end of the poem, I had listed some questions to think about. In response to my readers' comments, here is a follow up to those questions.
The first set of questions are based on analyzing the meaning of the poem:
1.
In the first stanza, it states "He kindly stopped for me". Can Death be kind? What is the tone that is set by this statement?
Rather than creating a fear of death, or a dark tone, Death is described in a very natural, peaceful manner. This is shown again with her description of putting away her labor for his "civility"- a very polite description.
2.
Why do you think Death drove slowly?
Death is a lifetime process- in the very next stanza, Emily describes the stages of life (childhood, work, and age) right after she describes putting away her work and leisure. She takes her time to reflect back on life; this could possibly an analogy of not quite realizing that the speaker's time had come to die. On a personal note, I have heard it said that, we begin to die the moment we are born.
3.
What do you think is the symbolism of the setting sun passing the carriage in the fourth stanza?
The 4th stanza when she refers to the setting sun by saying "or rather, he passed us"- she indicates that she and the carriage(death) have come to a slow stop, while the sun (life) keeps on going.
4.
A Tippet is a scarf and Tulle is netting. This being said, what is the symbolism of her garments, a gossamer gown with a scarf made of netting?
Up until this stanza- she is still looking back on her life, but when the sun passes, she becomes cold and notices her clothing. The light fabric is similar to what they would dress the deceased in for a funeral. She notices that she is wearing a funeral gown. I have also read that this could be a reference to a wedding dress and her marriage to death.
5.
What was the house that they paused before? Is there a significance in her use of "paused"?
Once she realizes that her life is indeed at the end (her chill, funeral gown, sun passing)... they paused before the house.
I thought it was interesting that she used the word "paused", because this shows her view of death as simply a moment that occurs in the realm of eternity. The house itself is the grave- a swelling in the ground or a small mound that is barely visible.
The second set of questions is about analyzing the poetic elements themselves.
6.
Can you describe the "metaphor " used for Death?
Death is described as a polite gentleman in a carriage that takes the speaker to her new home at the end of her life.
7.
Can you find the internal rhyme scheme in the stanzas?
Stanza 1 =Held/ourselves
Stanza 2= We, He
Stanza 4= Dew/Grew
8.
She used "alliteration " in several stanzas. Can you spot them?
Stanza 1- Could, Kindly, Carriage (C/K)
Stanza 2- Labor, Leisure (L)
Stanza 3- Recess, Ring (R)
Stanza 4 - Gossamer, Gown/ Tippet, Tulle (G/T)
Stanza 6- Horses Heads (H)
9.
What type of meter did she use?
If you look closely at her poem, lines 1 and 3 of each stanza have 8 syllables. Lines 2-4 have 6 syllables. The first syllable is stressed while the second is unstressed. (beCAUSE I COULD not STOP for DEATH). This is called "
iambic meter
"
because there are 4 feet in the 8 syllables, that is Iambic Tetrameter. The lines that contain 3 feet (6 syllables) are Iambic Trimeter.
______________________________________________________________________________


Related Articles
Editor's Picks Articles
Top Ten Articles
Previous Features
Site Map





Content copyright © 2022 by Angela Saunders. All rights reserved.
This content was written by Angela Saunders. If you wish to use this content in any manner, you need written permission. Contact Karena Andrusyshyn for details.