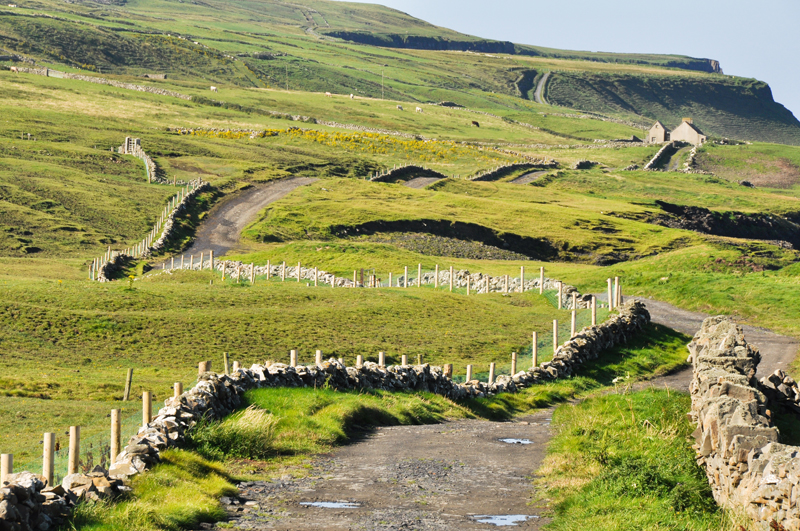 The Irish word for heritage is duchas. But to say it means that word is a rather flat, literal translation. In Irish that word resounds with heredity. You could say that duchas encompasses the metaphorical DNA of the culture – that includes the intrinsic nature of the land, people and the country they have created.

Duchas is the organisation that you might equate as the Heritage Service in the Republic of Ireland. They are particularly concerned with preserving the folklore collections and research that has built up since the advent of the Irish Free State in 1922. In 1937-1938, during the transition from the Irish Free State to the Republic of Ireland (Eire), a remarkable project was instigated to preserve the folklore of Ireland. School children were asked to collect stories about all aspects of rural and city life and to write them down. This became an archive of huge importance for the social history of Ireland.

While Duchas (sounds a bit like Dooh-kiss) deals with preserving Irish culture, An Taoisce (say that on TOSH-ka) is the National Trust of Ireland, concerning itself with the conservation of Ireland's built and natural heritage. Between these two organisations and various government departments the DNA of Irish culture can be studied.

Duchas is now digitalising the Folklore Commission's archive. The children were given categories as a way of prompting their elders to share their knowledge about games they played in their youth, customs, local legends, songs, poems, folktales, information about local monuments, every aspect of folklore. The children would then be set to write essays about what they had learned in their research.

The Schools Folklore Scheme is the basis for much of what we know about Irish heritage and how it varies from county to county within the twenty-six counties of the Irish Republic. While many genealogical records were lost in fires during the War of Independence and subsequent Civil War from 1919-1923, the information collected by the Folklore Commission fills the gap.

African writer and storyteller Ben Okri says in his book The Way of Being Free: "We live by stories, we also live in them. One way or another we are living the stories planted in us early or along the way, or we are also living the stories we planted – knowingly or unknowingly – in ourselves. We live stories that either give our lives meaning or negate it with meaninglessness. If we change the stories we live by, quite possibly we change our lives."

Stories are the DNA of heritage and culture. The stories collected by those schoolchildren in 1937 and 1938, and the setting them out in neat cursive penmanship, are like genetic markers on a string of DNA in the human body.

Stories are the DNA of the human spirit, culture and heritage. Ben Okri goes on to say: "To poison a nation, poison its stories. A demoralised nation tells demoralised stories to itself."

While buildings and records may have burned, the Folklore Collection is an invaluable strand on Irish cultural DNA. But you could also have the experience of one friend. Since the archive has been digitalised you can view extracts online. Imagine the surprise and delight to happen upon essays that your mother, deceased for these past two years, wrote as a child. There is her contribution in her own handwriting setting out what she heard, learned and recounted in these essays for posterity.

Buildings may fall down or burn. Records may be lost. But stories are forever part of us, indestructible as those chromosomes we carry.





Related Articles
Editor's Picks Articles
Top Ten Articles
Previous Features
Site Map





Content copyright © 2022 by Bee Smith. All rights reserved.
This content was written by Bee Smith. If you wish to use this content in any manner, you need written permission. Contact Bee Smith for details.