Zen Wrapped in Karma Dipped in Chocolate - Review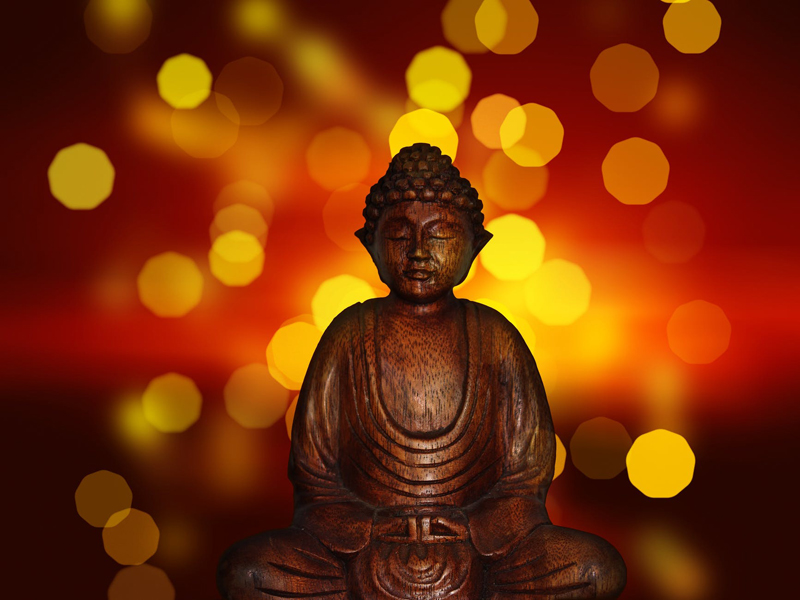 Do you remember that yogurt commercial where two women dressed in yoga clothes try to come up with over-the-top adjectives to describe a new flavor? Well, one of the more ridiculous phrases they use is "it's like Zen wrapped in karma dipped in chocolate", and that's where the title of Brad Warner's latest book came from. If that's not enough to arouse your curiosity, then the subtitle surely will:
A Trip Through Death, Sex, Divorce, and Spiritual Celebrity in Search of the True Dharma
.
Mr. Warner (who would probably much prefer to be called Brad, but in keeping with the format of my other reviews, I will stick with Mr. Warner) is the author of two previous books,
Hardcore Zen
and
Sit Down and Shut Up
. He's a Zen monk and teacher who received his dharma transmission from Gudo Nishijima Roshi, of the Soto Sect in Japan. He is also - as you can probably tell from his book titles - not your typical Zen monk. He's a punk rocker, marketer for Japanese monster movies, and columnist for a website called Suicide Girls. The events of the subtitle describe his life in 2007, and this book is his attempt to answer the questions "How does a real Zen master - as opposed to the cartoonlike figure invented by pop culture - deal with death, divorce, job loss, and personal discord? How does he perform the work of trying to help others get over their tough times while going through some pretty heavy sh*t of his own?"
The "cartoonlike figure invented by pop culture" version of Buddhist masters, and the corresponding supernatural view of Buddhism in general, is the dressed up version poked fun at by the book's title. One of Mr. Warner's main purposes in writing the book is to break through these kinds of delusions and projections. Nothing is sacred, and he holds no punches when criticizing other Buddhist teachers and groups that he feels misrepresent the dharma. In fact, some of these criticisms bothered me, particularly his allusions to teachers and practices that I feel have value, and I almost didn't review the book because of them. However, in the end I changed my mind, for three reasons: 1) The explanations of Zen are accessible and direct, 2) the book is highly entertaining, and 3) #1 and #2 are a combination found all too rarely in Buddhist literature.
Most of this book is more memoir than treatise, and Mr. Warner takes every opportunity to prove to us that he is not the "spiritual superman" many envision Buddhist teachers to be. Several chapters detail the ways he broke Buddhist precepts during 2007, most notably the third, abstaining from sexual misconduct, and the fifth, abstaining from alcohol and drugs. It gets quite juicy, without becoming pornographic, and is in the tradition of several contemporary popular Buddhist blogs (including his own), in which the writers interpret the Buddhist emphasis on honesty, humility and openness to mean 'tell the intimate details of your personal life.' In my opinion Mr. Warner pulls it off better than most, as he is able to tie his experiences directly to Buddhist teachings.
While the personal details will keep you reading, it is his clear presentation of Zen principles that make the book worth your time. For example, when explaining why the eyes are kept open during zazen, the Zen form of meditation, Mr. Warner writes:
[Zazen is] a practice of body and mind, so the body must be engaged....When you shut your eyes you're shutting out the outside world and saying the inner world of your own mind is more important. The Zen attitude is that both the inner subjective world and the outer objective world should be absolutely equal.
Here's a few words on what zazen is to him:
I discovered that when I didn't do it, my body and mind were too scrambled up for me to interact with anyone in a sensible way. It was through this practice that I began to see very clearly that I was not my own possession. I am a manifestation of the universe, duty bound to take full responsibility for everything I encounter. And everything I encounter is everything in the universe.
And here's one final quote that I liked, on identity:
Identity is a funny thing. We all think we have one. We have a driver's license to prove it!...In the Buddhist point of view, it's not that we have a self and that self does various things. Our true self and the things we do are exactly the same. We are a function of the universe.
If these quotes intrigue you, and you're open to a non-traditional presentation of Buddhist teachings, give this book a try. You may like it, or you may hate it (or maybe a little of both.) But I doubt you'll be bored.
You can purchase this book on Amazon through the link below, or
visit the forum
to debate a quote from this book.
You Should Also Read:
Visit the Hardcore Zen blog


Related Articles
Editor's Picks Articles
Top Ten Articles
Previous Features
Site Map



Follow @mommymystic
Tweet



Content copyright © 2023 by Lisa Erickson. All rights reserved.
This content was written by Lisa Erickson. If you wish to use this content in any manner, you need written permission. Contact Lisa Erickson for details.