Bodhidharma - First Patriarch of Zen Buddhism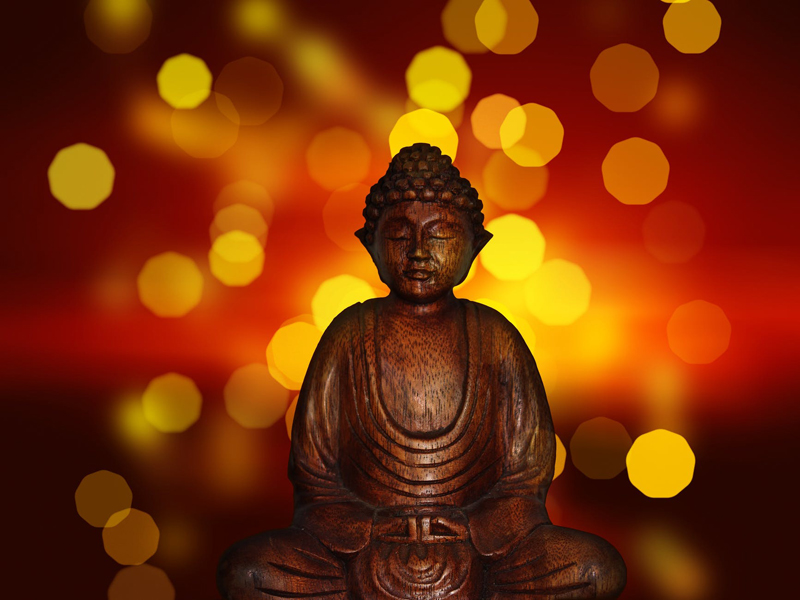 Bodhidharma was a fifth-century Indian or Persian Buddhist monk who traveled to China, and is considered the founding patriarch of Chan, the Chinese precursor to Japanese Zen Buddhism. Later Zen biographers of Bodhidharma claim that he was the 28th patriarch in a line of teachers traced directly to Shakyamuni Buddha. There are many accounts of his life, and varying legends associated with each, most of which historians have not been able to validate. The most popular legend is probably the one tying him to the famous Shaolin Temple in China, and by association, to Chinese kung fu.
According to one version of this legend, Bodhidharma came across this Temple as he was traveling in China, and, since it was already a Buddhist monastery, wished to stay there. He was initially refused entrance, but was so determined to gain an audience with the Abbot that he meditated facing a nearby wall for nine years. During this time, he is said to have cut off his eyelids in order to prevent himself from falling asleep, eventually boring holes in the wall with the strength of his gaze (he practiced a form of meditation in which the eyes are kept open). Over time, many young monks became curious and began to sneak out to visit him. Stories of the power of his presence began to circulate within the Temple, and eventually the Abbot relented and allowed him to enter.
Bodhidharma found the monks physically weak and too tired or restless from their constant scholastic endeavors to meditate well, which he considered the foundation of the Buddhist path. He instituted a series of physical exercises based on his Indian yoga and martial arts training to prepare the monks' minds and bodies for meditation. Historians believe that because many military leaders retired to the Shaolin Temple, over time their physical training was also incorporated into these exercises to form the basis for Shaolin wushu, popularly known as kung fu. All of the subsequent wushu traditions stressed the importance of total mind, body and spirit integration. Much later, when Chan Buddhism migrated to Japan, the Samurai class there also latched on to these teachings, incorporating them into their own martial-arts oriented branch of Zen.
In addition to mind/body/spirit integration, Bodhidharma is also known for having eschewed the traditional Buddhist focus on textual study and translation. He supported rigorous meditation as the foundation for direct realization of the Buddha's teachings, instead of intellectual understanding. He emphasized 'mind-to-mind' transmission as the primary method for realizing 'Buddha Mind' - the direct transmission of Buddhist truth from teacher to student. It is said in one version of his life that his favorite sutra was the Lankavatara Sutra, and that he echoed its teachings of direct transmission in this four-line stanza:
A special transmission outside the scriptures,
Not founded upon words and letters;
By pointing directly to your mind
It lets you see into your true nature and through this attain Buddhahood.
Academics later disputed that Bodhidharma was the original source for this verse, but it is in any case true to his teachings.
Although there are now many branches of Zen Buddhism taught within China, Korea and Japan (not to mention Western variations), they all ultimately trace their lineage back, from teacher-to-teacher, to Bodhidharma. Although other Chinese cultural traditions affected the development of Zen, most notably Taoism, Bodhidharma is credited with initially formalizing the teachings and methods.
Check below for some book recommendations regarding Bodhidharma and Zen, and be sure to check the
Buddhism forum to provide your input
on future topics you would like to see covered here at the BellaOnline Buddhism site.


Related Articles
Editor's Picks Articles
Top Ten Articles
Previous Features
Site Map



Follow @mommymystic
Tweet



Content copyright © 2023 by Lisa Erickson. All rights reserved.
This content was written by Lisa Erickson. If you wish to use this content in any manner, you need written permission. Contact Lisa Erickson for details.