Guest Author - Samten Tsomo
Q & A with the Tara Parenting Coordinator continued from
here
.
Would you be willing to share a little about your spiritual journey and your parenting experiences?
Yes. I grew up without religion and at various times in my life did a bit of searching but never really connected with anything. Until I saw His Holiness the Dalai Lama in Australia, that is. Since then I've followed the Tibetan Buddhist path, with a few ups and downs, but basically moving ahead. I find the path taught by the Tibetan Lamas really inspiring because you can see the embodiment of what they are teaching in them, and striving to be compassionate and work for others is something that was, and is, very appealing to me. It fits well with parenthood too!
I don't find parenthood easy at all. Such a challenge. I guess if it wasn't then I may not have been led to start TP. As a western Buddhist you don't have much opportunity to see Buddhist parenting in action. Sometimes it's hard to know how to integrate Buddhism and parts of Tibetan Buddhist parenting with Western life and Western styles of parenting. I do not advocate Western parents bringing up their children Tibetan style, neither do I feel that we should reject all that isn't Western. The middle road may be the way to go. We are not just one aspect of our lives, of course, we are the sum total. I am Australian, yet Buddhist (Tibetan style) and all the other facets of my life, too.
Do you have a favorite book or text that you would recommend to parents?
Very early on 'The Tibetan Art of Parenting' was a great read - not good for most Western parents to use as a Guidebook, but still good to get a grounding on how it's done Tibetan style. Very helpful to me was a Parenting themed Mandala Magazine, which came out in Jan-Feb 2000. It spoke with a number of Buddhists about their parenting and from that I sifted out a lot of practical advice. Sarah Napthali's 'Buddhism for Mothers' was great too, and was on its way to the complete guidebook that I had always hoped for. There have been a lot of great books over the years, but none that were exactly what I was looking for. I may have to write that myself - I've written a plan, but haven't found the time for more work on it :)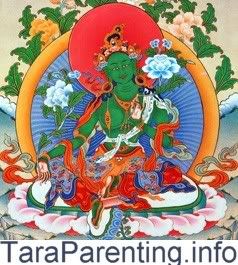 TaraParenting.info ~a site for parents from the Tibetan Buddhist traditions
Tara Parenting Forum
Tara Parenting ~ a Review