The Function of Line in Poetry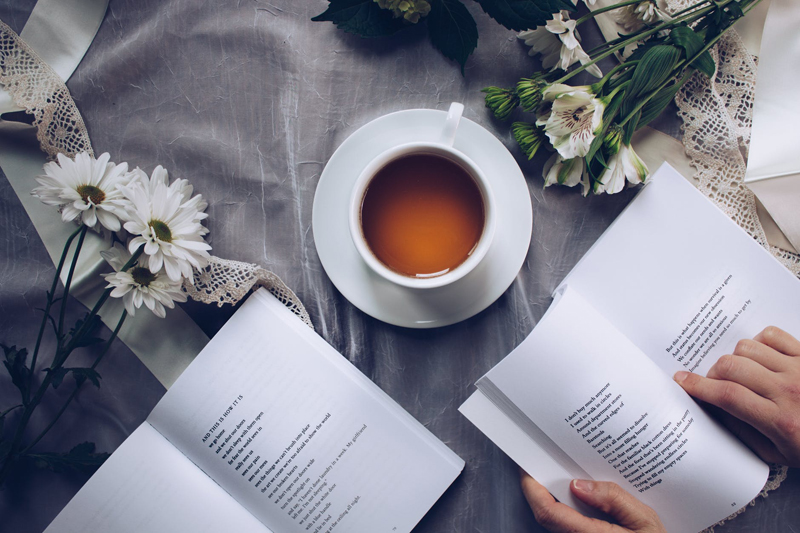 How do poets decide when to "turn" a line, to begin a new line instead of continuing on the same one? Sometimes, the line breaks in a poem are dictated by a strict meter or rhyme scheme–but more often today, it is the poet who uses his or her license to choose to break a line of poetry.
However, caprice or license aren't the only things which dictate where a poet breaks the line of poetry. According to Encartca, "The range of effects created by the poetic line varies tremendously depending on its length, its patterns of repetition, and whether the sentence stops at the end of the line (end-stopped) or carries over the end of the line (enjambed)." A line break can call attention to a word or phrase, defamiliarize language, set a pattern or even create a visual picture on the page.
Consider two masters of line, William Carlos Williams and Emily Dickinson. See how each of them
The Red Wheelbarrow
A door just opened on a street


William Carlos Williams
Emily Dickinson



so much depends
upon

a red wheel
barrow

glazed with rain
water

beside the white
chickens.


A door just opened on a street–
I, lost, was passing by–
An instant's width of warmth disclosed
And wealth, and company.

The door as sudden shut, and I,
I, lost, was passing by,–
Lost doubly, but by contrast most,
Enlightening misery.

William Carlos Williams's poem utilizes very short lines. His enjambed lines break up a single sentence in 4 stanza of 2 lines each—he even breaks compound words. What effect does the line break have on the impact of those words? Does it affect the way you look at the single-word lines?
When reading poetry aloud, a line break
does not
denote a pause, unless there is some punctuation mark accompanying it. The poetry of Emily Dickinson is replete with end-stopped lines, especially those using a dash (–).
Despite its well-established role in traditional poetry, there is a minor controversy over whether line breaks still have a place in the more free form prose poetry that is popular today. Although they recognize the functions of line in drawing attention to the language of poetry, proponents of this theory claim that the line break has become overimbued with meaning and is not substantial enough to convey all the meaning we sometimes attribute to it.
However, even they acknowledge that line breaks can help a reader distinguish between a work of prose and one of poetry. I suspect that line breaks will never really be abandoned as an important convention in poetry.


Related Articles
Editor's Picks Articles
Top Ten Articles
Previous Features
Site Map





Content copyright © 2022 by Jordan McCollum. All rights reserved.
This content was written by Jordan McCollum. If you wish to use this content in any manner, you need written permission. Contact Karena Andrusyshyn for details.