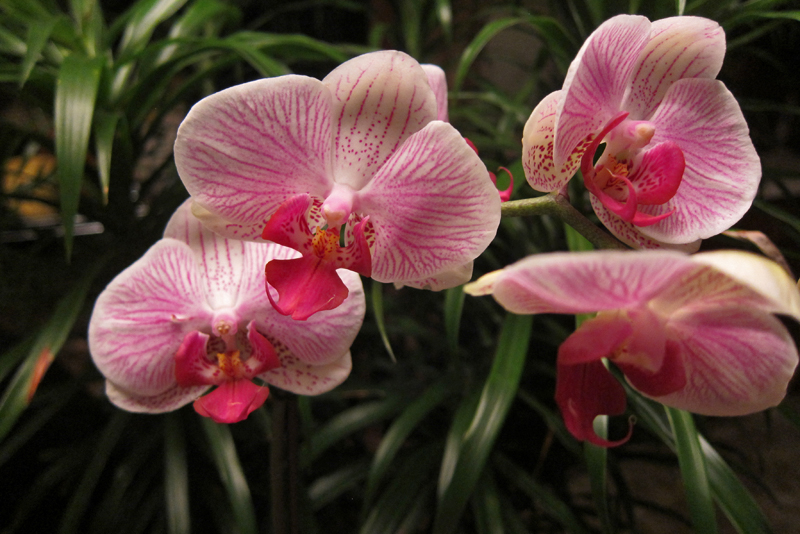 There a large number of both tree growing Cymbidiums as well as ground growing ones. These are easy to grow orchids in general and show tolerance to a wide range of temperatures, especially the epiphytes and the miniatures. Some of these have a high tolerance of drought.

Light requirements: Tree growing ones can tolerate bright sunlight, while the terrestrial Cymbidiums grow well in partial sunlight. However, providing appropriate light requirements should be planned along with temperature requirements. It is important to continuously keep tabs on leaf colour which should be bright green and not dark or light green. If the colour of the leaves is a darker shade of green than the Cymbidium is getting less sunlight and if the leaf colour is a lighter shade of green then it is getting too much sunlight. Researchers suggest that by interrupting night time with a short span of light promotes good growth in Cymbidiums.

Temperature requirements: The suitable range of temperature depends on the place of origin of that Cymbidium species, whether it is a temperate orchid or tropical. Temperate Cymbidiums can have bright sunlight with low temperatures while tropical Cymbidiums need warm temperatures accompanied to flourish.

Water requirements: We see a difference in water requirements of both types of Cymbidiums. Epiphytic ones require a lesser amount of water as these Cymbidiums have a larger capacity to store water in their leaves, bulbs (pseudobulbs) or/and roots, unlike ground growing ones. Humidity should be kept between 50 - 80 %.

Nutritional requirements: Cymbidiums can be fertilized with ammonium nitrate. The ratio of N:P:K should be in the ratio of 4:7:6. It was found that when night time was interrupted with a short period of light followed by fertiliser application of Nitrogen and Potassium results in better flowering in Cymbidium.

Growing environment: As there are epiphytic as well as terrestrial Cymbidiums, the needs of both types of these orchids will vary accordingly. For epiphytic Cymbidiums the growth medium should be such that it allows free movement of air within roots. And though it retains some moisture for a little while, it should also dry out completely, creating a drought like condition as seen in its natural environment. Cymbidiums should be re-potted after every two or three years depending upon the growth and it should be done before the growing season starts in summers.

Pest and diseases Free movement of air around the orchids will help prevent a number of bacterial, viral and pest infestation. Cymbidiums can get infected with bacterial and viral diseases as well as a number of pests. Though bacterial infections can be controlled to some extent, it is better to get rid of virus infected plants. More on this later.

Resources
Pan Ruichi. 1996. Study on mineral nutrition of Cymbidium sinense. Journal of South China Normal University.
An R H, Kim Y N and Kim K S. 2012. Flower initiation and development in Cymbidium by night interruption with potassium and nitrogen. Horticulture, Environment, and Biotechnology, Vol 53 (3): pp 204 – 211.




Related Articles
Editor's Picks Articles
Top Ten Articles
Previous Features
Site Map





Content copyright © 2022 by Anu Dharmani. All rights reserved.
This content was written by Anu Dharmani. If you wish to use this content in any manner, you need written permission. Contact Anu Dharmani for details.