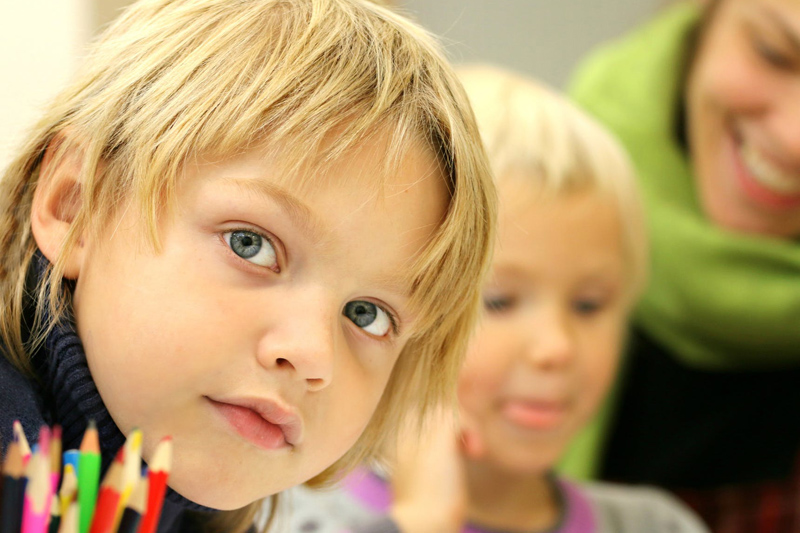 A Montessori program is an excellent choice for a preschool child who is independent, self motivated and active. Here are the main goals of many Montessori programs:
Math- Beginning at an early age, Montessori children begin to develop a solid understanding of math. Building on colors and shapes introduced in the Sensorial component of learning helps to convey basic concepts like numbers, counting, squares, cubes, triangles and other math fundamentals. Through these methods children are able to cross more seamlessly into the world of abstract concepts and theoretical understanding, which is required by more advanced forms of mathematics and logic.
Sensory- A critical component of the Montessori Method is the focus on the senses. Maria Montessori taught that perception through the senses precedes intellectual activity. She felt that an appeal to the senses is the best way to fully engage the child in learning. A true Montessori classroom is recognizable by an array of standardized, aesthetically appealing objects made of natural materials such as rock, cloth, paper, and wood. In addition to learning, the Montessori child develops an appreciation of beauty and of nature.
Practical Life Skills- Through a vast variety of materials and activities, children learn how to care for themselves, the environment and each other. They learn to master tasks such as pouring, stirring and scooping, using kitchen utensils, washing dishes, polishing, and scrubbing. Children will also learn to take care of basic self-care needs: to dress themselves, tie their shoes and wash their hands. These skills help to prepare the child for more complex forms of learning as well as the demands of living.
Cultural Emphasis- With a foundation of respect for the dignity of all individuals, as well as a high regard for new experiences, the Montessori education puts a major emphasis on diversity and cultural understanding. From an early age, children are exposed to maps, stories and facts about various areas and regions across the globe as well as people and their cultures.
Science- Children are born with a natural curiosity and inquisitive nature. As they learn about birds, animals, plants and other natural phenomena, they press for more and more details. The Science curriculum for Montessori preschools, designed for children 3 to 6 years old, builds on this wonder, and provides activities that allow children to discover answers on their own.
Language- The Montessori curriculum incorporates everything from vocabulary development to reading and writing in their Language program. Children will begin by feeling and tracing letters cut from sandpaper and glued to a wooden board. They will be tasked to construct words using a moveable alphabet, even before they can actually read them. Many Montessori children generally develop excellent language abilities from an early age.
Here are some resources to learn more about the Montessori preschool environment:


Related Articles
Editor's Picks Articles
Top Ten Articles
Previous Features
Site Map





Content copyright © 2019 by Alissa Moy. All rights reserved.
This content was written by Alissa Moy. If you wish to use this content in any manner, you need written permission. Contact Amy Tradewell for details.