I was overjoyed to have the wonderful opportunity recently to attend a preview of
The Nativity Story
, set to open in theaters on December 1st. Since Christmas has become so commercialized over the years, including so many holiday movies focusing on anything but the true meaning of Christmas, it is such a blessing to have
The Nativity Story
among this year's Christmas films. If you only have time for one movie this holiday season, make it
The Nativity Story
.
This feature film focuses on Mary, Joseph and the birth of Jesus. Directed by Catherine Hardwicke (Thirteen, Lords of Dogtown),
The Nativity Story
screenplay was written by Mike Rich (The Rookie, Finding Forrester). According to the official website both Hardwicke and Rich, along with production designer Stefano Ortolani, thoroughly researched the era for an authentic feel to the film. From the costumes to the breathtaking scenery to the biblical aspects, their efforts paid off.
The Nativity Story
was filmed in Matera, Italy (as was The Passion of the Christ) due to the modernization of Bethlehem and Nazareth. Scenes of Herod's castle and the temple of Jerusalem were shot in Ouarzazate, Morocco (as were films like Gladiator and Kingdom of Heaven).
Keisha Castle-Hughes (Whale Rider) stars as Mary and Oscar Isaac (Guerrilla) as Joseph. Both actors do an exceptional job of portraying Mary and Joseph. Each brings human emotions to his/her role and gives us a glimpse of what Mary and Joseph were most likely feeling during such an amazing yet scary time in their lives. Mary and Joseph both said "yes" to God. They both listened to the Angel Gabriel and willingly embraced the will of God. And thank God they did. Without Mary's yes, we would not have our savior. Without Joseph's yes, our blessed mother would have had a lot tougher time living out her yes.
Ciaran Hinds portrayed King Herod in a very realistic manner. In fact, the entire cast excels in making this film a true gem and what is sure to become a Christmas classic.
The Nativity Story
is a mix of drama and humor. Much of the comic relief is provided by the three wise men in their journey following the star. Yet when they reach the manger and see the Messiah, their reaction is one of both reverence and humility.
Many impressive visual effects are used in the film, from the Angel Gabriel's appearances to the starlight shining through the manger. One of the most stunning scenes in the movie is when all the major players of the Nativity Story come together. There is no other word for that scene than awesome. Totally awesome. I nearly cried tears of joy and excitement at that very moment. I could go into more details about the film, but I don't want to give too much away.
No doubt there will be lots of movies debuting this holiday season amid the busyness of this most wonderful time of year. Do yourself a favor and slow down long enough to see
The Nativity Story
and reflect on the true meaning of Christmas.
The Nativity Story
is rated PG for brief violence.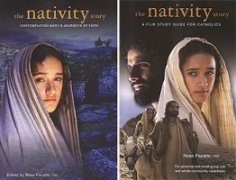 The Nativity Story Book Set
From Getfed.com The Nativity Story Book Set includes both:The Nativity Story - A Film Study Guide for Catholics and The Nativity Story - Contemplating Mary's Journeys of Faith.
Buy The Nativity Story - A Film Study Guide for Catholic at Amazon.com

Buy The Nativity Story - Contemplating Mary's Journeys of Faith at Amazon.com