Philippine Islands - Southeast Asian Tropics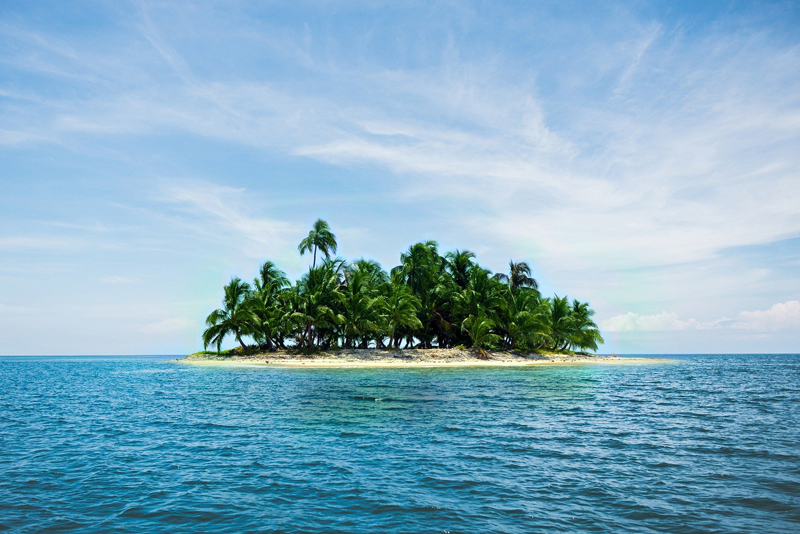 The Philippines is actually an archipelago of over 7,000 islands in Southeast Asia, but of those 7000 plus islands, less than 1000 are inhabited, and only 460 of those are more than one square mile in size. The Philippines archipelago is located on the fringes of the western Pacific Ocean surrounded by the Philippine Sea to the northeast, and the Celebes, Sulu and South China Seas on the west. As an island nation, the Philippines does not share a land border with any other country, and has one of the longest coastlines of any country in the world – nearly 23K miles.
Although not as well-known as other Southeast Asian destinations (such as Thailand or Bali) for being a popular tropical beach destination, the Philippines boasts numerous beautiful tropical beaches as well as a wide variety of activities to enjoy. And tourism continues to grow in the Philippines, which has its pluses and minuses. That means it's easier to get to many of the beautiful and interesting places, but it also means those places are getting more crowded and more commercialized. The beautiful white sand beach on Boracay Island used to appear regularly on lists of the best beaches in the world, but it is now essentially a party beach (which for some means it's still one of the best beaches, but not for me!)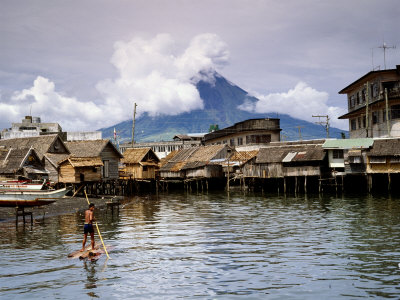 Stilt Houses Near Port with Mayon Volcano in Background, Bicol, Philippines
Buy From Art.com
Weather in the Philippines is similar to that of its neighboring islands in Micronesia and Melanesia – basically average high temperatures in the 80's year round with a very distinct dry season from January through April with the rest of the year seeing heavy monsoon rains. So best to visit in the winter.
Yes, the U.S. Department of State has a standing Travel Warning related to the Philippines but it specifically relates to the southern island of Mindanao and the Sulu Archipelago where there is long-standing trouble with insurgents, terrorist bombings and kidnappings. The rest of the Philippines is as safe to visit as any other southeast Asian country, and easier to get around since English is a commonly spoken language.
So what would you do in the Philippines? With so many islands and so many beaches, the obvious first choice is water sports – scuba diving, snorkeling, surfing, and kite surfing are all popular. If you're there between February and April, you might want to include Donsol on the island of Luzon on your itinerary for an opportunity to swim with the largest fish in the world – the whale shark – at their seasonal feeding grounds. Or maybe you'd like the unique experience of diving with thresher sharks at Malapascua Island in Cebu province. Or enjoy the spectacular corals and diverse marine life in the atolls of Tubbataha Reefs Natural Park, a UNESCO World Heritage site, in Palawan province.
Still on the theme of water adventures, but not on the beaches, the Philippines holds a couple of unique experiences to try. Take a boat trip along the Puerto Princesa Subterranean River, another UNESCO World Heritage site in Palawan Province, to view both the impressive stalactites and stalagmites and the prevalent bats and swiftlets making the caves their home. Above ground in that national park there are excellent wildlife viewing opportunities in the large variety of forest growth, or you can take a paddleboat through the old growth mangrove forests. Another popular tourist destination is Kayangan Lake in Coron province – a salt water lake filled with beautiful corals and surrounded by limestone cliffs. Those willing to climb the 135 steps up and down can enjoy swimming and snorkeling in this beautiful tranquil setting. Or maybe you want to be more adventurous and try cliff-diving from Ariel's Point near Boracay.
The islands of the Philippines are volcanic in nature which means they are mountainous and offer lots of hiking opportunities with amazing views. And there are also waterfalls to visit such as the Pagsanjan Falls, where you can take a dugout canoe trip upriver to a pool below the falls followed by a raft ride "shooting the rapids". Or for a little calmer activity you might try the "floating restaurants" on the Loay-Loboc River. The volcanic history of the islands does have a downside though – like other countries on the Pacific Ring of Fire, the Philippine islands are prone to earthquakes.
The Philippines is one of the ten most biologically diverse countries in the world, with over 100 unique mammal species and 170 unique bird species. For an interesting wildlife viewing opportunity go to see the endangered tarsiers at the Tarsier Sanctuary in Bohol, and learn about the efforts to save these large-eyed miniature primates.
And, of course, there is also history and culture to explore on the Philippine Islands. You might want to see a performance by the Bayanihan Philippine National Folkdance Company. With a long history of Catholicism, there are several beautiful historic churches of interest. But most popular with tourists is the ancient city of Vigan in the province of Ilocos Sur. Named as a UNESCO World Heritage Site, Vigan represents the blending of Asian and European history in a well-preserved city with cobblestone streets and architecturally unique building styles.
Lots to see and do on these 7000 islands and the rate of tourism in the Philippines is only expected to keep growing.
Note: no promotional consideration was provided or paid for this article.


Related Articles
Editor's Picks Articles
Top Ten Articles
Previous Features
Site Map





Content copyright © 2022 by Laura Hartney. All rights reserved.
This content was written by Laura Hartney. If you wish to use this content in any manner, you need written permission. Contact Malika Bowling for details.