How many is too many orchids?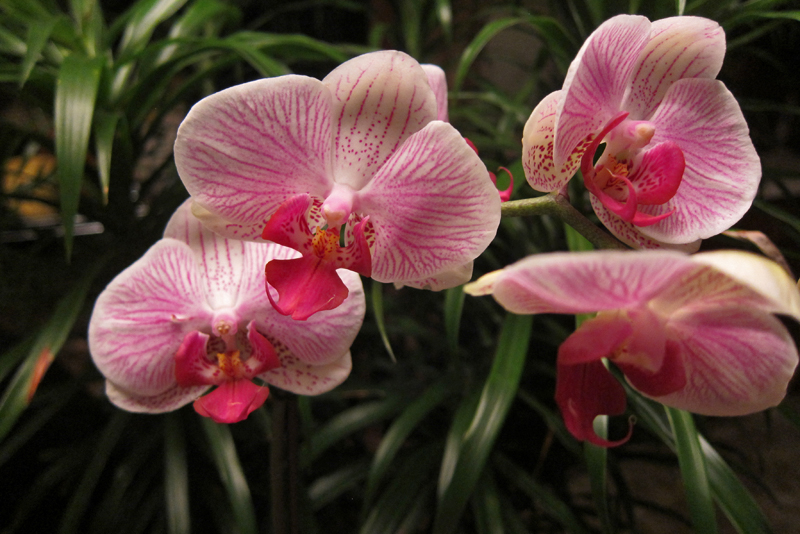 As part of my thinking on New Year's Resolutions for 2006, I took a hard look at my orchid addiction and how many plants I've amassed. I went a bit crazy the last part of 2004 at orchid shows, sales, nurseries, orchid society sale tables, etc. And I think I've gotten over the optimal number of plants for me. I've run out of room in my greenhouse. My plants are crowded into the space I have and are not getting the attention they once were.

I've read a lot about the hobby, talked to more people who are serious hobbyists and pleasure hobbyists, and looking at personal experience I believe each of us has a number of plants that are right for us. It looks like mine is around one hundred—and this seems to be a somewhat magic number because it's the same number that a lot of people have told me is what they've pared their collections back to.

I grow orchids because I love to see the flowers. I love to mess around in the greenhouse taking care of them. I love to talk to them in the mornings when I take my coffee out there and check them over. I like to watch them grow and exclaim over new growth. I get enthusiastic over finding buds. I wait with anticipation for the flowers to open.

With too many plants I miss those signs that a plant is not doing too well—it gets too much light and the leaves burn. Black rot has taken half a plant before I notice it sitting in the back corner and dying. Repotting is a constant chore that I keep putting off because the thought of all those plants has become overwhelming.

A recent article in Orchids talked about paring back your collection and one of the best ideas to me was the "WOW Factor." When the flowers open are you still overwhelmed by the beauty, fragrance or whatever. In other words, do you still say "WOW" when you see it? If not, give the plant away to a novice, sell it at your orchid society plant table. Spend your time with a plant that still inspires you to that "WOW."

Do you have plants that simply are not really doing anything for you? No blooms, no growth? It's possible that you simply don't have the right conditions for that plant. Can you change conditions for it? A rule of thumb is that if a plant isn't blooming for you, you probably are not giving it enough light. Are you trying to grow an intermediate temperature plant in warm or cool conditions? A Sophronitis in a warm climate? If so the plant may not be responding to your conditions. After two or three years, is it worth the space and time to keep trying? Would you be better off trying something that you know grows well in your conditions? Do you have any of those plants that someone else was killing that they gave you to resuscitate that simply were too far gone and are still half dead in spite of better conditions?

My answer to these questions, was "Yes." I want to enjoy my orchids, not be overwhelmed by how much I have to do!! And I will be paring down my collection to those plants I love and that respond well for me.



Related Articles
Editor's Picks Articles
Top Ten Articles
Previous Features
Site Map





Content copyright © 2022 by Susan Taylor. All rights reserved.
This content was written by Susan Taylor. If you wish to use this content in any manner, you need written permission. Contact Anu Dharmani for details.