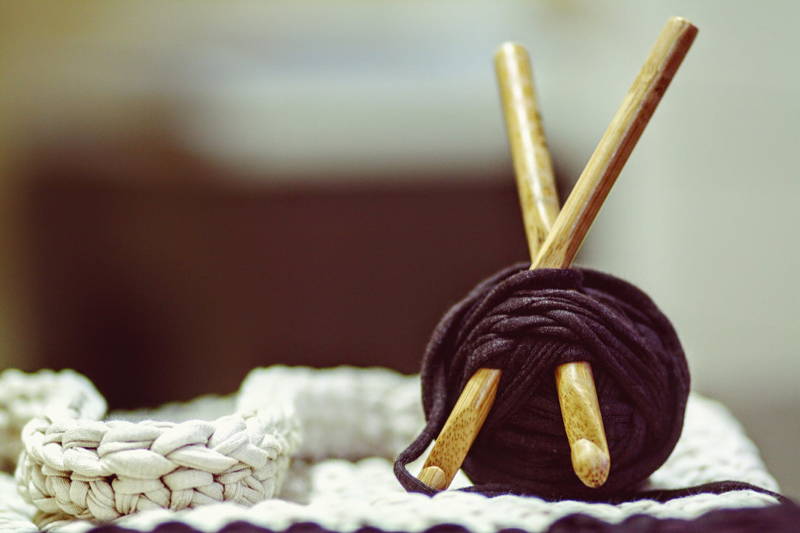 Frequently, I find that the local department stores don't have a wide variety of yarns to select from. And, the prices online are a bit outside of what my income can comfortably handle. Thus, I'm left with only a few choices of what to choose from to work with. But, I don't let that detour me from making something that's different from the norm and understandably, personably me!

One of the choices I have is to with something other than yarn. This may include rope, clothesline material, fabric strips (such as tee shirts cut into strips) or anything flexible enough to bed/twist/tie into a long strip and rolled into a ball. Some of the latest crazes include recycled yarn (purchasing used sweaters/bedspreads/afghans and taking these apart to reuse the yarn in another project), newspaper yarn (cutting newspaper into strips and twisting it into a ply-overlapping a couple inches of the end of one strip and the beginning of another-to make a long rope-like fabric; rolling this onto a somewhat large wooden electrical spool to hold the yarn until used), and combing materials; which are twisted into a ply.

These ideas are all fine and wonderful for desperate and unique situations and times, but there are times when a little "bling" is called for. For such occasions, I like to go into my stash and see what I have available to combine into something new and different. I might have a colored nylon filament on a spool, a bedspread cotton with a silver or gold filament plied into it, some baby boucle, Red Heart sport weight or baby yarn, baby alpaca, etc. The idea is not a matter of mixing any particular type of fabric, but rather in blending colors that will complement one another. In doing so, I may mix a white baby boucle, a skimpy wrapped fun fur-type yarn, with a couple strands of yellow or blue filament thread. Thus, with these fine fibers combined and plied together, I will end up with a fine sport/worsted weight fiber that will make a wonderful evening shawl, cowl or shell for evening wear. Even blending just one strand of filament thread with a worsted weight yarn, will capture reflective glimpses as it moves in the sun on a wintery day, capturing attention from those around the wearer.

In combining these yarns, it's best to ply these together, rather than simply wrapping them into a ball/hank. The plying technique will not only hold these materials together to make them stronger; it will also help them to hold one another into one united bulk. This will frequently make it more difficult for just one strand to be pulled out of shape should your finished product catch a corner of a piece of furniture. Do what you can to protect your new yarn by taking the time to spin it together into a ply before wrapping into a hank on a swift or cake on a yarn baller.



Related Articles
Editor's Picks Articles
Top Ten Articles
Previous Features
Site Map





Content copyright © 2022 by Beverly Elrod. All rights reserved.
This content was written by Beverly Elrod. If you wish to use this content in any manner, you need written permission. Contact Holly Messenger Aamot for details.