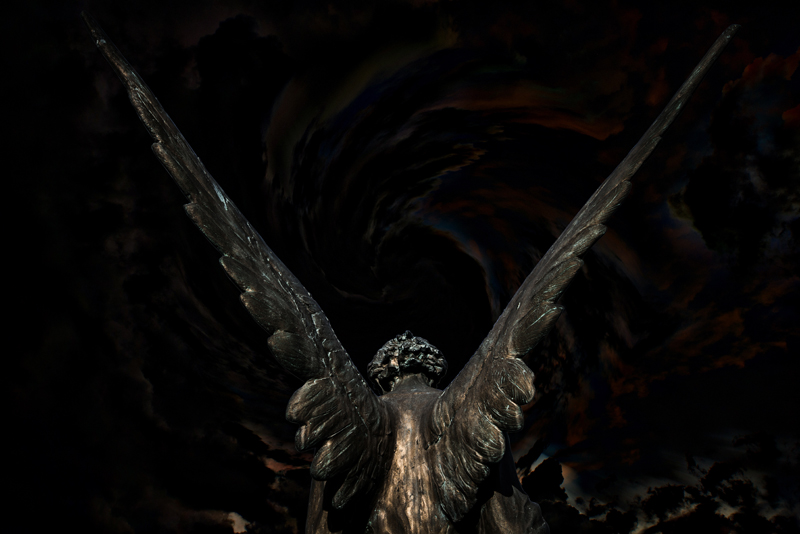 That low buzz or jackhammer cacophony that you've been hearing for the past few months is, depending on your location, probably the sound of Chimaira in the studio readying their latest blitzkrieg du jour, Resurrection. The Cleveland, Ohio band stayed off the road this summer to work intently on the follow-up to their self-titled 2005 disc. The extra care worked, according to vocalist Mark Hunter.

"We just finished up and everything went great," exclaims Hunter. "It's like a brand new start. To start off I guess, it's new but it's slash old at the same time. A lot of people may know or may not know, but our original drummer Andols Herrick came back to the band about a year ago. And we're really excited about working with him again. So everyone kinda had a whole new attitude, you know, regarding the writing direction. Everyone's pumped up. We were also excited because we'd switched record labels. We had a clear head going into it. So we didn't have any pre-conceived notions. We just wanted to go in and make stuff that would put smiles on our faces. I guess…angry metal smiles, if you will. And we went in, and every song that we wrote, we wanted to make sure that everyone was super happy with it, and that it was good enough that people would probably die listening to it in the pit. (laughs) Those were our goals and I think that we achieved them."

Hunter says as far as musical direction goes, it's still very heavy. "It's still us but it's all over the place as well. I think it's quite a bit of a roller coaster, you know. There's some songs there in the 2 ½ - 3 minute range, all the way up to you know, almost 11 minutes. So, I mean, it's just quite a variety and eclectic, but probably without being cliché and saying the same thing every band says, it's definitely the heaviest one. I think it is. I mean, I want to like destroy things when I listen to it and I don't even like my band. (laughs)"

The band wrote about 27 songs earlier in the year and ended up only using 3 of those which, "and then you know, we obviously changed them quite a bit, but 3 of those originals made the cut in different incarnations." The total number of songs got whittled down to the 11 that made the record.

The title track, "Resurrection" came to life later in the sessions, says Hunter. "It was kinda funny because we were writing and whatnot, and I had not gone to practice for a few days and I came in and I had in the back of my mind that I was going to bring up a little bit of a band meeting and say; 'We need to write an opener, you know. We have some great songs but I haven't heard an opener yet.' And they were like; 'Oh well, check out this song we wrote yesterday and see how you feel.' And then as soon as I heard it I was like, holy crap, that's the opener of the album. It's got all the elements of Chimaira that you love...and it's just fast. There's some blasting and there's some of the heaviest grooves that we have written and lyrically I wanted to just reflect on, you know, the hardships the band went through. A lot of them were points where some of guys wanted to leave the band. I mean we were just really unhappy when we were on Roadrunner and everything. So this was kinda reflecting on standing in front of a wall and either staring at it or trying to get over it. And this song was about getting over it."

The re-entry of Herrick has changed the dynamic of the band in a very positive way, says Hunter. "The change is very, very great. I mean, when Andols left the band he wasn't very much a writer, you know, of his parts and stuff like that. This time, we didn't have to say a thing to him. And this time around he just totally changed his tune and wrote some really creative things. And I started off playing drums and I'm pretty familiar with them and what they're supposed to sound like, and I understand the drum world completely. And there's some fills on this record he's doing on this record, I'm just what the frig are you doing? I just cannot figure it out to save my life. So I think fans of the musician's side of things are going to be really pleased how he stepped it up on this album."

Resurrection marks a change behind the sound board as well. Chimaira opted to go with production from Jason Suecof (Trivium, God Forbid) and mixing courtesy of Andy Sneap (Killswitch Engage). "Well with Jason, people might think like, he's becoming a popular producer and that's why we wanted to work with him," says Hunter. "That has nothing to do with it. He actually tracked my vocals for the Roadrunner United Session and I was really pleased to be working with him, and pleased with how my vocals came out. He let me hear his band, Crotchduster, and I was like, man this dude is like a fucking musical genius. I need to work with him. So I convinced the guys. You know, I just kept playing the Crotchduster CD and was like 'Man, listen to how good this guy is. You know, I bet he'd be really fun to work with and probably bring some new ideas to the table.' And that's exactly how it worked out."

"We've always mixed with Colin Richardson. But things didn't work out with Colin this time around and everyone says they're two best mixers, Colin and Andy. You know you're just as good with either one of them. I'm a fan of a lot of the records that Andy has done and I think they sound really great. So I had talked to him and he had concerns about drum tracking that, if he was going to mix, he really wanted to be involved with the recording of the drums as well. And I said, yeah, no problem because our drummer doesn't want to leave Cleveland anyway, so it would be a big hassle to have to ship all the drums down to Florida and all this. We were just like, whatever. (laughs) And then Andy decided to come to America and record. So the drums sound great. I was really particular about making sure that he used a natural sound. You know a lot of bands out now are using these samply sounds, and the snare sound like fake and I was very adamant about having everything be realistic and nothing sampled. I wanted a really big live sound. He was a little out of his element because he's used to those Arch Enemy's of the world, who want the triggered snares and everything to sound like crystal clear. But he nailed it and we couldn't be happier with the final results."

This interview was taken from the Jan/Feb issue of Caustic Truths!, a Canadian metal mag. Check out the link below to find out how to get this and other issues. Caustic Truths! gets all the killer interviews from the bands you want to hear about.
You Should Also Read:
Caustic Truths
Chaimara official site
Chaimara MySpace site


Related Articles
Editor's Picks Articles
Top Ten Articles
Previous Features
Site Map





Content copyright © 2022 by Morley Seaver. All rights reserved.
This content was written by Morley Seaver. If you wish to use this content in any manner, you need written permission. Contact Morley Seaver for details.