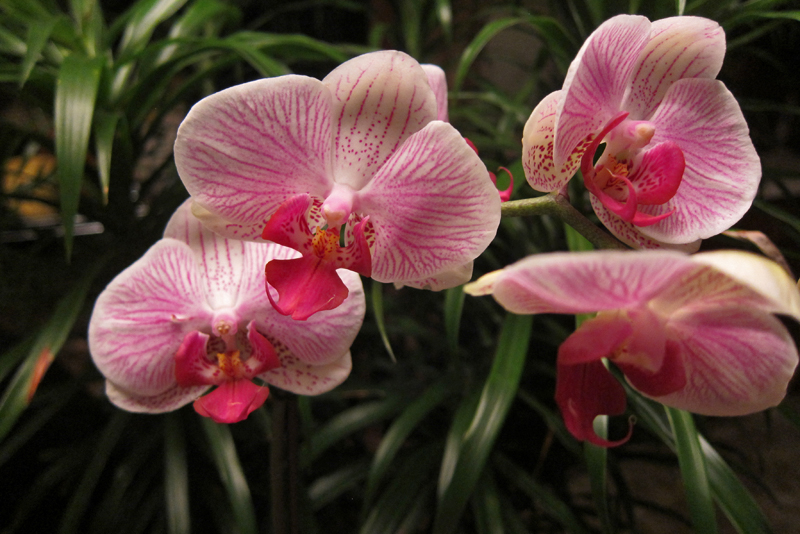 With international interest in orchids growing over the last 40-50 years, people have started collecting stamps depicting orchids and more countries have started issuing such stamps to keep up with the demand. This has become quite a popular stamp group as you can see from
Topical Stamps
an online vendor. Orchids are one of the many items included in what is called Topical Stamp Collecting. –or collecting of stamps which have a specific theme.
Some people collect stamps from specific countries and others specific species or genera such as Cattleya or Laelia. A sample page of a species collection is
Stanhopea Pages
put together by Nina Rach of Houston.
An interesting area is that of collecting the stamps issued in conjunction with the World Orchid Conferences which happen every three years somewhere in the world. The host country is encouraged to issue stamps commemorating the conferences. Here is an example of the stamps issued by
Malaysia
for the 17th WOC in 2002.
Another area of collecting is the acquisition of covers which are envelopes which are sent through the mail with specific stamps on the envelope. They are often sent with the date of the issue stamped on them directly from the country of origin. Sometimes the envelope is decorated with a cachet or design commemorating the event for which the stamp was designed. There are many different varieties used and it is quite popular since the envelope itself, as well as the stamp, is decorative. There are even some done with watercolor as original works of art on silk which are particularly sought after.
According to some sources, the first orchid stamp was issued by Guadeloupe, a Caribbean island, in 1905. It has vanilla beans and the vanilla orchid vine. Since then many other countries have issued them. The United States and Canada have issued several series of stamps, mostly of native orchid species. The tropical countries have issued stamps in all kinds of configurations – species, genera and mixed species. Australia has recently been active in issuing stamps of its native orchids.
If you are interested in this endeavor, you should get a copy of
Orchids on Stamps
by Peggy Aldrich published by the American Topical Association in 1991. It is still available on their website at
ATA Handbooks
. Go to the bottom of the page where the handbooks are listed and look for #118.
You Should Also Read:
Links to Orchids Australia and Orchid Postcards


Related Articles
Editor's Picks Articles
Top Ten Articles
Previous Features
Site Map





Content copyright © 2023 by Susan Taylor. All rights reserved.
This content was written by Susan Taylor. If you wish to use this content in any manner, you need written permission. Contact Anu Dharmani for details.