Australia is situated in the Southern Hemisphere. This means that the seasons in Australia are quite the opposite of those found in Europe and North America.
Here's a quick rundown of the seasons in Australia.
Summer is from December to February

Autumn is from March to May

Winter is from June to August, and finally,

Spring is from September to November.
The Northern Territory
The Northern Territory is unique in that it straddles two dramatically different climatic zones.
The first is called the Tropic climate which encompasses Darwin, Kakadu and Katherine in the far north.
The second is called the Desert climate and takes in the central region of Australia including areas of Alice Springs, Tennant Creek and Uluru (Ayers Rock).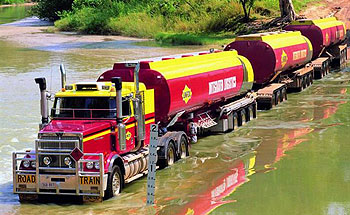 The typical tropical climate is considered by some to be very oppressive, with high temperatures together with high humidity and only two very distinctive seasons – The wet season and the dry season. The wet season commences in December and continues until March. The days are very hot and humid, and typically end with huge thunderstorms and torrential rain. The air is very oppressive and can be said to cause a malady in some of its residents called "going troppo".

The desert climate is very different. It too lasts about five months from May to October. The temperatures experienced in the desert climates are usually lower than in the north and crisp fine dry days are the norm. The lack of cloud cover ensures very cold nights. The wet season does not usually extend to the desert regions. The largest township in the desert climatic region is Alice Springs. This historic town experiences hot summers with average temperatures around 30 degrees Celsius (86 degrees Fahrenheit). The winters are much milder with maximum temperatures reaching about 20 degrees Celsius (68 degrees F).

What happens in November and April you may ask? Well in November the climate builds from being the dry season to having extremely unbearable humidity, where the temperatures soar, but there is no relief of rain. There is no relief from the humidity as it lasts all day and all night. Once the rains commence, the humidity lowers only a little.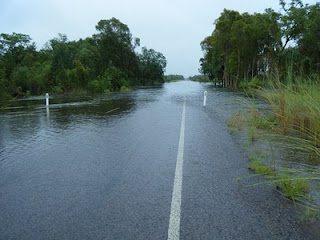 In April, the wet season is almost over and the surface water starts to drain towards the oceans or in some cases, heads southward toward large arterial rivers that drain to the far south in South Australia. There will still be some occasional rain and storms, but starts to lessen each week through April, until finally the dry season commences.

The highest recorded maximum temperature in the Northern Territory was recorded at Finke on the 2nd of January 1960, it was 48.3 degrees Celsius.
The lowest recorded minimum temperature in the Northern Territory was recorded at Alice Springs on the 12th of July 1976, it was minus 7.5 degrees Celsius.
Darwin Weather

The weather in Darwin is quite unique, again because it only experiences two seasons – the wet season and the dry season. During the wet, humidity averages of 70% and this is usually accompanied with cyclones (called hurricanes in USA) and huge monsoonal rains.
The dry season however, has typical humidity at around 30% (almost not noticeable), and just about every day throughout the dry season is warm and sunny, which very little rain experienced for the duration of the dry season.

Long distance inland travel is not advised during the wet season in the north. All roads become flooded and can remain isolated for weeks, if not months at a time.

Click here for the climates of the other States and Territories of Australia