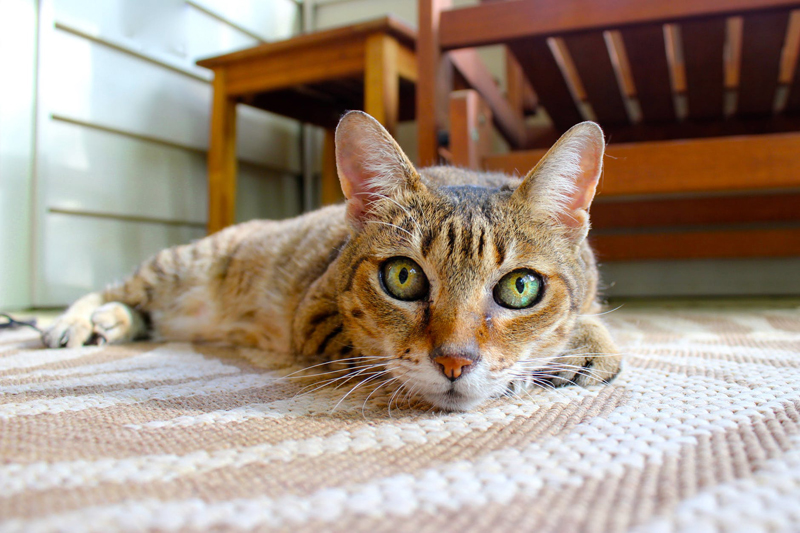 Here you are with carefully sorted piles of colored fabric strips or rag balls, and a design, and you are ready to start hooking a rug. Make sure you have special rug hoo (a metal crochet hook just won't last). This special hook is short and has a solid wooden handle that can withstand the heavy hooking of fabric strips. With this simple tool you can hook any rug.

I assume that you will start with small projects - a mug rug, a chair cover - to get familiar with the work of hooking. When your projects get bigger, it is helpful to have something that keeps the project in place. In my school we had a sewing strip. One end had a buttonhole that was slipped over a brass knob on the desk. The work was then pinned to the other end. This provided stability to the work piece, keeping it in place while one tugs and toils.

Another way this can be done is by sewing fabric to the top of the backing material The fabric serves as a lead, which can be stapled to a piece of wood clamped to a table. As the work progresses, unclamp the wood and wind the hooked part around the wood and clamped it again to the table. These methods allow the backing to hang free so that the working areas above and below can be easily accessed,

Rug hooking lends itself well to working on a design segment, even in different directions, rather than row-by-row, as is common in other types of rug making. Rachelle LeBlanc of Montreal does not use a frame and prefers to work freely on the rug. Most artists, however, use frames. When you feel the need for more even tension over a larger area, a frame is a helpful tool.

In the Archives of Rug Hooking Magazine (Rughookingonline) you will find an informative article by Brenda Wilt, in which she discusses the different types of frames and gives a history of how the technique has developed over the years. I found it interesting to read that "A hundred years ago, when a woman would sit down to hook a rug, she'd place one end of a length of burlap beneath her right leg, stretch the fabric across her lap, and then tuck the other end beneath her left leg. She'd then begin pulling loops of wool through the taut surface of burlap on her lap."

That article may be a good place to familiarize yourself with the options that are available, ranging from hoop frames and lap frames to standing frames that eliminate the use of a table. Sit on the sofa or easy chair or select an ergonomic chair and work away with pleasure!

You will also find a list of suppliers. Prices may have changed, but in any case you will be well versed when shopping for your own frame.

Totally-Hooked.com is a bilingual site (French and English) by Jocelyn Guindon from Quebec, Canada, who has "…adopted Rug Hooking in an urban setting … because it requires very little equipment while offering the possibility to re-use or recycle textiles and fabrics." There are several interesting rugs in the two galleries. On the product page he features a red oak rug hooking stand, a hoop frame and a PVC rug-hooking frame.

Sally Van Nuys features a sit-on frame on the Amherst Antiques site.

With this information and the links provided at the bottom of this article, shop with confidence for a frame to assist you in your rug making endeavours.

This site needs an editor - click to learn more!

You Should Also Read:
Rug Hooking For The First Time
Rug Hooking Learn At Home DVD
The Craft Of Hand Made Rugs




Related Articles
Editor's Picks Articles
Top Ten Articles
Previous Features
Site Map





Content copyright © 2019 by Iris ten Holder. All rights reserved.
This content was written by Iris ten Holder. If you wish to use this content in any manner, you need written permission. Contact BellaOnline Administration for details.