My birthday was this past week, so what do you think I wanted? Of course, a new doll. Well I was very lucky and received two! You can see them both in the first photo below. The larger one in the back, the new "big brother" was a gift from my husband. His arms, legs and head are porcelain; his body is cloth and is stuffed to the perfect "huggable" consistency. He was a lovely surprise!
The smaller doll, in front, is the new "little brother" and the subject of this article. He is the
La Newborn First Yawn Real Boy Doll
by
Berenguer
. He is 14 inches long. In the interest of honest disclosure, let me say that I purchased this doll at full retail price.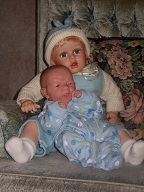 I just love this little doll, I new I would, but he is everything I hoped he would be and then some. In the photo He is dressed in a preemie size outfit that I bought for him. He is also wearing a commercial preemie size diaper that fits him perfectly. Newborn size socks fit him perfectly, as well, so he is so much fun to dress.
The details on this doll are amazing! His little fingers are separated, not just all in a clump as is so common. The expression on his face is very realistic, he even has little wrinkles in his forehead. And, as his name implies, he is anatomically correct. As you can see, in the third photo, he comes in a sturdy, attractive storage box, with a blank birth certificate, a wrist tag and a very realistic looking hospital wrist band. He also comes wearing a terry cloth diaper, but nothing else.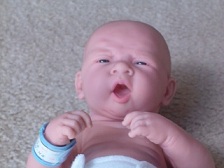 I can only find two problems with him, and they really aren't problems for me. The first is that he is scented. It is supposed to be a baby powder scent. I think it is more like a faint rose scent, my daughter thinks he smells like lemon and my mother-in-law thinks it is a little like lilac. Whatever you think he smells like, it is a pleasant smell and I like it, but I know some don't like scented dolls. The other problem for some is that he is flange jointed, so his arms and legs are a little stiff to move, and can only rotate in a circle, but again, I don't mind this.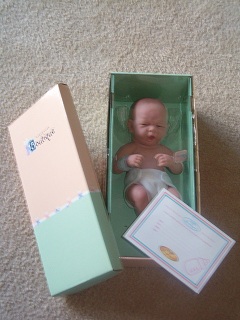 If you like to create reborn babies, this would be a lovely doll to work with. He would also make a great addition to any play doll collection and I highly recommend this doll.
<
Making and Dressing Cloth Dolls
Ebook with patterns and instructions to make 5 cloth dolls as well as chapters on general doll making techniques.The book includes 21 inch Lalena Doll, 21 inch David Doll, Bear Dolls, 9 inch Destiny Doll and 15 inch Annie Doll, all together in one handy book. 53 pages.
Making and Dressing Cloth Dolls